Johns Hopkins' Homewood Field is easily one of the most historic and amazing venues in lacrosse. Even the most die-hard Syracuse Orange fans will begrudgingly admit that there is magic at Homewood.
However, as more and more NCAA Division 1 schools renovate and upgrade their facilities, Johns Hopkins has to keep up and match feet. That's exactly what they're doing with the new Cordish Lacrosse Center.
Named in honor of lead donor David Cordish, a 1960 Johns Hopkins graduate and a three-year member of the Blue Jay lacrosse team, the 10 million dollar facility will be open for business by next Spring. Supporting both the men's and women's lacrosse programs, the Cordish Lacrosse Center will include the following:
Locker rooms for both the men's and women's lacrosse teams
Office space overlooking Homewood Field for the men's and women's coaching staffs
50-person theatre
Conference room
Academic center
Training room
Indoor reception area on the second floor that leads to an outdoor patio for game-viewing
Field-level entry serving as a museum documenting the history of both programs with display cases, historical photos and more
For more information on the 10 million dollar facility, click here.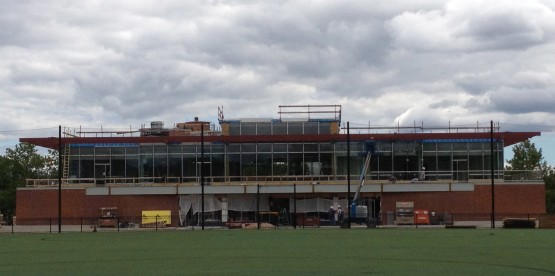 The Blue Jays didn't go over the top, but the Cordish Lacrosse Center certainly looks nice and puts Hop right back at the top in terms of overall facilities! The Center seems like a seamless addition to Homewood, sure to maintain the traditional game day vibe. The place is still classic… just a little bigger and fancier now!
Take what's old and make it new all over again. Looking good, Hop.