PLL all-star and legend of Duke lacrosse lore Justin Guterding can now say he's added stickmaker to his long list of accomplishments. Well, he's no Alfie Jacques, but he did put his silky smooth hands to the test in the shop with our Wood Lacrosse Sticks crew.
From one Justin to another, the art and soul of the craft has been passed on to get the heritage of the game alive. Guterding was amongst a roster of STX athletes that dropped by the woodshop to roll up the sleeves, learn a new trade and talk some lacrosse. Luckily for you, Guterding left his handmade creation behind and happened to scribble his name on it, truly creating a one-of-a-kind piece… but we will get to that later.
Who is Justin Guterding?
"Guterball", as he's affectionally called, excelled offensively for Chrome LC in year one of PLL competition, despite the team's overall lack of production. Finishing 2019 with 43 points, Guterding earned a PLL All-Star team nomination and was a finalist for the Welles Crowther Humanitarian of the Year for his community-focused efforts off the field.
A product of Long Island's saturated lacrosse scene, Guterding started to build his reputation at Garden City High School before attending Duke from 2015-2018. While in a Blue Devils uniform, Guterding earned the title of the NCAA's all-time leading goal scorer (212) after three All-American and All-ACC seasons. The 2018 ACC Player of the Year, the 2018 ACC Scholar Athlete of the Year and the 2015 ACC Rookie of the Year, Guterding has gone down in history as one of the greatest athletes in Duke history. https://www.youtube.com/watch?v=vBKPZ3zr6kY
Justin Guterding Makes a Twig
Transcribed from video…
This week in the wood shop, we have Duke's golden boy, Justin Guterding. This has been a very interesting year for Justin Guterding, especially for me, since he's currently playing in the NLL for the Philadelphia Wings, which is my hometown team.
Justin Skaggs: What was the biggest transition, in a NLL-PLL-Box-to-Field kinda thing?
Justin Guterding: Just playing field for my entire life, pretty much. Learning the rules. Learning the physicality, and not really shying away from it.
JS: Do you mean, because, like, if you were to run headstrong into the physicality of field, you're actually taking away advantages? You're just being a hothead, and not opportunistic. Whereas in this game, you have to live with it.
JG: Exactly.
JS: How do you train for something like that? Do you just go out and just play?
JG: Yeah, you just gotta expect it. I don't really know if there's training for getting beat up.
JS: (laughs) There is. It's called "getting beat up."
JG: Yeah, exactly, just going out on the streets and getting beat up.
JS: You might as well just run around with a smart mouth about it, you could at least say some entertaining things while you get trained.
JG: Yeah, I gotta work on my chirps.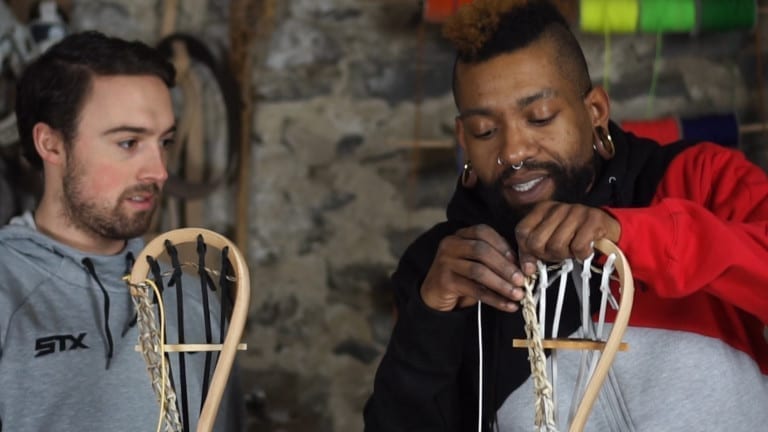 Rich Snow: So, you played your first game. You were still getting used to, I guess, the transition. So you ssay you were on the practice squad for a little?
Justin Guterding: Yeah, the first seven games I was on the practice squad, and then I got activated. We made a pretty big trade, which allowed me to get in the lineup.
RS: Yeah, I've been waiting for that for a while, too, so good job, Wings. Thank you for finally getting my man on the floor. And now, you're making a move to the PLL.
JG: I am. Pretty exciting time to be in lacrosse for sure, especially me.
RS: It's crazy, right?
JG: Yep.
RS: The sport is booming, and luckily, we're in another hot bead. Philadelphia [is] the new hot bed (laughs). That's what I'm hearing. I'm spreading that rumor.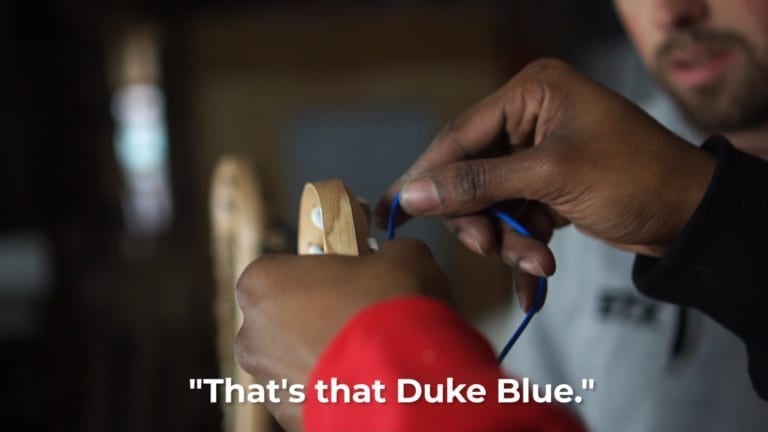 JG: (as Rich begins to string blue lace into the stick) That's that Duke Blue.
RS: Yeah, right? I think, honestly, as ridiculous as it's going to sound, I feel like back when I was getting into it, you know, [when] you're falling in love with your teams, I swear, I think it was the Duke's uniform, man. That clean blue and white…
JG: It's that Royal Blue.
RS: You know what? That's the question we wanted to ask. So, we're doing a Duke stick and a PLL stick. What's your favorite uniform you've ever worn? I mean, you got the Yeezies on, so I'm assuming you know a little bit about the fashion.
JG: I know a little bit, but not too much. I learned from my boy Kyle [Harrison].
RS: It's funny, when Kyle came to shoot, I was like "I gotta make sure my shoe game is ON." You know, because I heard he will roast you.
JG: Yeah, Kyle is ruthless. But I think my favorite uniform would be the blue helmet, white jersey, blue shorts. And obviously, white cleats. If you're running in some black cleats, you're in trouble.
Justin, as well as all the other STX athletes, will be playing in the PLL. I'm really excited to see how he evolves in the NLL, and grows as a box player. But either way, it should be one heck of a career to follow.
WIN a Justin Guterding x PLL (1/1) Wood Lacrosse Sticks Exclusive
You just learned all about The Twig that the Justins (and Rich) teamed up to create. What's keeping you from adding this Justin Guterding HANDMADE Twig (1/1) Wood Lacrosse Sticks Exclusive to your collection!
It's airplane friendly, perfect for wall-ball and crafted by one of the nastiest shot slingers in the game.
Giddy up, now! Ya hear?
What's included?
One (1) Twig from Wood Lacrosse Sticks, made by PLL star Justin Guterding
Custom Black/Yellow pocket strung by Rich Snow
Hit the button for the full contest rules, details and ways to collect entries!