This week in the wood shop, we have Duke's golden boy, Justin Guterding. This has been a very interesting year for Justin Guterding, especially for me, since he's currently playing in the NLL for the Philadelphia Wings, which is my hometown team.
Justin Skaggs: What was the biggest transition, in a NLL-PLL-Box-to-Field kinda thing?
Justin Guterding: Just playing field for my entire life, pretty much. Learning the rules. Learning the physicality, and not really shying away from it.
JS: Do you mean, because, like, if you were to run headstrong into the physicality of field, you're actually taking away advantages? You're just being a hothead, and not opportunistic. Whereas in this game, you have to live with it.
JG: Exactly.
JS: How do you train for something like that? Do you just go out and just play?
JG: Yeah, you just gotta expect it. I don't really know if there's training for getting beat up.
JS: (laughs) There is. It's called "getting beat up."
JG: Yeah, exactly, just going out on the streets and getting beat up.
JS: You might as well just run around with a smart mouth about it, you could at least say some entertaining things while you get trained.
JG: Yeah, I gotta work on my chirps.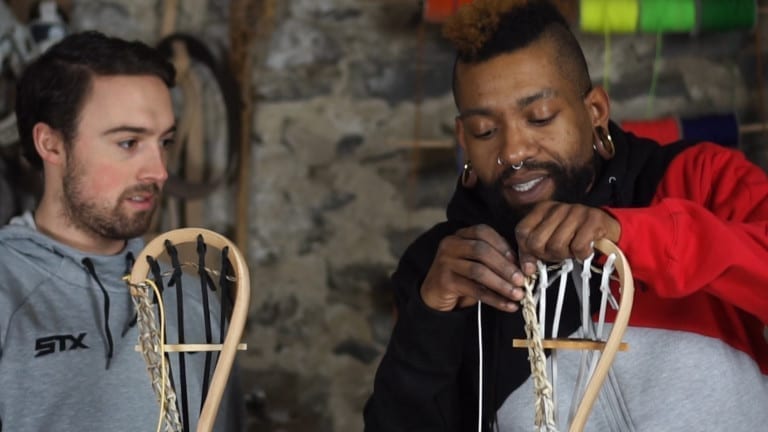 Rich Snow: So, you played your first game. You were still getting used to, I guess, the transition. So you ssay you were on the practice squad for a little?
Justin Guterding: Yeah, the first seven games I was on the practice squad, and then I got activated. We made a pretty big trade, which allowed me to get in the lineup.
RS: Yeah, I've been waiting for that for a while, too, so good job, Wings. Thank you for finally getting my man on the floor. And now, you're making a move to the PLL.
JG: I am. Pretty exciting time to be in lacrosse for sure, especially me.
RS: It's crazy, right?
JG: Yep.
RS: The sport is booming, and luckily, we're in another hot bead. Philadelphia [is] the new hot bed (laughs). That's what I'm hearing. I'm spreading that rumor.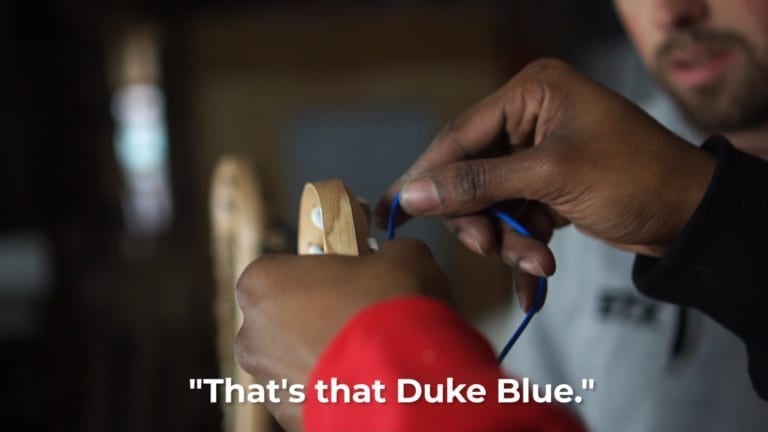 JG: (as Rich begins to string blue lace into the stick) That's that Duke Blue.
RS: Yeah, right? I think, honestly, as ridiculous as it's going to sound, I feel like back when I was getting into it, you know, [when] you're falling in love with your teams, I swear, I think it was the Duke's uniform, man. That clean blue and white…
JG: It's that Royal Blue.
RS: You know what? That's the question we wanted to ask. So, we're doing a Duke stick and a PLL stick. What's your favorite uniform you've ever worn? I mean, you got the Yeezies on, so I'm assuming you know a little bit about the fashion.
JG: I know a little bit, but not too much. I learned from my boy Kyle [Harrison].
RS: It's funny, when Kyle came to shoot, I was like "I gotta make sure my shoe game is ON." You know, because I heard he will roast you.
JG: Yeah, Kyle is ruthless. But I think my faorite uniform would be the blue helmet, white jersey, blue shorts. And obviously, white cleats. If you're running in some black cleats, you're in trouble.
Justin, as well as all the other STX athletes, will be playing in the PLL. I'm really excited to see how he evolves in the NLL, and grows as a box player. But either way, it should be one heck of a career to follow.