When it comes to Applications for my phone, I usually stick to the basics. Other than Angry Birds, Bridge Constructor and the Brine Shootout, my game screen is pretty bare. But I just found another game to add to my iPhone list, and of course it's a lacrosse game. No surprises there.
Carlo Sunseri and Crosse Studios are the guys behind the polar College Lacrosse video games, and their newest offering is lacrosse app called Lacrosse Dodge, and let me tell you this: it is addicting and fun, and so far I've only played the beta version on my computer!
The version I've tried is really a rough draft of what is to come, and if the final product is as good as this draft version, I'm sold. The basic premise is that you are a lacrosse player running down a field that never ends. You can score points by running through beach balls and golden arrows that give you a burst of speed. You can also shoot on goals that appear intermittently on the field.
At first it's really easy, and for about 10 seconds I thought, "where's the fun in this?" Then it got a bit harder as obstacles came into play. At first I just had to dodge boxes and barricades… easy. Then came the defenders running in a straight line, and then came the defenders who were targeting you. Then came the trees… and the fog! It only gets more difficult from there.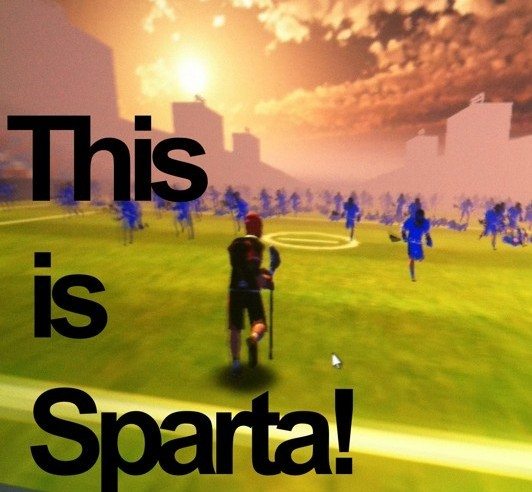 While the app is NOT a 100% accurate portrayal of lacrosse, it is extremely fun and could do wonders in exposing young, or soon-to-be lacrosse players to the sport. For the older set, it will provide a great distraction while waiting for the train or sitting in doctor's waiting room.
The game is fast, and you, the player, are ALWAYS running. You can just try to dodge for as long as possible, or you can try to score goals, or roll dodge your way to perfection. As time passes, the difficulty increases, and just like in life, you have to rise to the challenge head on!
"Lacrosse Dodge has the potential to get the sport of lacrosse in front of millions of people," said Carlo Sunseri, President, Crosse Studios. "It's the type of game that will appeal to all individuals, not just lacrosse players. It will spread lacrosse to a market that might normally be intimidated by the sport. I'm truly excited about the potential Lacrosse Dodge has to go viral and help grow the game."
I certainly think that is possible! Let's face it, kids love video games, and many play them constantly. If a kid plays a shoot-em-up game, they can't go out and do that. But if a kid plays Lacrosse Dodge? Well, there is probably a youth team for him to play on! It's a positive game and from what we've seen so far, it should be a winner.
Here is some more info on the App from Crosse Studios:
Featuring innovative control schemes and multifaceted gameplay, Lacrosse Dodge will have players dodging past defenders and hundreds of objects like they have never experienced before. In addition to the unique dodging gameplay, Lacrosse Dodge will also feature flick shooting, online leaderboards, and social media integration.

Lacrosse Dodge brings an all-new style of visuals and fun to the sports video game genre, redefining the style of play for a sports game by combining hyper speed with the non-traditional arcade experience.

Lacrosse Dodge is currently in development at Crosse Studios in Pittsburgh, PA and will be available on the Apple App Store and Android Marketplace in November 2012. Crosse Studios creates award winning lacrosse video games that are available for download through Xbox 360.

For more information visit Lacrosse Dodge on Facebook