There was a televised college game Friday night on ESPNU where Hopkins beat Siena 15-6. High Point got their first ever win as a D1 program over Towson. Denver beat Duke 14-12. And the Northeast got whacked by a snow storm named after a little orange fish, or a submarine commander. Welcome to The Lacrosse Drop, where we bring it all together…
Games Rescheduled? Still Cold
The UMass – Army game was bumped back a day because of the snow storm, so instead of playing on Saturday, the game was moved to Sunday. Thankfully, it's nice and warm in Amherst, MA today:
Thanks to Tommy Gilligan for sending this painful screenshot over, and for photographing the UMass – Army game for us, in the extreme cold. He wants to go to Miami next week. That's probably fair.
It will still be awesome. This was taken an hour before game time:
Still Excited!
Cold weather doesn't dissuade our interest in lacrosse. Videos like this help reinforce it:
https://youtu.be/3IU9UL01dps
Harvard Opened Feb 1 – Inside
Smart move. Got an indoor dome? Use it. Harvard started practice on Feb 1 due to Ivy League rules. The NESCAC (D3) doesn't open til February 15th. High Point and Delaware played on Feb 2nd. Getting earlier and earlier, it seems.
Lacrosse Snow Man
Vinnie Ricasio, also known as The Art of Lax, has a little fun in the front yard: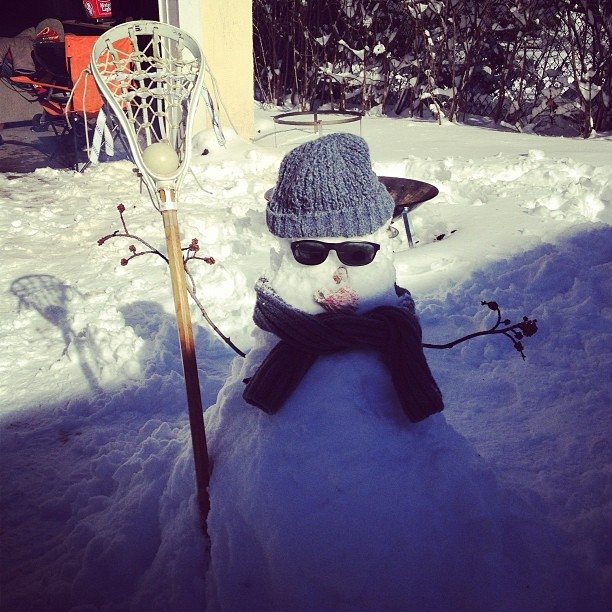 The Lacrosse Show… It's Like The Super Bowl
We have lighting malfunctions too… How serious was that?
Can't believe I didn't flinch more, or shriek at all. So proud of myself. Check out The Lacrosse Show Tuesday nights at 8pm Eastern, LIVE on The Lacrosse Network!
Rochester Goes On A Run
The Knighthawks beat Philly 20-10 on Friday, and then they took down Buffalo 15-7. All of a sudden, the Khawks are clicking, and now they're destroying teams, like many thought they might. With an offense loaded up with guys like Cody Jamieson, Dan Dawson, Casey Powell, Johnny Powless, and Stephen Keough, the goals had to start raining down eventually… looks like eventually is now.
Photo Credit: Larry Palumbo of CoyoteMagicActionShots.com
Oh, Canada Dye Job
StylinStrings with the excellent work. What a surprise!
https://youtu.be/vCejBjahP14
Jason Taylor's Kids Play Lacrosse… Well!
Howie Long, Junior Seau, and now Jason Taylor. The list of former NFL greats whose kids are playing lacrosse is only growing.
Tufts Featured In Team Turnarounds Book
Team Turnarounds is a book that focuses on a number of different teams that went from bad to great, and Tufts Lacrosse is one of the programs that the book looks at.
The Jumbos are definitely deserving, and during my time in the NESCAC, Tufts went from an expected win, to the toughest game on your schedule. 4 years after that, they won a national championship. I haven't gotten my hands on this book yet, but it seems interesting, judged purely on face value.
Want To Get Recruited?
We have a $25 off discount code running for a LacrosseRecruits.com membership HERE. Check it out!
East Coast WAC Dye
Always respected WAC, probably because of Stephen Berger. Love their logo and East Coast Dyes nails it in the most simple terms. Sometimes there's nothing more magical than a one color dye.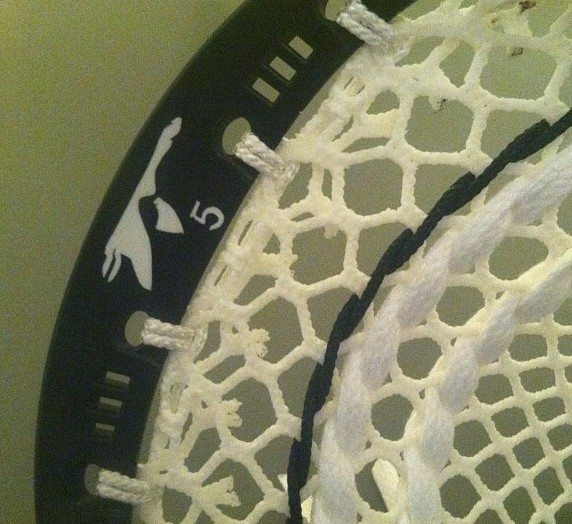 GREAT Braveheart Winner
The goalie shows some doubt, and almost loses it, but in the end, the little guy is triumphant. God I love camp and braveheart finals.
The Return Of The Turf
Just when you think it's going to be all Huaraches all the time, Nike goes an releases their Zoom Turf Jet 97 all over again. How is that fair? I can't even afford ONE pair of turf shoes right now.
Favorite Snow Photos
The Valenti Auto Group in Wallingford, CT shared the photo above. It's one of our favorites.
Sledding in Central Park is a popular activity:
Great photo by Bill Schick, a pro photographer and OSU lacrosse alum!
Some are simply smarter than others…