Welcome to the Lacrosse Drop. This week we have a great combination of gear, highlights, news and more, and we even find out a little about a brand new club team. Not bad at all…
Waynesburg University – Club Lacrosse
Waynesburg started a club program this fall, and is all ready to compete this Spring. They open the season on March 8th against Grove City. Here is a photo of their first ever helmets, via the team twitter account.
NLL Goals Amaze
Iannucci's game winner proved Rosie, Ryan and myself wrong in Week 1. Back to the drawing board, I guess. An inauspicious start to say the least for us, not so for Washington!
And this is another goal you won't want to miss. Jonny Powless gets as close to throwing a behind the back quick stick as is humanly possible. Wowzers.
NYC ULAX Box Lacrosse Championships
The Gotham Goats took down Bank of Tokyo-Mitsubishi in the first semifinal, doubling up the score, and looking sharp. LaxAllStars.com battled with Brooklyn for two periods before pulling away by a couple goals in the third period, and making it to the finals.
Both LAS and the Goats were looking to three-peat. LAS had won the last two box leagues, and the Goats had won the last two ULAX field leagues (Summer and Fall). Matt Witko put away a bunch of big goals, and Jeff Melnik was an absolute wall in goal, leading to a dominating win for the Goats.
Who's Training This Winter?
Players from the Binghamton club, Ohio State's club, Colby, Mercer, and Amherst get out for a late afternoon shoot around in the Bed-Stuy neighborhood in Brooklyn.
The following Sunday, 15 boys, and over 20 girls from local high schools came out to play in a free Citylax clinic, held at The School for Career Development.
This Sam Bradman Goal Is Textbook
1) He shoots with a great overhand motion. 2) He locks his low hand on to his hip while dodging. 3) He changes planes and keeps the goalie guessing.
All that makes a low angle alley dodge pay off.
Ze Germans!
We love the Deutschland Adler Lacrosse Club. They won the ELL in their first year as a club, rep LAS on their backs, and the team has quite a few friends of LAS on board. Saw this photo for the first time. Classic.
Speaking Of European Box… Dresden, Anyone?
The week after the Ales Hrebesky Memorial, Dresden (Germany for those that don't know) plays host to their own tournament, called Lax in the Box. AHM has been around for two decades, while Lax in the Box is much newer, but it seems like a tourney with promise. If you're doing a two week trip to Europe, and you want to play box lacrosse, this seems like the way to do it!
The NHL is Back! Do you care?
Will you watch the NHL this year? Or will you give the NLL a shot instead? Do you even watch hockey? Does one even impact the other? Whatever, the NHL is back.
Ending With A Beautiful Helmet
This is a New Orleans Lacrosse Club helmet. It makes me even more excited for the annual Mardi Gras tournament this March.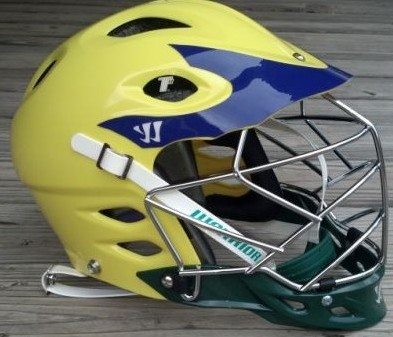 Good day!