This week's Lacrosse Drop goes everywhere and anywhere just to find a little lacrosse. It's a journey through time, and across international borders… It's a Lacrosse Drop!
What's Old Is New
Krieg Shaw takes a beautiful old plastic head and gives the mesh pocket a face lift. It's not 100% historically accurate but is it Krieg's fault that no one had thought of V shooters in 1984?
Love the dowel shaft. What a beauty! See here for some REAL Old School…
Baltimore Bombers' Jerseys
The Bombers host the RockHoppers TODAY in Baltimore. It's going to be an intense game, and the local arena should be packed to the rafters with fans! Check out the Bombers' jerseys below, and Rosie's preview of this battle for first place in the NALL!
Thanks to Frank Menschner for the find.
More Slow-Mo Video
If a video about sledding can be THIS GOOD via slow mo, imagine what it will do for lacrosse. The video revolution is coming though. For now, enjoy this:
Credit goes to our photographer, Tommy Gilligan, for that find!
THIS IS REAL! #Nofilter
Other than the obvious logo placement, how do we know that this photo wasn't photoshopped? Because I was there when it was taken and saw it on the camera's screen. Dusk: a photographer's best friend, or worst enemy.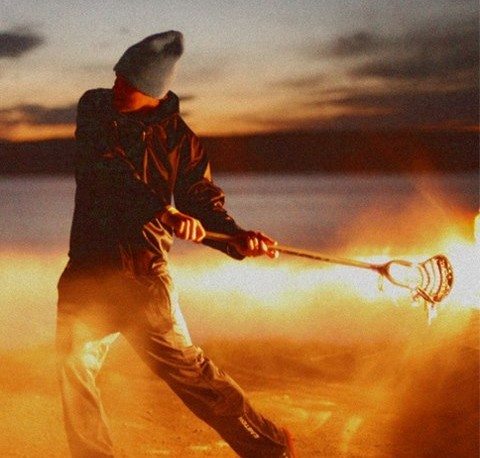 Check out Rhino Lacrosse on Facebook for more…
It's a Revolution!
Usually offensive middies are the ones getting laid out, but that's not always the case. "Truck stick" is right…
This young man has his power cradle science down pat, and does an excellent job of keeping that lower hand locked on to his hip. He uses his size well, throws an additional face dodge and then gets fancy with the BTB finish. Not too shabby!
I almost had a stroke when that music came on though. For any HS player's video, people should always ask "Who is going to be recruiting this player? A coach, or a 17 year old kid?" Hopefully, it's a coach. So pick music that coaches will like, and not music that your friends think is cool. Coaches are old and don't listen to Skrillex. That's a music group, right? Skrillex?
Syracuse Scrimmages
Syracuse took down Hofstra and Holy Cross in scrimmages yesterday. Hofstra beat Holy Cross. Literally no surprises there. Photos here. Box Scores here.
MCLA Update: The U aka Miami
Here's a little MCLA tidbit we got from a reader… priming up in South Florida, I see:
#15 Florida State and #20 Boston College head down to sunny Coral Gables, FL to kick off their 2013 seasons. Bitter rivals, Miami and Florida State, square off on Friday night under the lights at 7:00pm on Miami's campus. The three teams then meet up for a double header on Saturday with Miami vs. BC at 1:00pm and BC vs. FSU at 4:00pm, at the Gulliver Prep fields down the street from UM.

For Miami, they are coming off their worst season in team history, finishing a dismal 1-12. They are hoping to get off to a better start in 2013, led by new Head Coach Joe Conner. Coach Conner has an extensive history coaching lacrosse. He was hired by the Canes after a brief stint at DIII force Gettysburg College. Before that, he was the head coach of Maryland high school lacrosse powerhouse Urbana High School, leading them to three state championship appearances.

The new-look Canes not only have an entirely new coaching staff, but also 21 new players, including 14 freshmen, who will contribute immediately. Despite losing their leading goal scorer from 2012, Miami returns the core of their team and are primed for a turnaround season. Ranked to finish last in the 2013 preseason SELC polls, the Canes hope to make a statement in their only two games against preseason Top 25 opponents.
USA & Maverik in Orlando
The MAV crew down in Lake Buena Vista, FLA for the USA scrimmages. We are big fans of "the junkyard dog", Brian Karalunas… and we truly hope he put on some sun screen!
Australian Lacrosse TV Show
Thanks to Chris Tiernan for the find. I played in Australia myself… how did I not know about this?
Concordia – UCLA Scrimmage Photos
Check out Southland Lax on Facebook for a full album of UCLA vs Concordia scrimmage photos.
Snow On The Field? So?
Pocket and Dye Work From Throne
Drexel 2013 Legal Heads from ECD