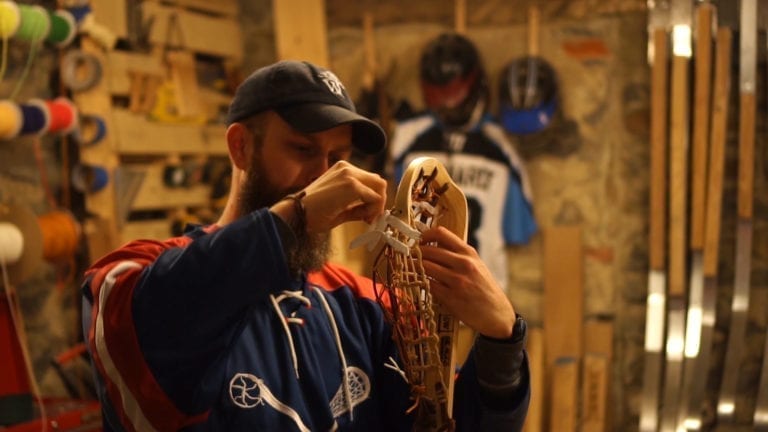 Welcome to Lacrosse History. Today, we're going to talk about the history of stringing materials. I have a really soft spot in my heart for lacrosse stringing as an art medium. It was really my first passion. When I was 14, I started stringing modern lacrosse heads. I actually owned a company called Stylin' Strings with my business partners where we got to string for Notre Dame and the University of Virginia. It was a really cool experience. It wasn't until I got to the end of that art medium that I needed to start going backwards into traditional lacrosse stick making, and It's just opened up a whole new world for me.
Organic materials were repurposed to create different parts of a lacrosse stick. Steaming technology today makes it still very difficult to close off the stick, which would be called a full bend, so we had to close this off back in the day with rawhide, which is a particular way of treating a bovine or deer hide, so that it actually becomes hard once it's dried.
Leather is probably the most consistent piece of lacrosse technology, a leather was a leather and you just kind of treated it the best you could so it was malleable, and so the ball could travel in it. The cross lace was originally sinew, and there was a lot of different ways to make sinew, including different tendons being woven together, and it is a very volatile organic material in the sense that once moisture hits it, it's kind of all out the window, same with the rawhide. As the sport became more and more popular, a capitalistic influence is added to the equation, and the plastic lacrosse head was born. There goes the rawhide.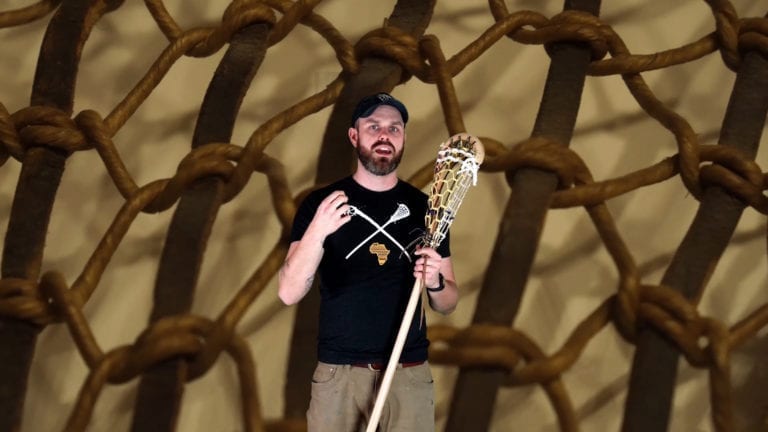 In the early days of plastic lacrosse heads, traditional lacrosse pockets continued to reign supreme. It wasn't until they found out that minnow nets made amazing lacrosse pockets. That put the traditional pocket in jeopardy. That was the birth of lacrosse mesh, and the birth of lacrosse mesh begat an entire industry of lacrosse-focused materials. So, for the first time, instead of just finding a shoelace and using it as a shooting string, we were making particular types of shoelaces out of particular materials that we found to be advantageous for a shooting string. That's a complete and total change, which actually brought out companies like Jimalax, an American company with an American loom. They create all of their own mesh materials to specs, creating everything from hard mesh, soft mesh and finally to modern meshes. They're one of the biggest players in the game and all they are doing is following the trends, slowly making these products better.
For the first time, we actually have materials being made to serve a purpose, instead of being repurposed from other products. Let me explain that. It used to be that you'd take an old shoelace from one of your shoes and put it in to create a shooting string. Now, you've got a company that's identified particular product specifications, and are creating shoelaces out of particular materials so they perform in a pocket as well as they can. That's a big difference. Not only that, it opened up a new monetary stream for the sport. What that allowed for was an exponential growth of technology. Now, with a larger money pool, you have the incentive to innovate. It's Capitalism 101.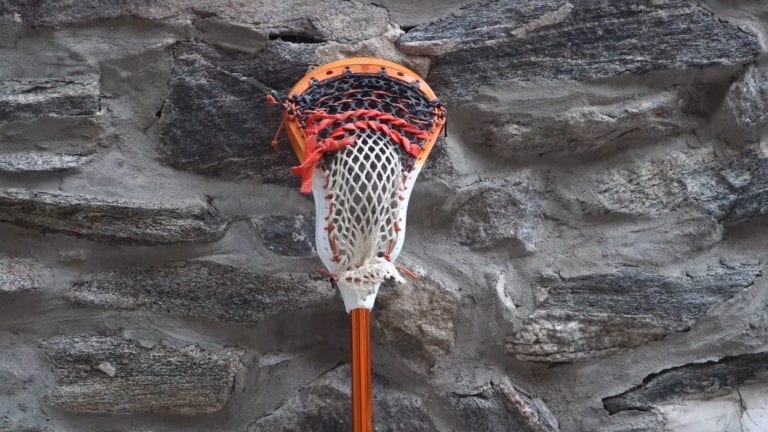 Jimalax was a breakthrough company. As has been mentioned, they had their own loom and could create mesh with their own materials as well as creating string with their own materials. Now, you're not repurposing a bootlace. They're making their own cross lace. The market expanded into different subsections and subcultures. That's where you get people like East Coast Dyes and Throne String.
You also have the purists who demand that traditional pockets stay alive and keep the craft going.
You could take all this modern technology, and create a pocket so that it throws exactly the way that you want. But the old form hasn't died. You can go back and create a pocket and a stick from scratch that's basically made in the likeness of something that's 100 years old that throws similar to something that you made today with modern technology. That's a pretty cool way to mesh both worlds.
That's something that's always fascinated me and what drove me to be a stick maker.
That is a brief history of stringing materials.
Until next time, guys! if you have anything to add, out it down in the comments section below. If there's a subject you'd like me to cover, put that down there, too. Add to the discussion. Until next time, take care. Keep Laxin'.