We saw a lacrosse mud bowl game last week! It's been forever since I've seen one of those! There is also major D3 lacrosse upheaval going on right now, and the non-Wesleyan part of me is loving it! Power teams and conferences alike are falling, while newer names are heading towards the top of the lot. The biggest division in college lacrosse just got a little crazier.
D3 Lacrosse Upheaval – Poll City
Check out the USILA Coaches Poll, the LaxPower Forum Poll (a personal favorite!), and the Lacrosse Magazine D3 Poll.
Tufts reigns supreme in all three polls. RIT occupies the second spot all around. Union and Stevenson split up the 3 and 4 spots. The same goes on at the 5 and 6 spots with Amherst and Gettysburg. 7-11 sees a jumble of OWU, Endicott, Cabrini, Lynchburg, and Cortland. Williams, Salisbury, and Ithaca are also consistently high in the 12-15 range. Middlebury also shows up on most people's radar, but no one else is in all 3 polls.
D3 Lacrosse Mud Bowl Photos
Union just barely got by Wesleyan on the road. Wesleyan's record isn't great, but they play everyone tight, win or lose, so this is definitely a quality win, and went a long way towards Union staying near the top of the polls.
Ferrum and McDaniel played in a game that those in attendance called the lacrosse "mud bowl". Our photographer at the game, Kim Black, noted how since so many schools now have turf, many players will never play in a game like this. Kim thought that was cool, and as someone who played in plenty of these lacrosse mud bowl style games, I would have to agree!
We also got photos from the Wesleyan-Middlebury game, and while the Cardinals dropped another close game (this time 11-9), the photos sure are excellent! Thanks to Shoaib Tareen for the game photos from Wesleyan all season!
And here are a couple shots from a recent Drew Vs Washington & Jefferson tilt!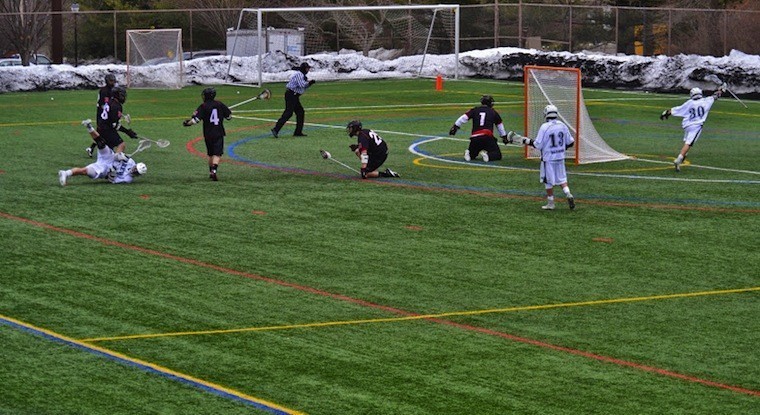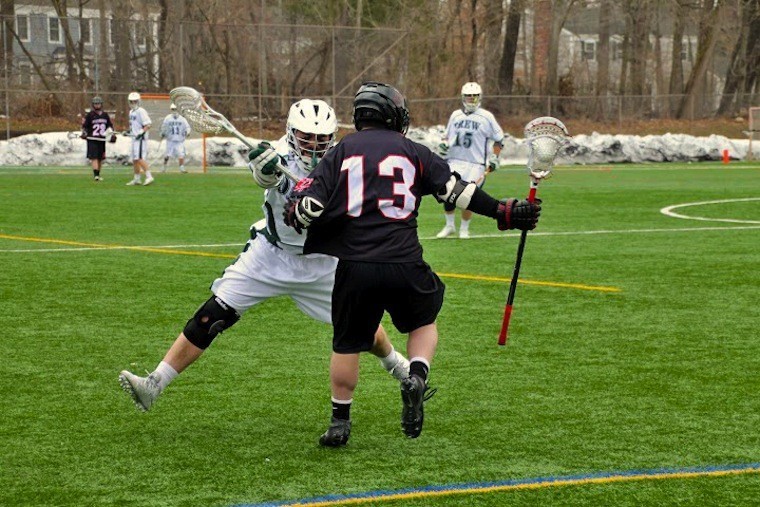 And we have a final set of photos, again from Kim Black, featuring Ferrum and Hope College (Michigan):
D3 Lacrosse Video Explosion
There is a LOT of very good video to watch, so carve out some time, put the popcorn in the microwave and settle in for a wild ride through the world of D3 lacrosse. This week goes from the East Coast all the way to the West! It's bi-coastal.
Dickinson Game Winner Vs Widener
[fvplayer src="https://youtube.com/watch?v=SpnBrFjfBL8″]
Bowdoin Vs Hamilton
[fvplayer src="https://youtube.com/watch?v=R1Z7zGsQs74″ splash="https://i.ytimg.com/vi/R1Z7zGsQs74/hqdefault.jpg" caption="Bowdoin Men's Lacrosse vs. Hamilton (3/14/15)"]
Whittier Vs Berry
[fvplayer src="https://youtube.com/watch?v=2jRyLJkpxfE" splash="https://i.ytimg.com/vi/2jRyLJkpxfE/hqdefault.jpg" caption="Men's Lacrosse vs. Berry"]
Tufts Vs Colby
[fvplayer src="https://youtube.com/watch?v=G4VyFYhbmcA" splash="https://i.ytimg.com/vi/G4VyFYhbmcA/hqdefault.jpg" caption="Tufts Lacrosse vs Colby ( 2015 Highlight )"]
Lynchburg Vs Endicott
[fvplayer src="https://youtube.com/watch?v=AVpG4yxWM-o" splash="https://i.ytimg.com/vi/AVpG4yxWM-o/hqdefault.jpg" caption="Lynchburg vs Endicott | 2015 College Lacrosse Highlights"]
Gettysburg Vs Lynchburg
[fvplayer src="https://youtube.com/watch?v=x15ehzcq9Q8″ splash="https://i.ytimg.com/vi/x15ehzcq9Q8/hqdefault.jpg" caption="Gettysburg College Men's Lacrosse vs. Lynchburg – 2015″]
Stevenson Vs Roanoke
[fvplayer src="https://youtube.com/watch?v=pmyJvX8ILvY" splash="https://i.ytimg.com/vi/pmyJvX8ILvY/hqdefault.jpg" caption="Men's Lacrosse vs Stevenson Highlights"]
Cortland Vs Albright
[fvplayer src="https://youtube.com/watch?v=x56JgE9Jz68″ splash="https://i.ytimg.com/vi/x56JgE9Jz68/hqdefault.jpg" caption="Men's Lacrosse vs. Albright Highlights 3/4/15″]
Middlebury Vs Plattsburgh
[fvplayer src="https://youtube.com/watch?v=xAUR_CBDwco" splash="https://i.ytimg.com/vi/xAUR_CBDwco/hqdefault.jpg" caption="Midd gets 10 vs PSU"]