Editor's Note:  We got a FULL synopsis from an anonymous (to you), but trusted source, talking all about the recent Florida State Championship Lacrosse Game between St. Andrew's of Boca Raton, and Lake Highland Prep, which is just outside of Orlando.  Connor's cousins went to LHP, and his Aunt is the girls' coach there!  Small world!  Usually, the story would be St. Andrew's won yet another title, but this year… something ELSE happened!
If you want video, and another perspective, make sure to check out 412's take on the Florida HS Lacrosse Championship.
________________________________________________________________________________________________________
The 2011 Florida High School state championship game was this past Saturday, and the game was somewhere between epic and legendary, depending solely on just how excited you get for this sort of thing.
Like most years, I was going to watch it, only this time I could do it on my couch as the game was being broadcast live on local tv. This is a pretty surreal moment, as someone who has been around Florida lacrosse since almost the beginning.
As for the game itself, SA got a quick 2-0 lead, then LHP dominated the rest of the first half.  They scored 4 straight to take a 4-2 lead, and then St Andrews popped one in on EMO to cut it to 4-3, then LHP answered to take a 5-3 lead into the intermission.
LHP controlled more of the game with strong faceoffs and heavy loose ball activity.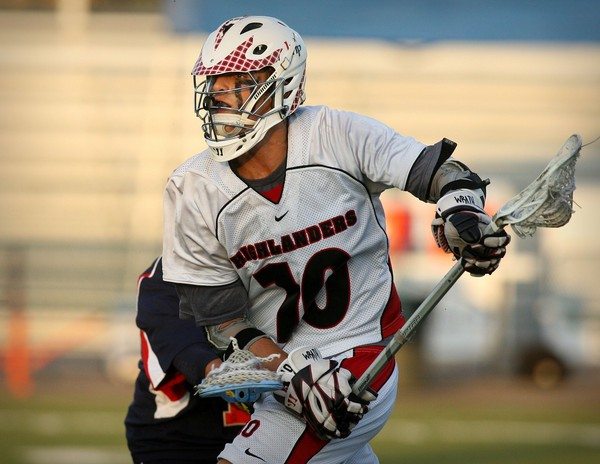 Photos courtesy the Orlando Sentinel
Saint Andrew's scored quickly coming out of the half, but Lake Highland was able to answer.  St. Andrews would score the next two to tie it at 6. Fourth quarter starts with the game tied at 6 and that "hey maybe something special is going to happen" vibe came on pretty strong.
SA then popped off the next 3 goals to take a 9-6 lead.  To many, it looked like it was over, and that SA would repeat, again.
The attitude of "we have seen this before… Orlando team hangs for a while, then gets blown out by St. Andrew's depth "was not gone from the SA persective, but LHP was still running… still fighting for ground balls, and still ripping shots (with some narrow misses) until Senior Nick St. Laurent (headed to Brown) dropped a BOMB from the right side with about 5 minutes left.
Now the score was SA – 9 LHP – 7.
Senior Morgan Clark split dodges and tallies one with 3:36 left and now LHP is down by 1… Wow.  What a game!
SA wins the faceoff… and it looks like they are going to the stall, but then Grant Mahler scores with 2:57 left.
It was a little surprising, but not shocking, that he took it to the net. There was about 3:15 left in the game when he got the ball and a good look is a good look, even if you're up by 1.
HOWEVER, LHP wins the next faceoff and calls timeout in their defensive end.
With only 2:49 left in the game, the score is SA – 10 LHP – 8.
Senior Attackman Will Rotatori (headed to Princeton) starts with the ball out of the timeout, and SA has lined up a double team.
You kind of feel like he is about to do something special. Rotatori legs out the 3/4 field clear on a dead sprint, puts the brakes on
from about 15 yards out, gets space and unleashes a rocket; total net splash.
2:38 left SA – 10 LHP – 9.
Faceoff win for LHP and another timeout.
LHP gets two great looks, both off inside rolls, the first went wide, the 2nd results in a point blank save by SA goalie
Chris Kelly (headed to Detriot Mercy).
SA clears the ball, goes into clock kill mode, but somehow managed to go offside.  Unfortunately, the camera angle used didn't show what happened.
LHP is patient with the ball even though there is about a minute left in the game.  They are waiting for the right look.  Morgan Clark beats his (long stick) defender with a swim dodge on GLE and ties the game at 10 with only :39 precious ticks left on the clock.
LHP wins the biggest faceoff of the season, and then moves the ball to their #1 gun, Will Rotatori.
10 seconds left and Rotatori starts his dodge at X, bounces a wrap shot from GLE… and narrowly misses but Nick St. Laurent is right there and grabs the ball out of mid air and stuffs it home for Lake Highland's 11th goal with 7.3 seconds to go in the game.
"WHAT?!"
Time expires on the ensuing faceoff, and it's officially glove, helmet and gear throwing time! LHP – 11 SA – 10.
Spectacular game, unreal effort by Lake Highland, especially the seniors who stepped up in the end.  I will not get caught up in the moment, and call it a power shift, because St. Andrews will be the favorite again next year but this is definitely one win that the Florida Lax community will not soon forget.
St. Andrews had not lost to a Florida team since 2008, they have NEVER lost in a state championship game (others have won, but it wasn't over SAS in the final), and they had beaten LHP 16-9 like a month ago.
Hats off to Coach Chris Spaulding, and his 2011 State Champions, Lake Highland Prep!!!!