Editor's note: Thanks for checking out the latest installment of Lax Out Loud, LaxAllStars.com's newest educational series made possible by the fine folks at SISU Guard. Lacrosse pro Chris O'Dougherty is ready to break down a drill perfect for improving on both sides of the ball, Scoop and Chase!

[mks_dropcap style="letter" size="52″ bg_color="#ffffff" txt_color="#0c7578″]S[/mks_dropcap]coop and Chase is all about fighting for ground balls, rolling away from pressure and moving the rock. Vancouver Stealth, Denver Outlaws and Team USA Indoor defenseman Chris O'Dougherty knows has mastered these three skills and that's why he's one of the best in the business.
There's not much else we can say to convince you, so let's hear it from OD himself…
An introduction to 'Scoop and Chase'
Mano a mano drills are some of the fundamental pillars of lacrosse practice. Scoop and Chase gives shorties and long poles the opportunity to play a little offense and a little defense in a game like situation. Some coaches same guys that win ground ball win games (or scholarships) and it makes sense. Winning the loose ball battle leads to possessions and possessions mean opportunities to score.
What's the point of being a good takeaway defender if you can't pickup the GB and move it? How many times a game on offense do we have to go chase down a stray pass or shot?
Get good at picking up loosies, getting away from the guy riding you and get the ball moving.
Didn't win the ground ball battle? Big deal! Go apply pressure and get the ball back. If the defense can force another loose ball quickly and continue a good fight for it, I'm letting the drill go because that's what this is all about! Winning the ground ball is huge, but knowing what to do with it once it's picked up is equally as important!
Key Requirements
Gear: Mouth Guard, Game Shoes, Stick, Pads (Optional)
Time: +/- 6 Minutes
Members: 3 
Communication Points: "Ball Down," "I've Got Ball," and "Release!"

Get Started
To begin, make two lines, side-by-side. Have a coach, or third player, step to the side with a few balls.
The coach will roll the ball out into open space and yell "GO!"
The first person in each line will take off after the ground ball and attempt to win it.
Once the ball is picked up, the person without the ball becomes the defense and will apply pressure to the ball carrier.
The ball carrier should attempt to break free of the defense by rolling away from pressure and looking for the coach.
Once clear of the defense, a pass back to the coach can be made and the next group will be ready to begin.
If no coach is present, the former ball carrier can go replace the spot where he made his pass to, and receive the next pass from the current drill.
The former outlet person will then hop in the shorter line.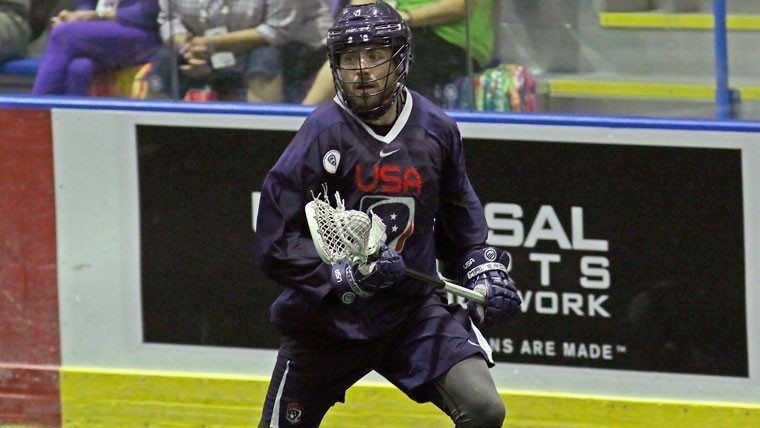 This is a drill for everyone. Even goalies have to fight for ground balls every now and then. Rolling away from pressure is the key to successful clears and ball movement on offense. You can play a 10 on 10 sport by yourself, you need to keep your head up after scooping the loose ball and look for the open outlet. This drill simulates play on both sides of the field, for the offense and for the defense. One on ones happen, a lot. Get your team ready for a dog fight while simultaneously teaching them to use space and their teammates.
But remember, even in one on ones, we need to practice our communication. Ball Down! I've Got Ball! Release! You know the words, so practice the fundamentals. It could be the difference between a Goal and an Illegal Procedure! Everyone in the episode, including OD, wore a mouth guard during the filming of the Scoop and Chase. It's a rule that we must wear our mouth guards in games, so start practicing in them!
[mks_separator style="solid" height="2″]
What did you think of OD's Scoop and Chase? Let us know if you're trying this one out at practice, or in the backyard!
[mks_icon icon="fa-bullhorn" color="#d32129″ type="fa"] LaxAllStars.com members get 10% off mouthguards at SISUGuard.com! Join now to receive the coupon code on our Member Benefits page!