Editor's Note: Jimmy Ciccone reports back from his second Beach Lacrosse tournament in New Jersey with the LaxAllSharks! Their uniforms were the best at the tourney, and Jimmy's love of beach lacrosse is REAL!
____________________________________________________________________________
Another year of Beach Lacrosse is in the books for LaxAllSharks, and what a weekend it was! The tournament has definitely grown from last year, with more teams, better vendors and just a better overall atmosphere. Vendors such as LaxEvo, the Headstrong Foundation and Stylin Strings were just a few of the vendors to come this year.
On a more personal note, I also want to give a big shout out and thank you to our sponsor ZimaGear. We worked closely with them to design some incredible uniforms and I think you can all agree they did an incredible job. The shorts look so real, you think you can go swimming in them.
Another big thank you goes out to Richard Ta with CR Images. Richard took incredible photos for us on Saturday. Pictures can be found throughout this post, or to see the full album click here.
Saturday:
Even though we were on the beach, cloudy skies were a blessing considering the heat on the first day. The team was anxious all morning to finally get out there and start our run to the 'ship.
Did I mention our unis looked incredible? Because they did.
Our first game was pretty scrappy. A full team brawl broke out only minutes into the game, which resulted in a player from each team getting ejected. Once the sand cleared both teams continued to play. It was a disappointing first game for the Sharks, losing by a good margin to Team America Redneck Yacht Club (they wore wife beaters which was a nice touch for the uniforms). After the game we had to take a step back and figure out what changes were going to have to be implemented to salvage our playoff hopes.
In between games I met Alex Scriffiano, a fellow LaxAllStars.com contributor and player for "Have a Nice Day". That team was a great bunch of guys and we enjoyed talking to them. We were hoping we'd play them in the finals but first we had to win our next game, just to make playoffs.
Our next game was about an hour later against a team called OverFlow who was also 0-1 in our division. Whoever won this game would earn the #2 playoff seed in our subdivision of the Men's Open tourney. The Sharks really turned things around during this game.
We started off with one team scoring and the other team responding with a goal of their own. This went on until about 4 goals each and then the Sharks took off and really poured the goals on. Before we knew it the game was over and we were on our way to the playoffs on Sunday.
Sunday:
The sun was out for our bright and early 9am Semi-Final playoff game on Sunday morning against "The Most Interesting Men In the World". The only team Scriff and "Have a Nice Day" lost to. We realized once we stepped on the field, that we have seen these guys before. We lost to them last year in our first game. Realizing this we knew we were facing a good team and had to come out firing.
The start of the game was everything we didn't want it to be. We came out slow and dropped a few goals right off the bat. Something finally snapped and we fought out way back until it was back and fourth with goals. Eventually we took an 8-7 lead but gave up a goal to tie it at 8-8. As the time winded down The Most Interesting Men scored what would be the game winner with a score of 9-8.
It was a shame the way it ended for us, but we played our hearts out that game so we walked away with some pride in our performance. We wished them luck and were happy to find out Team "Have a Nice Day" was also headed to the finals. It's a shame we couldn't play against them for the final but maybe next year!
Unforunately many of us had to run and could not stay for the last game but it turns out Have a Nice Day would fall to the same team we lost to. Big congrats to "The Most Interesting Men in the Universe" for winning the Men's Open Division.
Once again it was an incredible weekend that was well run by Morey's Pier, and I hope I get to see it continue to grow as the Sharks keep attending year after year. One thing I was disappointed with though was that Connor Wilson was trying to help give away a LaxAllSharks jersey from last year and a pair of shorts (EN: all you had to do was take a picture with Jimmy!) but no one responded. So maybe we'll do something through the site soon, so keep an eye open!
Please let us know below what you thought of our jerseys this year, and would you be interested in getting some of your own? Maybe we'll offer some uniforms to the public. Also like our facebook page if you havent already. Thanks for reading and on to the pics!!!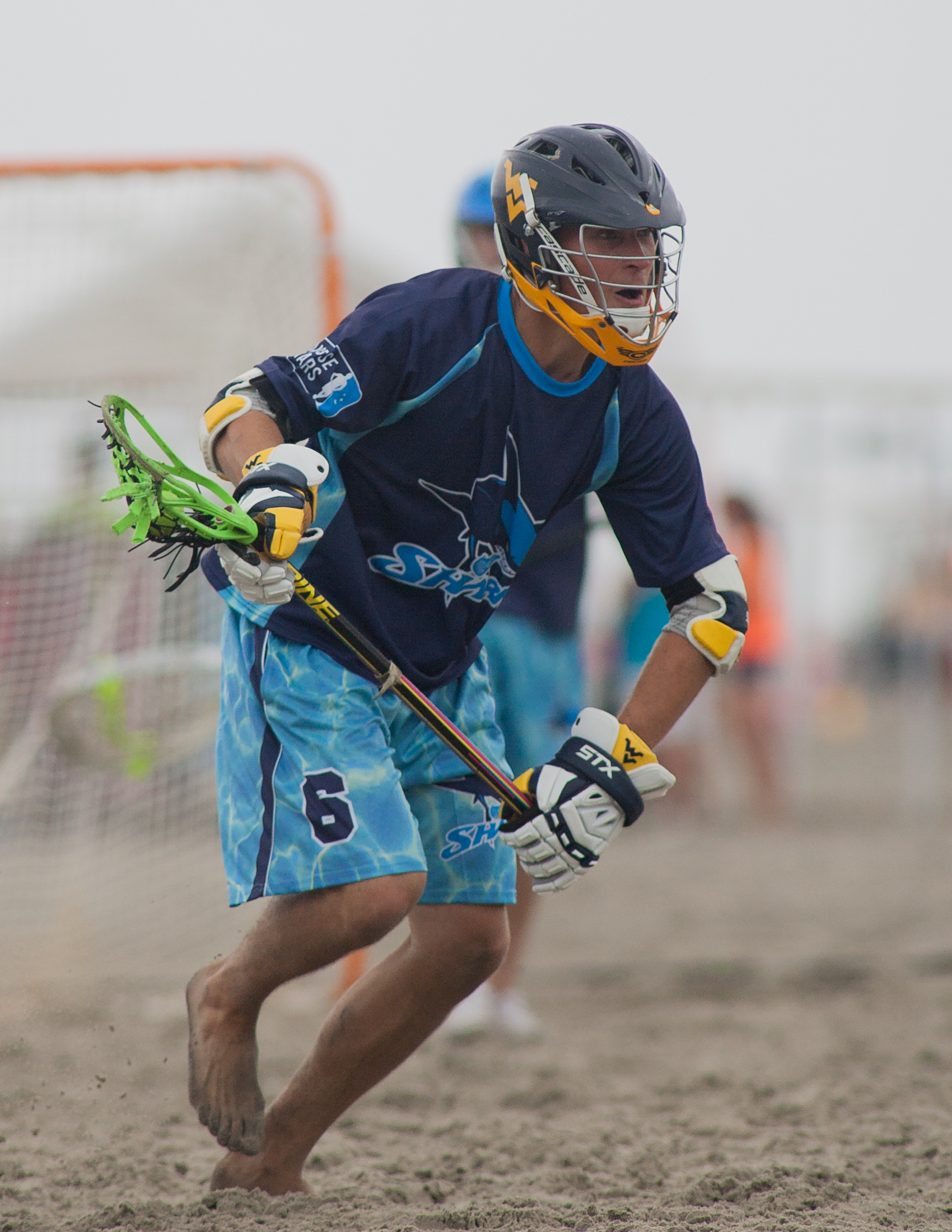 Once again let us know in the comments what you think of our uniforms and if you would like to see them offered to the public!
To see more Beach Lacrosse action, check out our Beach Lacrosse Archive… Jersey isn't the only place where beach lacrosse rules!