"Why not ask which player can punch Ray Lewis the hardest then run away? Or run down a burning staircase carrying two bucketfuls of kittens? Both test strength, dexterity, poise and character and are likely much better television."

While perusing ESPN.com last night, I stumbled upon Jeff MacGregor's thoughts on the NFL combine. Reading this made me think back to the The Lacrosse Combine and inevitably led me to compare the thought of a pro lacrosse combine with the NFL's.
MacGregor writes:
Here in snowy Indianapolis, the NFL has been busy sorting prospective employees into little boxes labeled "fast," "faster," "fastest" and "strong," "stronger," "strongest." This is the annual scouting combine, a weeklong prime-rib dinner and keg party for coaches, GMs and the media, which also gathers ambitious young football players from every corner of America. Apart from the very real dreams and hopes of those young men, it is a pretty silly exercise in wishful thinking, fortune-telling, deal-making, arm-twisting, elbow-bending and plausible deniability.
At its best, the combine offers college players one last chance to impress the men who hold an NFL future in their hands. Throw well, run fast, make a statement. Get noticed.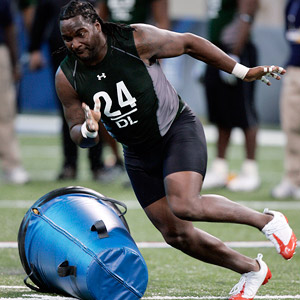 AP Photo/Michael Conroy – Does this really tell you how good an NFL player Tyson Jackson could be?
At its worst the combine creates a false hope that 32 reps on the bench press can overcome four years of inconsistent game tape. Or it makes a science of foolishness by putting young athletes through such tests as the shuttle run, the three-cone drill and the standing broad jump. While the first two of these look like a game you'd set up for your nephews in the living room on a rainy day — "OK, kids, first one twice around that empty Sun Drop can and back wins" — who knows how many NFL coaches over the years, caught in a tight spot in the Big Game, up against it in the closing moments of the fourth quarter of a Super Bowl, have squinted down their bench and thought, "Lotta good men here with guts or toughness or character. But damn it, I wish I knew which one of these guys had the best standing broad jump."
While he raises some good points about players having intangibles that can only be measured on the playing field, I think it's important to have several tests that serve as measuring sticks for everyone. He also reminds me why college sports are better than the pros, you get the chance to prove yourself over 4 years and if you can't cut it, then your 40 time doesn't mean squat!