There are LAS operatives all over Boston proper and the rest of Massachusetts, scouring the area for lacrosse action, and all weekend we'll be updating this post with noteworthy submissions.  If you feel like getting in on the action, send in photos, videos and stories to info@lacrosseallstars.com, and if it makes the cut, it goes up.
And get excited for the internet portion of your weekend because Swank Lax and I (that's a band name for you) will be live blogging away during all the games.
High school games, college games, tailgating, lax stuff in bars, backyard lacrosse, WHATEVER!  We want it all, as long as it's good!  And don't forget to make YOUR picks for a chance to win a strung head from yours truly.  WORTH IT!
FRIDAY – Practice, Gear and N-S Games
For more from Notre Dame's walkthrough at Gillette Stadium, check out the Notre Dame Lacrosse Facebook page.
Joe Eck, who just made the US Developmental box lacrosse team as a junior in college (congrats, Joe!), takes in the Division III North – South Game at Harvard.  And that is good. RIT, Roanoke, Denison, Middlebury, Skidmore and more out there for the start.  Should be a good one!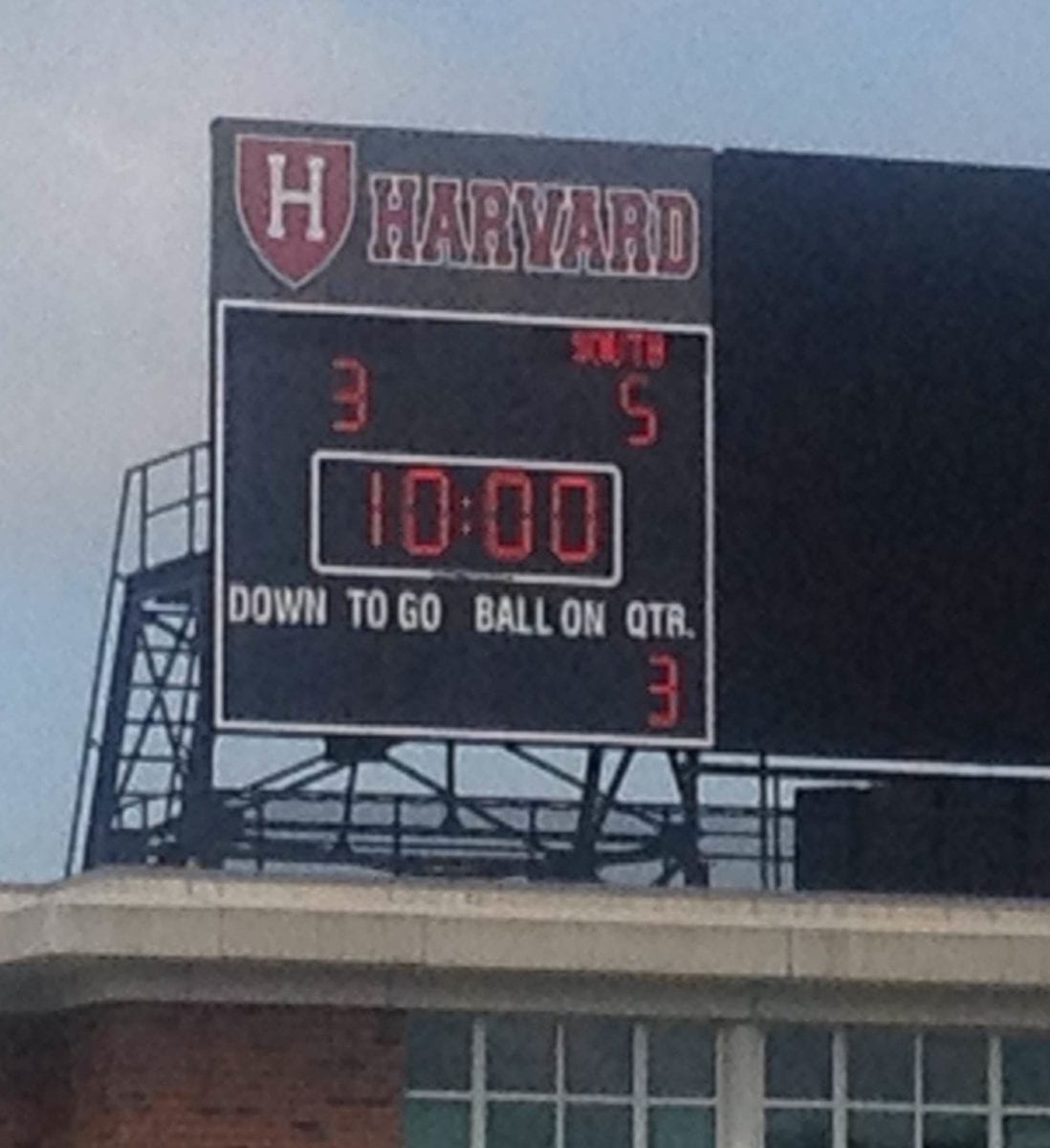 The South is literally holding the North off the board with a 5-3 lead and there are 10:00 minutes left in the third quarter.  This is always a fun game, but usually a bit higher scoring!  I've heard the Skidmore player taking face offs has lost his helmet at least twice.  Time to buckle up!
AND… The South wins.  The South was up, the North made a big run and then the South came back to win 14-13.  That's more like it!  We may or may not have the game tying and game winning goals coming in later this weekend.  Word on the street is that Jeff Keating from Roanoke (South) and Matt Pope of St. Lawrence (North) played particularly well.
The Division I/II North – South Game is up next… and the South wins that too, by a score of 15-14.  See, I told you they are high-scoring games.  Supposedly, no one played scored more than 3 points in the D1 game, and even then only one player had 2 goals and an assist.  Congrats to our man Joe Vitale from DII Adelphi for going 1g, 1a in the game!
Oh, and there is a Delorean at Harvard, because why wouldn't there be?  Thanks to Ty Webb for that gem!
Dowling hits the field for a pre-National Championship game practice.  Note their helmets.  Now note these helmets:
When you make the Finals, you get swagged out.  That's the rule. Cascade to Warrior for one game, I guess.  The matte just looks THAT good I guess!
Ryan Hurley and Max Seibald before last night's Epoch/LPG/Bro Bible party:
Which one looks like they went to Cornell? Trick question, of course. They both did.
Saturday – Tailgating, Final Four And MORE!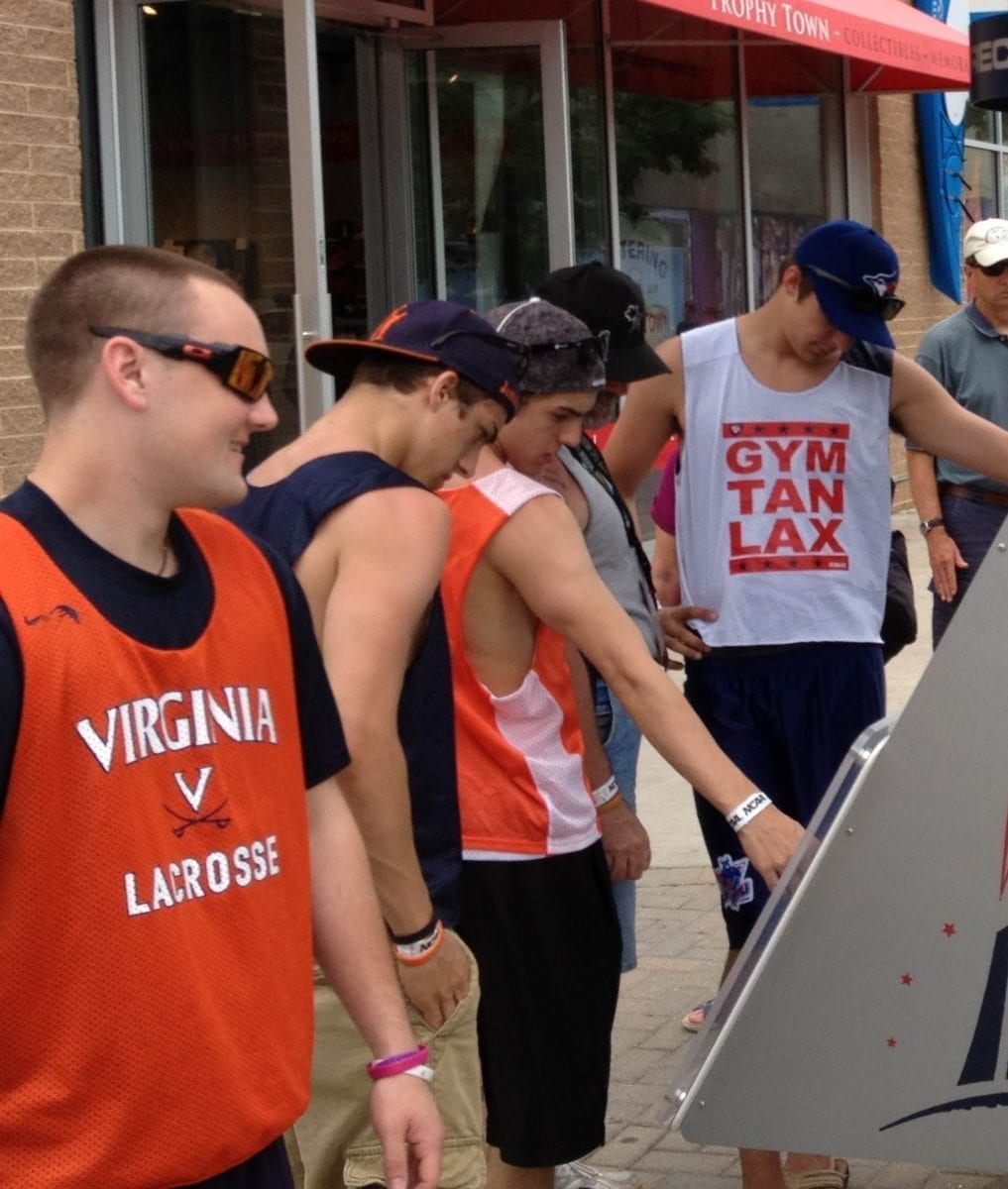 Pinnies, pinnies everywhere!  Thanks to Joe Eck for these snapshots of fandemonium.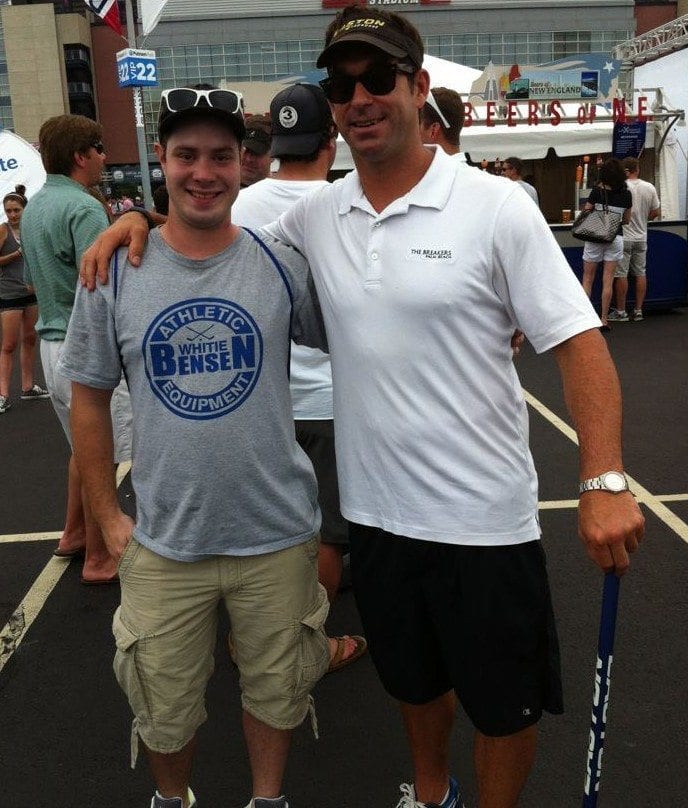 Big thanks to Randy Sherry (pictured with Casey Powell above) for sending those last three over! Great stuff. We'll be sure to have more for you as the weekend wears on!
Facebook reacts to the first Division 1 game starting.  Grammar and spelling errors aside, people seem excited!
Not a bad showing, but we're kind of surprised the place isn't more packed.
Connor Martin!  Always exciting.  Growing the Game every day!
The new Duke helmets aren't that special… wait, YES THEY ARE.
Thanks to 412 for the lid pic. Like.  Maybe that's drawing the crowd in?  Seems like there are more people there now.
Great game by Loyola to take home the first W of the weekend.  One more step for the Hounds.  Now it's on to Duke – Maryland.
Thanks Ty Webb! Tight game so far!
Well, now we know it's an ALL Maryland final as the Terps of Maryland and the Hounds of Loyola will meet on Monday!  I bet everyone I know named "Loyola Steve" (there are 4 of them!) is excited!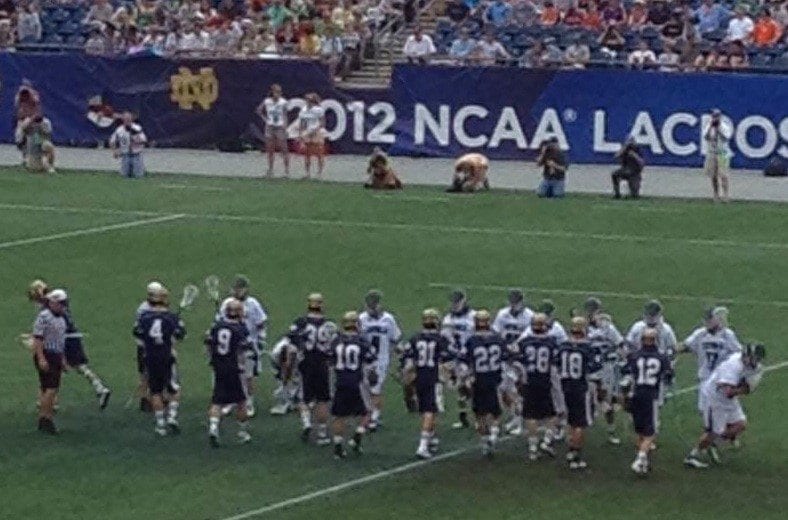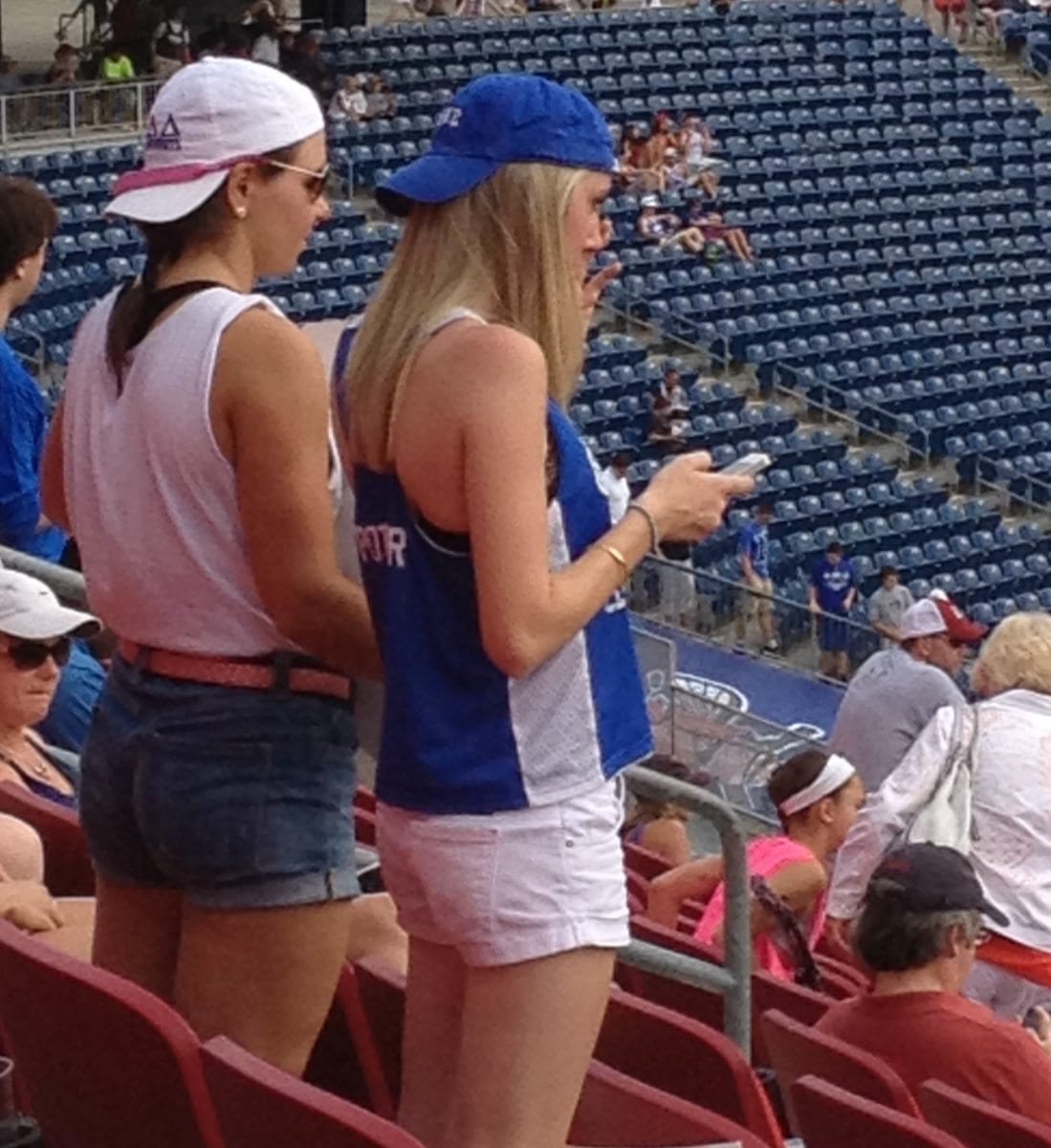 Sunday – D2, D3, Under Armour and MORE!
The action continues today, as the DII and DIII Finals will be played at Gillette Stadium.  The D2 game is at 1pm and can be seen on NCAA.com.  The D3 game is at 4pm and is also being webcast on NCAA.com.
It's time for more LAX!
Wow.  Quite a bit going on at Gillette today.  Anyone who can grab me a neon yellow UA head gets a big hug.  Word is if you pick up a ticket, you can pick up a free head.  Now all you need to do is find someone giving out tickets.
WATCH THE GAMES!
The D2 fans were RABID for their side.
From utter disappointment (bottom left)  for Limestone to sheer jubilation (top right) for Dowling, the D2 games was AMAZING with the Golden Lions winning 11-10.
Congratulations to Dowling on their first ever National Championship in Men's Lacrosse.  Well deserved!
And the D3 game went down.  VERY tight early on, it came down to execution, game planning, coaching and bit time players showing up in a major way.  Along with the D2 championship game, it was easily one of the best games of the weekend.
And a huge congratulations go out to the Salisbury Sea Gulls for winning their second straight, and tenth overall, DIII National Championship.  Put talk of them going D1 to bed right now please.  Thank you.
A great year, lots of tight games and Sam Bradman came up big time and time again when the Gulls needed him to. According to Twitter and many other sources, he's in the LXM Pro now.  Well, that was quick! 30 minutes after his career is over and he's signed with a pro league!  Not sketchy at all.  Willing to bet he gets signed on as a sponsored player by a manufacturer soon.  Kid is a baller!  Speaking of ballers…
The action continues Monday with Maryland vs. Loyola!
What a great finals image I made in 4 minutes! haha.
Congrats to Loyola on winning their first ever National Championship in Men's Lacrosse!  With a resounding 9-3 win over Maryland, the Hounds join a very small group of schools and players.
An interesting note, with just under 4,000 students enrolled, Loyola is the smallest College to ever win a lacrosse title.  Hop comes in second in the mid 4,000s.
Eric Lusby went off again, and set an NCAA tourney record for goals.  Must be great for the grad student after missing last year.  Who am I kidding?  Of course it is!  Loyola has been close before, and building for years, and it's great to see some new blood take home the rings.  I'm excited to see it go to such a talented and hardworking team.  An impressive year, to be sure!
I'm sure we'll have more photos and info added soon, so check back often, and we'll help you get ready for the Summer.