The second, and final, 2013 NY Lizards game in New York City went down last night, and while it was a wet affair, the fans that made it out were treated to a great game on Randall's Island. A solid contingent of Harlem Lacrosse & Leadership players came to the game, and there was also a solid presence from Doc's Lacrosse (NYC youth organization). I even saw an increase in the number of people in my age bracket (old) week over week.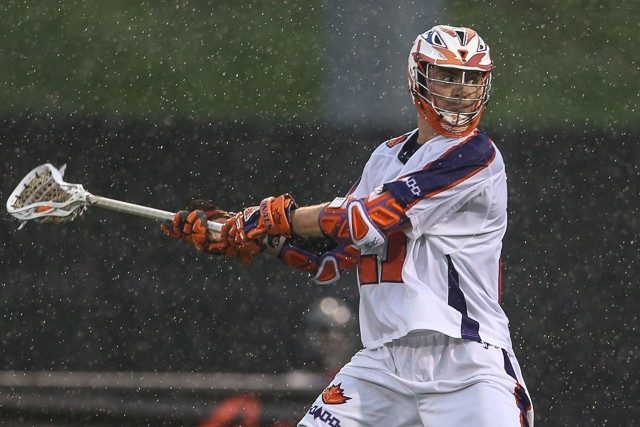 Overall, attendance wasn't great, but when you consider how hard it is to get to Randall's Island, and the fact that it was pouring for much of the game, the turnout wasn't all that bad.
On the field, we saw a much better game than we had the week before. Last week, the Lizards came out flat against the Bayhawks, but this week, NY brought the hustle and passion from moment one. It showed, as the Lizards scored the first two goals of the game, gave up a Hamilton run of goals, and then went right back to work. It also showed later, as NY was able to hold off a furious Hamilton rally to ice the game, and win 12-10.
A big change for New York was their use of a zone defense. Instead of doubling, or sliding, on Hamilton's fluid two-man game, NY decided to pass dodging players, basically forcing the adjacent defender to step up and play the ball, while the original defender dropped to defend the slip pick. When used in conjunction with the rain, which slowed Hamilton's passing game a bit, the zone did wonders for NY, and it allowed them to showcase their athletic poles and shorties.
The defense also put Drew Adams in a good place to make saves, and Adams delivered, making 12 saves for the win. Tom Palasek led NY with four goals, while Rob Pannell had two goals and three assists. Pannell is quickly settling in to his QB role out there, and he worked well with Palasek and Matt Gibson.
Game Notes:
– Dillon Ward got his MLL action in this game in net for Hamilton. I saw Brett Queener after the game, and he was soaked from standing on the sideline, and yet he still had a big smile on his face when he said hello as he walked to the locker room after the game. That kind of sums up for me how much the MLL guys love this game. Didn't play, soaking wet, lost, still a happy camper. Awesome to see.
– Cornell Alumni were out in force! Of all the D1 teams, I saw more Cornell grads at the game than any other school. They were there supporting Pannell, and also Jason Noble, who was making his MLL debut. Great to see so many Big Red out to support their former teammates.
– FDA ball boys, and crew. 5 or 6 FDA players acted as ball boys for the game, and they stayed out there even when the rain was coming down the hardest. Big props to those guys! The rest of the FDA crew was into the game, and seemed to have a good time!
For some silly post-game chatter, check out Getting Silly With Max Seibald