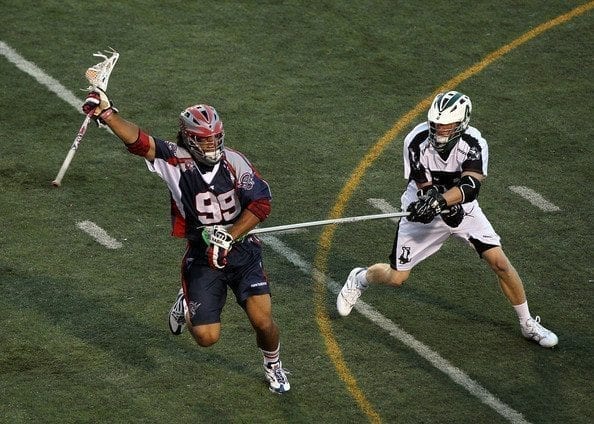 Photo courtesy Jim McIsaac/Getty Images North America
As a longstick midfielder or as a close defenseman, there is simply nothing better than knowing the players you cover are scared of you.  Possessing a number of poles who elicit these feeling from O players, and being able to instill fear and dominate at all aspects of the game will change any team's fortunes. And we've got two GREAT opportunities for our readers right now that relate to this perfectly.  The first is a one-day camp that takes place THIS weekend and registration is still open.  The other is a top notch DVD that will definitely provide you with the means to become a better overall lacrosse player, and if you work at it enough, one of those highly feared defenders!
LongStickMiddie.com is Malcolm Chase's creation, and the name "LSM" pretty much sums up what they do.  They work with poles.  Of course, it's not only the LSM position that they work with (they also work with your more typical low defensemen as well), but that is the focus.  Why?  Because a longpole who can do it all is a HUGE game changer.  Look at guys like CJ Costabile (Duke '12), Tommy Kehoe (Gettysburg PotY '09) and Brian Karalunas (Villanova '11 All-American)… all of these players make or made their teams noticeably better because they could do it all, and all of them were longpoles.  Look back on lax history at players like Petro, McCabe and Beardsley and you'll see guys who you had to game plan against.  Guys who changed the game.  They were GREAT longpoles.
This weekend, LSM will be offering a one-day clinic on Saturday, August 13th in South Norwalk, CT.  And the reason I'm telling you about it is that you still have time to register and participate!  That's right, there are still a couple of spots open.  So if you're interested in learning ALL the checks, and how to throw them, if you want to become a GB Machine, and learn how to push transition and score goals, and if you want to learn how to keep your feet under you and never get beat, then sign up.  It will be the most position specific instruction you'll ever receive, and yet at the same time, they won't try to turn you into a specialized player.
Does that last part leave you scratching your head a little bit?  Their instruction is specific, but they don't turn you into a specialized player.  How is that possible?  Well, if you read my review of the LSM.com DVD you'll see that this is accomplished by focusing on ALL aspects of the game, and creating a well-rounded player.  Simply put, a longpole that can do it all is the most dangerous type of longpole there is.  And that applies to LSMs AND defenders.
So if you can't make the camp in South Norwalk this Saturday (Aug 13th), then consider buying a LSM.com DVD from the Lacrosse Shop!  As a 30 year old former college longstick who still picks up the pole from time to time, I can tell you that it improved my game.  I knew how to throw a kayak before, and would actually land them pretty often.  After watching the DVD, I tweaked how I throw the check and it's been much more effective.  Same goes with my over the head check.  Actually my OTH was pretty awful, but I can actually throw it now with confidence… and I've been playing the game for over 20 years!  This training product actually works!
[fvplayer src="https://youtube.com/watch?v=iZ3ubFUHHI0″ splash="https://i.ytimg.com/vi/iZ3ubFUHHI0/hqdefault.jpg" caption="Kayak Check.mov"]
So if you want to be great, but are having a hard time figuring out just exactly how to do so, look no further.  LongStickMiddie.com is here.  Now you might say to yourself, why is Connor speaking so highly of these guys?  Did they pay him to talk like this?  Is CW corrupt?
So as always, I'll be completely transparent here.  I did get a pair of UA shorts, a UA LSM hoodie and a pair of UA sneakers from Malcolm and the LSM guys when they came to NYC for a camp.  They did send me a DVD to check out for free.  And we now sell that DVD in our store.  But the fact is, I only endorse things I believe in, and you couldn't even begin to imagine how much gimmicky crap I've been sent.  I didn't endorse that stuff because it simply wasn't any good.  I will endorse LongStickMiddie.com's camps and DVD however because I've seen both in action, and I'm an honest believer.  This stuff will help you become a much better lacrosse player.
For more info, you can check out LongStickMiddie.com but know that you'll be better at all of this by the time you leave:
One-on-one positioning.
Take away check set up and execution.
Creating pressure situations.
Transition offense/defense.
Facing off with a long stick.
Wing strategies.
Drills for improved check speed and accuracy.
Shooting with a long stick.
Footwork to become a more agile and efficient defender.
And rumor has it there is going to be a REALLY big name cast of Coaches at the clinic in CT.  Learn from the best!