LAS Contributor Kim Black was in Boca Raton, Florida this past weekend to check out the Major League Lacrosse's All-Star Game in person. We'll have more about her overall experience later this week, but in the meantime you can check out some of her great photos below while I recap the weekend event.
Key Takeaways
According to my sources… if you were there, you had a great experience. Many of my friends who were in attendance told me that their weekend was fantastic, even if those of us stuck home watching the ESPN2 broadcast experienced some major audio difficulties.  Thankfully, the video feed didn't present many problems at all, so while we weren't able to hear Joe Beninati and Quint Kessenich wax poetic all night long, we did get to watch the game. If we're only getting one or the other, I'll take the video any day!
All Photo Credits: Kim Black Photography
There was a good crowd in attendance for the game, and from all accounts, Casey Powell was instrumental in making it happen. He's got a good in with the lacrosse community down there, and if South Florida does get an expansion or relocation franchise sometime in the near future, I wouldn't be surprised to see CP involved in a major way – either as part owner or as a high ranking employee.
The game itself was even and high-scoring, as we all expected it to be. There were some fancy goals, some long-range bombs, D-mid goals, long pole goals, and multiple goalies made end to end rushes. There was little-to-no stalling, and both teams put in hard work from start to finish.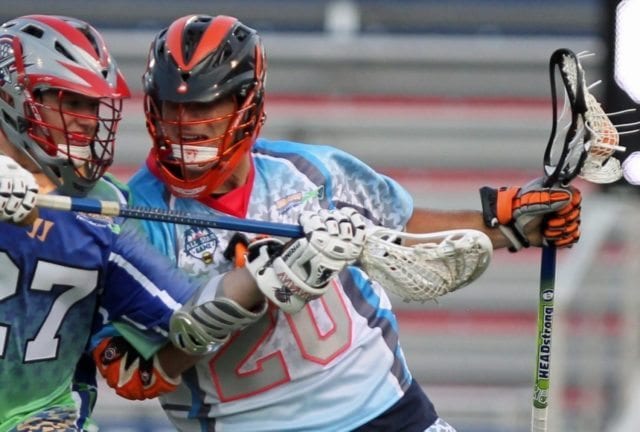 Brett Queener took home the creativity award, which was no surprise, but his trickle in trick shot was nothing short of lucky… and awesome. Leave it to a guy who lives in a teepee to come up with something incredibly original. Joel White dominated the obstacle course, and Kyle Hartzell shot the ball 111 MPH to tie Paul Rabil's record and win fastest shot.
At halftime, the score was 9-9, and neither team seemed in control for long. The Old School team ended up winning the game in regulation by a score of 18-17.
What amazed me about the game more than anything was that Stephen Berger won a giant $1,500 check for being named the MLL All Star Game MVP with only 3 goals! Jeremy Sieverts had five points for the Young Guns, but other than him, NO OTHER PLAYER had more than 3 points. It was a very even game in that sense as well.
The star players for the Young Guns were the goalies. The three keepers, Drew Adams, Jordan Burke and Adam Ghitelman, combined to make 21 saves, while Jesse Schwartzmann and Brett Queener combined for 16. Schwartzmann was fantastic in his time though, and his stuff on Jovan Miller was most excellent.
Queener took a number of dive shots, and suffered from the collisions a couple of times. He seemed surprised to get hit, which does make sense since it's an All Star Game, but hey, it's also Major League Lacrosse and that stuff happens in this league. None of the collisions were bad, but they all made me chuckle a bit. Queener is just pure entertainment, and of course, he's extremely talented. They should bring him back to the All Star Game even after he retires! Brett Queener could be like the Darrell Green of the MLL, but for different reasons.
The most negative reaction from the weekend was toward the uniforms. I have a hard time hating on the uniforms because they are for charity, but I do agree that they could have been done better. First off, they didn't look that different from one another on TV. And  second, the uniforms seemed a little "Men's Summer Club" to me.  This is a professional league, so while we can have some fun, the uniforms should definitely have an air of class about them.
That said, if the uniforms are the MLL's biggest problem, I'd say they're doing a pretty good job!
Florida Atlantic University was a great location for the game, and the raised stadium would work well for professional lacrosse. FAU has made major investments in their campus and athletic programs in recent years, and it would be an ideal place for a smaller professional sports team.
Boca Raton, and the surrounding area, has more than enough disposable income to support pro lacrosse, so we're just left to wonder… will the MLL actually put a franchise in South Florida? If Casey Powell stays involved with the sport, I really can't see why they wouldn't.
For more great photos from the Major League Lacrosse 2012 All-Star Game, courtesy of Kim Black, check out the LaxAllStars.com Facebook page!