With weekend #3 quickly approaching, I'm here to get you prepped for what should be a great FOUR (thanks Peet Poillon!) games of Major League Lacrosse.  I'll preview all three match ups, tell you what to watch for and make some predictions on winners!  So far I'm 6 for 6 on predictions… not too bad, hmm?
The Boston Cannons (2-0) host the Hamilton Nationals (0-1) and when you combine Boston's defensive prowess with Hamilton's seeming lack of offensive cohesion, this game starts to look like another cruise to the win for the Cannons.  Some might argue that Hamilton has offensive fire power that can match Boston's D, and I don't disagree when I look at the match up on paper.  Hamilton does have talent.  But my big concern is a lack of cohesion, not talent, so I still say Boston rolls.
I like Hamilton to put up 9-12 goals, but I think Boston's offense will generate a lot of good looks agains the Nationals defense, and I like how the Boston defensive end is able to push the ball up quickly to create transition and early looks when appropriate.  Boston puts up at least 16 goals and wins by 4 goals at home.
The Ohio Machine (0-1) are on the road visiting the Charlotte Hounds (0-2) and the great guarantee in this game is that ONE of these teams will get their first ever win as an MLL franchise.  Who will it end up being?  I'm not sure actually (I can admit that), but I like Charlotte at home in a close game, maybe 15-13.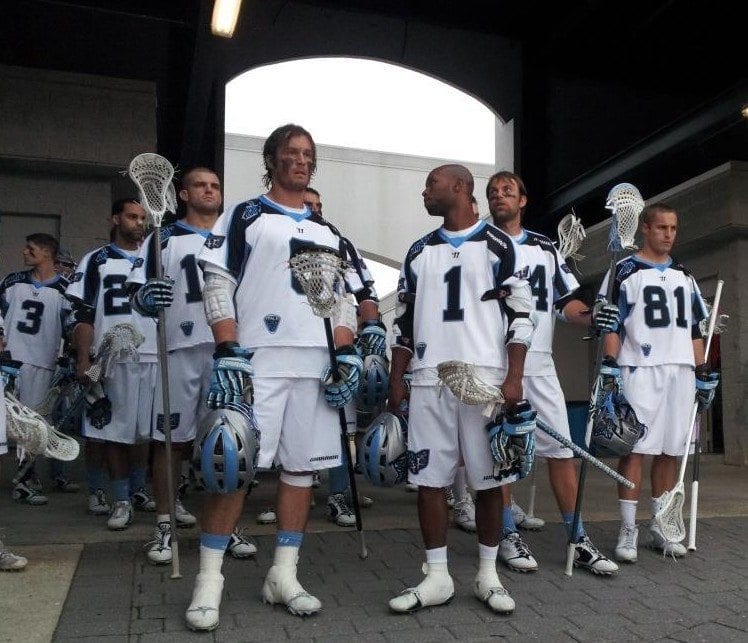 Photo credit: Ohio Machine Facebook page
I'm not sold on the Hounds' team defensive abilities just yet, but then again, I'm not a big believer in Ohio's D either.  The difference maker here is that I like Charlotte's offense just a little better, and think they are slightly better in goal.  If Anthony Kelly gets on form, Ohio could do well at face offs, and that could cancel out one of the two areas of superiority for Charlotte.  Like I said, it will be tight… but I think Charlotte in front of a home crowd pulls out the win.  Just barely.
The third game of the weekend features the Rochester Rattlers (0-1) playing at the Chesepeake Bayhawks (2-0). Rochester enters this game as a definite underdog, and Chesepeake seems to be in good form early.
The Bayhawks D is gelling nicely with some replacements, and their middies are clearly capable of taking over a game. John Galloway will need to come up big for Rochester on outside shots, and 2-pointers.  If he can do just that, Rochester has a good shot at pulling out the win.  I am just WAITING for the Rattlers to come together, and it's only a matter of time.  But will this be the game it happens?  I don't think we're there yet.  Bayhawks take it at home by 4+ goals.
The Long Island Lizards (0-1) head off to the Mile High City to play the Denver Outlaws (2-0) and this has the makings of a great game  Long Island is revamped and looking to make waves in 2012, while Denver has a returning core but a lot of new additions.  Both teams are trying to cement their identities and will view this game as an excellent test.  Long Island knows it can hang with anyone, but they need to find out if they can also BEAT anyone, and Denver is as good a test for that as possible.
Denver wants to play great, consistent lacrosse, and must be looking to avoid an early season let down.  After two very solid wins, this team has to be confident, but also looking forward to a real test.  It's too early for any parties to have started, so expect Denver to come out hungry as well.
I'll take Denver at home by 3 goals, especially if their midfielders play well.  They have an athletic and diverse group, and will also be well prepared to face Max Seibald, as he played in Denver last Summer.  I think LI is still missing a piece or two, but Denver is pretty close to being a full team.  In the MLL, that can be the difference maker between a win and a loss.
So there you have it, previews of all three games and predictions on who the winners will be this weekend in the MLL!  Think one or more of these Major League Lacrosse will turn out differently?  Let me know in the comments section and be convincing!