The New Orleans Lacrosse Club is once again hosting the Mardi Gras Lacrosse Tournament in New Orleans, LA.  I went down last year for the first time ever and will definitely be returning to this tournament, for what will probably be, the rest of my life.  The fact that my younger, but substantially larger, brother and his lovely wife live there doesn't hurt the chances of my continued return.  And neither does the fact that New Orleans truly is an American Original.
Visiting NOLA is like taking a trip to a foreign country without ever leaving our own border. The culture is distinctly different from everywhere else on Earth.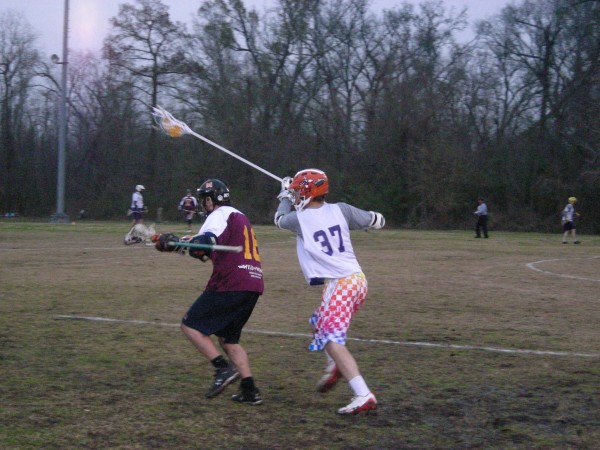 This year the tourney will be held in City Park and the Championship game will even be held in a small stadium located within the City Park complex on Sunday.  This is something I absolutely cannot WAIT to see for myself.  City Park is a beautiful complex and playing there is a true blessing.  Add in the fact that the fields are dry (much less rain than usual!), the sun has been out (only a little rain forecast for Friday!) and you've got 12 men's teams and 6 women's teams coming to town for some lax, and this has the makings for a fantastic weekend of lacrosse and family.  As you can tell, I'm very excited.
The Men's teams have been divided into two Divisions: Thoth and Endymion.  The teams in Division Thoth are as follows: New Orleans Lacrosse Club, Tony's Tavern, Bamboozers, Team Adrenaline, Great Lakes Lacrosse and UVA.  The teams in Division Endymion are: Flying Elvis LC, Wisconsin, Lonestar Lacrosse, Team Laxzone, Team Viva and Saints Lax.
Each team plays a game on Friday afternoon and then returns Saturday morning to kick things back off at 10am and continue until around 4pm.  On Saturday night there is a large tournament party which is always a lot of fun.  Great to get that many laxers all in one place!  Last year there were some pretty amazing flow sightings.
On the Women's side, The Classics, Georgia Tech, UVA, Vanderbilt, Wisconsin and WVU are all coming down to play.  Some are made up of alumni, some are made up of the current women's club team players.  Some bring coaches and some show up with only 11 players.  Last year the Women's games were free-wheeling and a lot of fun to watch.  Hoping for the same in 2011!  The Women don't play Friday, but they get going at 8:45am on Saturday and then play through Sunday to the Championship.
2011 is looking like another great year for the Mardi Gras tournament and I'll be sure to send back reports.  Don't be surprised to see a lot of people you already know… and some new faces, of course!
Coverage from 2010:
– Mardis Gras Tourney – Friday Recap
– Mardi Gras Tourney – Saturday
– Mardi Gras Tourney – Sunday + VIDEO!
Championship Game – 2010 Mardi Gras Lacrosse Tournament from Lacrosse All Stars on Vimeo.