Editor's Note: Josh Potter is back on LAS to explain how he got injured, almost had to give up lacrosse, but found a new path in the game by playing box lacrosse goalie. It's a great read and Josh ends up being a World Championships Goalie for a first-time WILC team. Compelling stuff about sticking it out and adapting to challenges in life.
Two short years ago I was asked to write about coming back to play goalie shortly after I sustained a serious, nearly career-ending, injury to both of my legs. Today I'll catch you up on how my friends, suportive and loving family, and some truly great coaching, all combined to get me to the World Indoor Lacrosse Championships last September!
OK, first we'll start with the back story, which you can access HERE. Basically, I got hurt really badly, and had to move to goalie if I wanted to keep playing lacrosse.
I'll NEVER Be A World Championships Goalie…
It was at this point that word had started to spread that there was a new goalie up for grabs in the forthcoming Philadelphia Box Lacrosse Association (PBLA) summer session. No one knew who he was despite the fact he made his one-season league debut ten years earlier! Of course I'm talking about myself. I'm the fresh goalie meat in town, and while I know the arena and I know what to expect from the players, I just can't help but wonder if anyone will pick me up?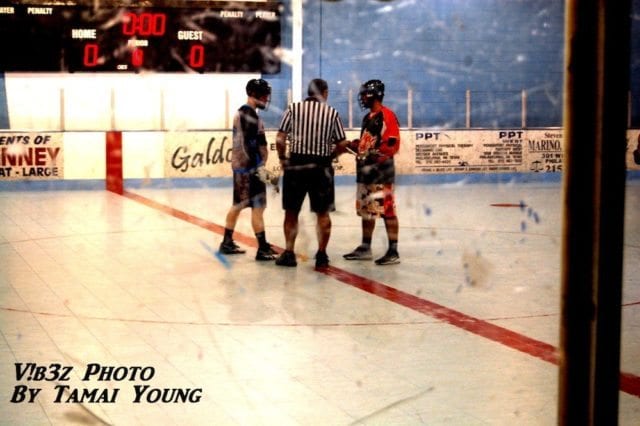 It's a rainy night in the late spring of 2014, and I'm behind a desk and microphone at our local fire house. Because I'm the president of the fire company, I've got to run the meeting in the big hall each
month. My phone buzzes in my pocket because someone left me a message. I'm thinking: Who the hell would call me during a meeting? Everyone in my life knows about my monthly meetings. I continue to rage on in my head… WHO… CALLED… ME?? I'M GOING TO DOMINATE YOU WHEN I FIND YOU!
I know what you're thinking, just the right amount of crazy to be a goalie, right?
Unbeknownst to me the PBLA had just concluded their annual captains meeting and I got picked up by the Philadelphia Thunder. This is all happened just moments prior to the approval to purchase a new 3 inch blitz line for our attack engine. I'm confused as I listen to the message from my future coach Jim Glielmi. Who is this guy? I say to myself. I continue to listen to the message and put all of the pieces together. Holy moly, I'm actually on a team!
I call Jim to thank him and he tells me that he heard I was new and that he was in the market for a tender that wasn't looking for a starting gig. That was definitely me. Let's be honest, I'm brand new to this position, so why jump right into a starting gig with so much to learn? Why hurt a team that wants to win? He proceeds to tell me that the guy starting is none other than Pat Crosby from the Stickhorses.
Yeah, I can get used to this. Pat and I know each other but aren't really close yet, but when Jim asked him, Pat said "Yeah bro, pick him up, he's a good kid." I'm flattered. The summer session starts and I am flooded with pointers from Crosby. I'm soaking it all up like a dry sponge. The season ends with our team winning the championship against the perennial powerhouse, Outlaws.
Also, a special piece of recognition is tossed my way by the local sports beat writer for laxphilly.com and PBLA statistician, Kevin Neibauer, "co-rookie of the year ". I share the title with Cory, my teammate, who is deserving of the award also. Who would have thought I could get this far this quick? I'm starting really think I can do this.
The 2015 PBLA season is now upon us, and I'm still with the Thunder. New starter this year is Bill Hack of the Reading Rockets. I think, well… this is still looking pretty good! I don't know Bill but I hope he's willing to teach me some more skills. He is, and he does. I continue to improve. The season ends with the Thunder winning it all again! I'm proud, thankful, and very happy!
But there was a twist to the 2015 season; I was eternally distracted by an invitation to play for the country of Turkey in the upcoming FIL World Indoor Lacrosse Championships. Easily one of the most passionate lacrosse enthusiasts I have ever met is Patrick Dougherty. I met Pat a few years earlier at a tournament when I was still a runner. We've maintained a friendship for several years and I watched him develop the Turkish lacrosse program immensely over the course of those years. Pat knows that my grandmother was Turkish from conversations we've had and knows that I am eligible to play for his team.
He says he's looking for a back up tender for the worlds and when my PBLA season is over he'd
like me to take this offer seriously. Nooooo problem Pat, lock me in!
As I prepare for the games in Syracuse NY, I start to realize that many of the lacrosse friends I met internationally will be at these games. It's like Christmas morning, only stretched out over the course of a week! My Turkish gear is mailed to me and I start wearing it around the house. My new Turkish goalie gloves eventually show up, and yeah, I start wearing them around the house. The dogs are really confused.
It's September and the games are set to start in just days. My co-workers still don't believe that I am playing in the WORLD GAMES. My pregnant wife and I pack the car and drive on up to 'Cuse. Her support and effort to help me make this happen was, and continues to be, amazing.
It's time for the opening ceremonies. Turkish uniforms, uniforms of other countries, and native North Americans in their traditional garb are everywhere I can see. I like to consider myself in touch with our sport, and not just associated with it. I very truly believe I owe the balance of my life to this sport because it has brought me places and introduced me to wonderful friends.
The ceremonies are incredibly stirring, some emotions are exceedingly difficult to contain. I hide a tear of pride. This is the most important and beautiful lacrosse experience of my life and I'm glad I am sitting down!
The games commence, I expect to get little playing time as I am the back up and our starter is really, really good. Who cares, right? I'm dressed for the world games! It seems like yesterday when I picked up the huge goalie stick for the first time, so I'm not all that concerned with playing a lot, to be completely honest.
Well, as fate would have it, I get the nod after our starter is forced to serve a 5 minute major for something, although I'm still not sure what. I let a few go by me quickly and it feels like I just let an entire country down. I want to jump off the roof. My elation has turned to depression. But I battle through it and my teammates pick me back up. OK, even though I probably won't go in for the rest of the tourney, at least I can say I played in a WILC game.
But if I get back in net, I'll do better, I'll listen to my coaches closer…
We're playing Germany in the semi's now. The horn sounds to signify the end of the third quarter, and now the ref blows his whistle and escorts our starter to the back room for pad measurements. To this day, still a "controversial" call made by the German coach, but a wise one. Our starter is deemed illegally wide by an inch on each side and pulled from the game.
I get the nod to go in again.
I can hear a collective holding-of-breathes as I stroll to the net. I know what they're all thinking, because I am thinking the exact same thing. I'm not certain about myself out there, but I might have been offered a solution by one of my teammates… "If it gets out of hand, fake an injury." I've always got that. But I'm here, so let's do this.
I take the net and square up for play.
My wife peers through the glass directly behind me. The quarter starts and the Germans want to make their presence felt quickly. I stop some, and let some in, but I save more than I allow. It feels pretty good. The whistle blows, and in the end, we get the win. The team crowds around me like we just won the Stanley Cup. I couldn't be happier. In the echoing locker room, coach tells everyone to shut the hell up, raises a bright clean lacrosse ball and says something I never thought I'd here; a man of little words simply says "Game ball goes to Potter" that's all I needed to hear, my teammates cheer.
I later find out that LaxAllStars very own Connor Wilson was calling the game for TV. He congratulates me and tells me that he felt I was the unofficial "player of the game". I melt with pride. My wife hugs me, my dad is absolutely blowing my phone up with texts after watching the game on TV, and I had no idea, but one of my great friends is in the crowd watching. A former NLL pro goalie himself, he comes up to me with an enormous smile and hand shake, says "great game, let's go have a catch".
(Find more awesome WILC video HERE and HERE.)
Is this the best day of my life?
Should I retire now? Just walk away, right now? Of course not! We get to our final placement game against Finland. Our starter sustains a very serious injury, taking him out of the game mid way through the first. I'm in for the remainder. The Finns are very good at this sport, especially Roope Jokela. The guy finished number 4 on the points sheet for the entire tournament, he's good. We immediately lose three guys to ejection, and three more to injury. We're already trailing and me thinks this is gonna get real bad before it gets better.
The remainder of my team has very little lacrosse experience, like less than a year holding a stick kind of "little". We get slaughtered. I don't blame myself for the loss. Yes, I could have played better. We all could have. But it's the last game of the tourney and everyone is injured and tired. We finish in tenth place.
Do that math to yourself. Roughly two years from picking up a goalie stick for the first time, I finish on a team that places 10th in the world. Despite my performances against Finland, I'm proud to have contributed to a tenth place finish. TOP TEN IN THE WORLD BABY, and still playing the game!
I anticipate a feisty 2016 PBLA season… and I can't wait to strap on the pads once again. I'm not going anywhere.