Max Kelsey is a stick maker from Bemidji, Minnesota (or shall we just call it Nowheresville, USA?), and he may be the best stick maker that you have never heard of!
I first came across Max Kelsey on Instagram. When I saw his account, I assumed he was simply a collector of traditional Ojibwe (Chipowa) style sticks. Then I noticed an unfamiliar brand that marked most of the sticks on his Instagram account. The fish branded into the sticks was something I had never come across before. Lo and behold, he created them!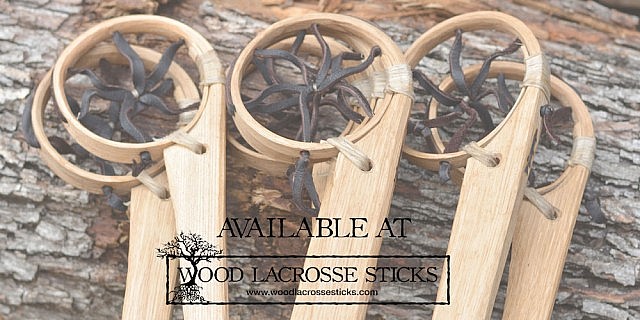 Max began making these at request of a local lacrosse coach. He soon found out that there was no one providing these sticks, and that the reservation's youth would not have access to a game that is central to their culture. His efforts to provide the game for this current generation led him to produce countless sticks.
Reputation polished his skills, and he became a skilled craftsman. Even the twine used in the pocket is built by hand. Kelsey refuses to use any power tools while making these sticks which results in a rougher and far more textured look.
The batch that I received at the WLS Wood Shop were made out of Oak. This is not the only wood he uses. As a stick maker, I can say that I respect his ability to change from one type of wood to another. It is not easy to work with varying species. Each has its own temperament, scent, toughness, stubbornness, and ailments. I can say that it is something I seldom do, and I avoid it because it is downright difficult.
Kelsey hand makes all of his sticks at his workshop. The style of stick making differs greatly from what you may be used to seeing. Ojibwe sticks have a much thinner head structure. There is no defined scoop to the stick, and the pocket is far more minimalistic. These sticks, and their lack of defined scoop have been credited with the origination of the term "Indian pick-up" which is when a player scoops the ball using the blunt sidewall of a stick.
I will write an article about the Ojibwe and their stick ball game sometime down the road. For now, let's enjoy a stick maker's craft. By the way, when Kelsey is not making sticks, the guy makes air planes!
You can follow Max Kelsey and his art on his Instagram account, and you can purchase one of his handmade sticks at WoodLacrosseSticks.com.