I made my way out to Randall's Island today in New York City for a Nike Lacrosse clinic, and found around 50 boys, 100 girls, and tens of coaches out on the field. The energy levels were relatively high considering the heat, and I got to spend some time talking shop with Billy Daye, which is always a pleasure.
A number of the kids had familiar faces, and many came up to say hello. Whether I'd met them at a session of Maximum Lacrosse Camps, a CityLax clinic, or from working with Connor Martin in Harlem, they were all excited, and happy to be playing lacrosse.
There was a lot of skill work going on, and offensively the lessons were focusing on moving the ball to the open man, especially when in odd number situations. There was a lot of overhand shooting instruction, and players were doing everything while moving their feet. Overall, it was a great clinic and I'm sure the kids got a lot out of it.
Nike had a booth set up, and even if you've seen a lot of this stuff before, it's still cool to see the new gear up close and personal. I particularly enjoyed seeing the new Nike Huarache turf shoes. Those will certainly be a hot item this year!
At the end of the day though, gear definitely came in a distant second, and the clinic focused heavily on keeping the kids active, engaged and improving. The players all brought great attitudes, and numerous coaches remarked that the players were like sponges, just soaking up information.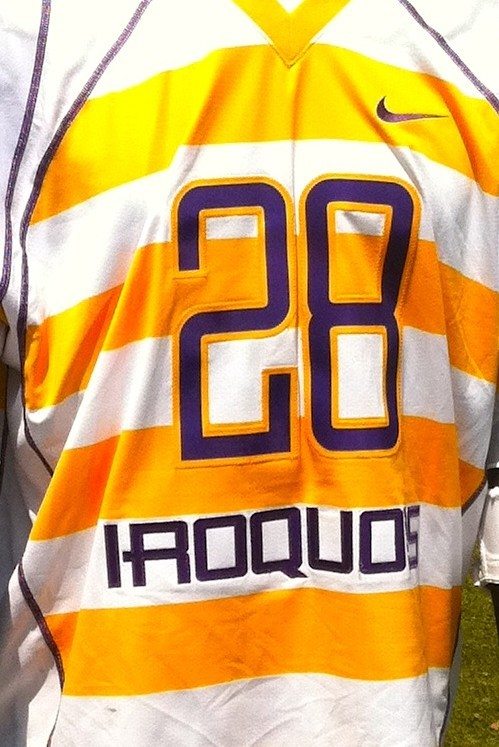 We love that Nike is making a push in New York City to Grow the Game! Keep up the great work, guys!
I would also like to note that it was fantastic to see so many players from FDA at the Nike clinic. Frederick Douglass Academy in Harlem is doing great things with lacrosse, and every time I hit the field I see more and more maroon and gold helmets dotting the field. Keep GTGing FDA!