There's something so intriguing about the box lacrosse goalie. From his enormous presence in front of a tiny goal, to his well decorated helmet, the NLL goaltenders are always an eye-catching presence. An easily underrated and overlooked position, the NLL goalie never gets enough credit for his dedication to the craft.
We're here to show off each goaltender that has seen floor time in the 2017 NLL regular season. What's on their heads, protecting their bodies, and covering their hands goes under the microscope.
They all basically wear the same Boddam legs, pants and uppers, just in different color variations and sizes to best suite them. Where a goalie obviously stands apart is his helmet. They (literally) paint a picture of the goalie's character for the world to see.
The stick and gloves also tell a story, if you know how to listen. Let's see what they have to say…
Goalie Guide
Buffalo Bandits
Calgary Roughnecks
Colorado Mammoth
Georgia Swarm
New England Black Wolves
Rochester Knighthawks
Saskatchewan Rush
Toronto Rock
Vancouver Stealth
Buffalo Bandits
Anthony Cosmo
A couple of games into the 2017 season we saw NLL living legend Anthony Cosmo switch it up from the classic Bandit Head mask he's been rocking for a couple of seasons to a tribute to goaltending greats and the best of Banditland.
He's still working with the Bandit-eyes decals on white plastic, backed by the black padding with orange trim. Solid black Under Armour gloves with Orange accent stripes holds an all white UA stick with black shooters and one of the fattest wraps in the league. The reason for Cosmo's giant knob of tape is less grip and more rebound control, always pushing it to the limit.
Davide DiRuscio
Big Fish, as they call him, is already finding a lot of floor time in 2017 and will continue to serve as a reliable alternative to the great Cosmo. It hasn't been long since he made the switch from a Cascade CPX to an all black hockey helmet with simple Bandits decals.
On the body he has essentially the same pads as Cosmo, but no Bandit eyes. He also wore an eye-catching pair of all orange mitts will just a hint of black that made him look sharp against the Stealth. Going with all white mesh this year toned it down from the orange pocket last year.
Calgary Roughnecks
Frankie Scigliano
With Poulin no longer in camp and Del Bianco having a rough start, the job in Calgary is all young Frankie Scigliano's. Sciggs has an opinion on how things should get handled and he brings a bit of flair to the floor.
We've seen a little something different every time from this guy when it comes to the stick setup. Red, white, and black mesh, wraps and heads. Wild card! Love it! This year he's got white plastic below the knee and red above, backed with red padding and white accents. The perfect match to the flow of his gloves and uniform.
His new helmet paint job is superb. A headdress with the Rigger on the side is, how do you say, hot fire?! Always different, always killing it.
Cristian Del Bianco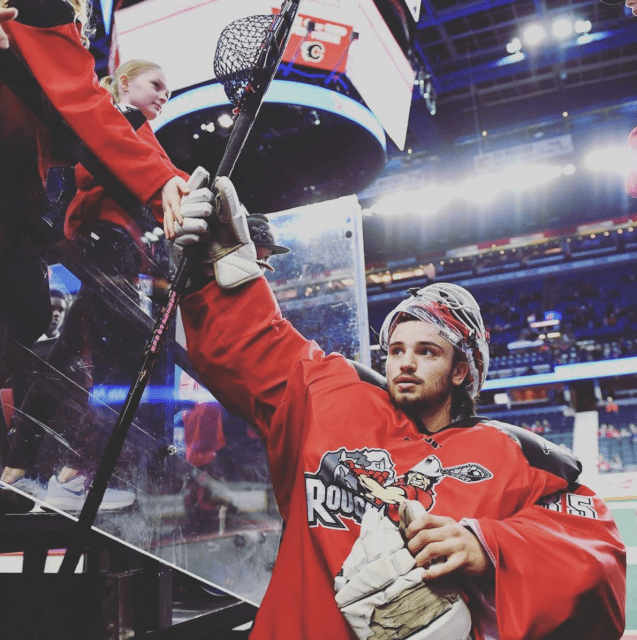 The kid just has to be different. Straying from the path (thanks to the NLL's new gear policy) Del Bianco is sporting a taped-up pair of all white Warrior Fatboys that he wore through Juniors. Groundbreaking stuff.
Down below, Delby's legs aren't too far off from Frankie's. Swap the white for black and voila! A bit different from last year's set up but the young whippersnapper isn't going to let things get stale, will he?
Still sporting the Cascade R on his dome, he switched from a matte black to white with red chin and generic vent and mohawk stripes. Nothing too exciting there. Points for the all black stick with red strings and minimal tape job. The thing looks confident and mean.
Zach Higgins
Although his relief of Del Bianco's less than stellar performance almost saved the game in Calgary, we haven't seen Higgins back on the bench yet. Struggling to find footing with any franchise, the Team Israel net-minder is still looking for that perfect fit.
Without a guaranteed contract, Higgins is going with the unpainted all white bucket and we saw him in last year's Roughnecks legs with this year's gloves. It really gives the look that Delby just shared his extra gear for the weekend.
Colorado Mammoth
Dillon Ward
Towering Dillon Ward is a massive presence between the pipes for the Colorado Mammoth, yet he stays fairly modest with the gear set up. Solid black plastic, burgundy backing with white trim on the legs matches ideally with the pants, jersey and gloves.
He uses his headwear to pay tribute to Colorado every year, his home away from his Ontario home. The state flag, Denver skyline and Rocky Mountains come together with the Mammoth mascot for one of the better paint jobs we've seen yet. We've got used to an all white stick set up from Ward, with a fat black wrap to dampen shots to the shaft.
Alex Buque
He hasn't hit the floor yet in 2017, but we've got to keep the most entertaining backup in the NLL on the list. He's got the same set up as Dillon Ward from shoulders to feet, but unlike his counterpart, Buque has yet to switch from the Cascade R to a hockey style helmet.
Instead he wraps the field lacrosse staple with a clean looking tribute to Colorado and the Rockies. A vinyl wrap is a great way to keep the individuality goaltenders can express through a paint job on this style of head protection.
Georgia Swarm
Mike Poulin
Too many people sleep on Mike Poulin although he continues to put up some of the strongest numbers in the league. Now he's with Georgia and stole the job Week 1, never looking back.
His set up isn't the cleanest look in the league, but imagine how gross yellow or navy plastic would look. Not so bad after all. The white plasitc with navy backing is solid, but they stick out with the minimal white everywhere else. I dig the yellow heavy gloves with a little blue breaking things up, its works well with the jersey.
The helmet shows a lot more love for the team than it does for Poulin's passions. I can respect that, but I'd also like to see a little more love for himself on there after all the work he's put in to make it to the top. The snow white stick with blue shooters tones things down and adds some needed neutrality to the get up.
Brodie MacDonald
We haven't seen a whole lot of the NLL's tallest (6'8″) goaltender in 2017. It's part winning, part Poulin, and all based on the philosophy that if it isn't broke, don't fix it. He came out with the same set up as last year, which also was without flaws, but who wouldn't like to see something new?
Not straying too far away from Poulin, MacDonald rocks all of the same padding and nearly the same stick setup, but even more frosty. The difference comes via artwork and I've got to say, Brodie has the better helmet of the two. Sticking to the mascot, he's got an even better bee look that ties things together a little better from head to toe.