This past Friday, the Professional Lacrosse Players Association (PLPA) released a statement concerning the ongoing negotiations between players and teams as they look to modify the Collective Bargaining Agreement (CBA). Whenever a union and management are in labor talks, there is always the possibility of issues separating the two sides to a degree that can make discussions drag on for much longer than desired. Unfortunately, that appears to be the case right now.
The PLPA has been in existence for a long time and the NLL has never suffered a lost season or even regular season games due to labor negotiations. But with the countdown to the regular season getting shorter and shorter, the headline of "CBA Negotiations Between Players Of The NLL And League Owners Remain Far Apart" in the PLPA statement does not offer much optimism.
Now, before screaming about the sky falling, there are several things to keep in mind. The first is that negotiations happen behind closed doors. So while negotiations have been happening for a while, with the occasional leak of information here or there, we don't really know what the sticking points are until either a release like this comes out or the CBA is signed. The next thing is that you are hearing from one out of the two sides involved, meaning any information that involved any level of subjectivity needs to be taken with a grain of salt.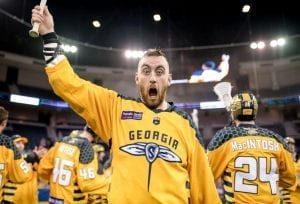 That said, even a phrase like "far apart" may seem like negotiations are such to the players but not necessarily the teams. But if the players feel like there is a divide then they are, which is a troubling sign this close to the season. What I don't want to do is go item by item through the list of issues provided in this release and provide any sort of analysis. The reason is that each and every point that is not agreed upon by both parties will be part of some future compromise in the final agreement.
While I do not feel it is important for the public at large to dwell on the details at the moment, it is very important to be aware that this is happening.  The lack of an agreement is already having an impact on teams leading up to the season. Teams are trying to get their players into camp to decide on their game day rosters. If these negotiations drag on into the coming weeks, fans need to know why preseason activities may seem to be lighter than normal.
But for the sake of all involved, there is hopefully a resolution sooner rather than later. The NLL has an incredible amount of positive momentum (which is actually the basis for these negotiations being contentious), and there are two brand new franchises looking to start their first season and energize their fans. But there are also players at the beginning of their careers, near the end, and everywhere in between trying to ensure they are taken care of for years into the future.
Get real time updates from Lacrosse All Stars sent directly to your device.