Part 1 of the NLL Week 3 Reveiw was LONG.  So many words.  Too many words?  Perhaps. But that is because I watched some or all of those games live.  I had more to say.  I caught a little bit of the other games, but not enough to really delve into the details so I'm just going to go with highlight videos I found on Youtube.  Now THAT is journalism.  I don't know what I'm talking about so instead of blowing smoke, I'm just admitting it and letting you be the judge.
Think the NY Times would do that?
No, they'd probably just do the research.
Speaking of other news sources… our friend Marisa Ingemi from InLaxWeTrust.com has some thoughts on NLL expansion to share.  Very interesting!!!!
Rochester beat Boston! Looks like I was way off on my criticism of the Knighthawks.  I need to get to know this team better.  They have a talented O and Sid Smith is joy to watch.  His stick is all over the place… it's fantastic. I had given Rochester a hard time for not finishing an earlier game this year but even though they were down late, they kept fighting and took it in OT.  And thankfully for the KHawks, Boston let this one slip away…
I caught a bit of the Washington – Calgary game, but not enough to really comment.  It was good game, fun to watch and had its moments.  Washington looked to be in control the whole time I watched and although Calgary kept trying to claw back into the game, the Stealth just kept increasing their lead bit by bit.  This is a little more like the Stealth everyone expected in 2011.
Finally, Toronto knocked off Boston on Friday and then played Buffalo on Satruday.  I had Toronto taking both games but the Bandits had other things in mind and took down the Rock on Saturday night.  The season is full of surprises and I'm excited to watch this game online once it is loaded up to old NLL Network! Maybe the Bandits won because of their most excellent diagonal jerseys? It's possible because those are special.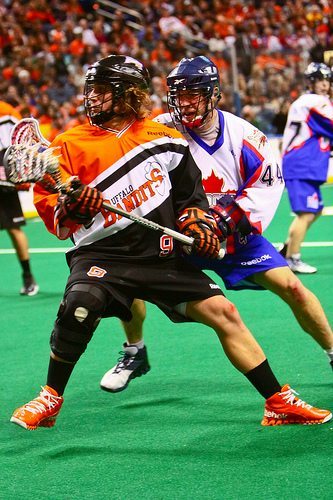 Bob Watson only had 19 saves for Toronto. Can anyone who watched the game explain wasssssup with that? I said Wassssssssssuuppppp with that?
Do you want more highlights from the most recent NLL games?
Check out Part 1 of the Week 3 Review and keep reading for extended highlights from the rest of the web.
Wings – Mammoth Highlights. And some Lowlights.
Bill McGlone getting cross-checked in the face by Chris Levis, a goalie.
Flipcam? Boston – Toronto Highlights