Authors' Notes: Welcome back to another NLL Media Poll. We got fed up with lacrosse's lack of polls that tie together multiple media sources, so we made one ourselves. This poll features votes from Inside Lacrosse and Tyson Geick of the NLL, along with our own Mark Donahue and Ryan Conwell.
Oh how time flies! Most of our teams hit the midpoint of their 2017 schedules last weekend. Each week our NLL Media Poll seems so confident about the top three or four teams. On the bottom half we've seen perpetual musical chairs. Teams have been doing just enough to climb out of the pit, making one bad weekend all it takes to plummet to a new low.
Since only three of nine teams miss the playoffs, teams can't afford to put things in cruise control. The race is a lot tighter than it was in 2016, with teams trading places constantly in the NLL Media Poll. Don't be so quick to place those bets, things have really been shaking up and the pressure mean something is going to blow. Before we get to the six matchups on the near horizon, let's look back at the four showdowns that closed out February.
9. Vancouver Stealth (
-3

)
Record: 3-6
Weekend Result: 2/25 – Loss to Rochester, 12-8
Next Game: vs. Saskatchewan – Saturday, March 4th 11:00pm ET
Goals: Logan Schuss – 22 (5th)
Assists: Corey Small – 36 (T-2nd)
Points: Corey Small – 61 (1st)
Ryan Conwell
Vancouver dropped another tough game, this time to Rochester. The score wasn't as bad as it looks since Rochester scored two empty-netters in the final minute. It was still that fourth quarter that really hurt the Stealth. Just a single goal in that frame while giving up six is not going to make your hometown fans very happy. Rochester is a very beatable team right now, and the Stealth needed that win. Things are not looking great in Vancouver.
Mark Donahue
I desperately pull for the Stealth to get it together every weekend. Just when you think that loaded offensive group of theirs has it figured out, a leak springs somewhere else and they find a way to just giveaway games. The Knighthawks were going to be one of the easier teams they were going to see for a while. Big shock they squandered the chance to right the ship. It looked like they had control early and were actually leading 6-4 at halftime, but then they only sunk two scores in nearly forty minutes. Meanwhile the Knighthawks were doing nothing special. It took them until the fourth quarter to actually steal the lead. A timely goal from rookie Jame Rahe would knot things up, but the Stealth found no momentum from the strike. In the following two and a half minutes, Rochester punched in two unassisted goals, trailed with a couple empty-netters to take all hope out of the Langley Events Centre. This team has a serious problem with getting a full sixty minutes out themselves and closing out strong seems damn-near impossible. It's not going to get any easier on the road in Saskatoon on Saturday.
8. New England Black Wolves (
-3

)
Record: 3-6
Weekend Result: 2/26 – Loss to Colorado, 14-9
Next Game: @ Toronto – Friday, March 3rd 7:30pm ET
Goals: Kevin Crowley – 23 (4th)
Assists: Shawn Evans – 36 (T-2nd)
Points: Shawn Evans – 55 (4th)
Ryan Conwell
New England did not look good against Colorado. They were missing loose balls, they lacked chemistry, and seemed unable to stop the Mammoth at all. Each time it looked like things were coming together Colorado would answer right back. There was even an own goal on a man down to make it worse. Then add on top of that Shawn Evans went down with an undisclosed injury right before halftime. Pat Saunders was a healthy scratch in favor of getting a look at some new guys in the lineup. It was not a good look. No Evans and no Saunders made a comeback very unlikely. Now that Saunders has been traded, that left side really needs to get some answers… and soon.
Mark Donahue
There was very little to write home about last weekend from this bunch. They had so much pep in their step recently. It's obvious they feed off of that energy because when it's not there, they play like slugs. Without veterans like Culp and Saunders in the weekend's lineup, the late first half injury suffered by living-legend Shawn Evans really knocked all of the wind out of their young sails. Trying to fill the void, youngsters Reilly O'Connor (2+3) and Seth Oakes (2+4) chipped in their fair shares. Shoutout to fellow rookie Joel Coyle (1+1) scoring in his first career NLL game. Unfortunately for this offense, Ward was a stonewall between the irons and without three big presences on the floor, the Mammoth defense were able to tie up the Buchanans and Crowley pretty well in the 5 on 5. Like RC said, Saunders off the floor isn't a step in the right direction and dealing him away for picks isn't going to fix anything this year. The Playoffs are obtainable, so it's time to make some deals focused on firepower.
7. Rochester Knighthawks (+2)
Record: 3-6
Weekend Result: 2/25 – Win over Vancouver, 12-8
Next Game: @ Buffalo – Friday, March 3rd 7:00pm ET
Goals: Josh Currier – 15 (T-14th)
Assists: Joe Resetarits – 19 (T-23rd)
Points: Joe Resetarits + Josh Currier – 30 (T-21st)
Ryan Conwell
The Rochester Rebuild is in full swing and I never would have thought they were going to win this game in Vancouver. Flying across the country with such a young team after trading Keogh just did not feel like a great mix. As usual, I was wrong and that's why I stay out of the prediction business. The young guns of Josh Currier, Dan Lomas, and Kyle Jackson are getting it done. Those three combined for nearly half of the team's shots, which plays well to Dan Dawson's skills running the offense as a passer. If they can finish at a higher rate, this team could create some serious headaches for other teams through the season.
Mark Donahue
Like RC, I would have likely bet against the Hawks this weekend. Losing leaders like Jamieson and Keogh this season appeared to be a giant hurdle. Dan Dawson is quarterbacking, but he's not strapping up the pack and taking the ball to the rack. No one on the roster is doing anything brow-raising in the points columns, but the trio of young guns mentioned above are too legit to quit. Three of their next four games are against the Bandits. I expect these to be some knockdown, drag out wars. Either team can benefit so much from at least two wins, let alone a sweep. Vinc and his backline are locking things down, if they can continue to put balls in the net, this might be the wrecking ball team of the back stretch.
T-5. Buffalo Bandits (

+3

)
Record: 3-5
Weekend Result: 2/25 – Win over Toronto, 15-12
Next Game: vs. Rochester – Friday, March 3rd 7:00pm ET
Goals: Mitch Jones – 16 (T-12th)
Assists: Ryan Benesch – 23 (T-10th)
Points: Ryan Benesch – 36 (T-14th)
Ryan Conwell
Buffalo absolutely shocked me this week. Their win against New England could not have come at a better time and they follow that up with a win over Toronto. Have they finally returned to their 2016 form? Dhane Smith's 10 point are a slight indicator of yes. His one goal and nine assist mark is even more ridiculous when you consider than his only goal was an empty netter at the end of the game. Also encouraging is that Blaze Riorden seems to be getting more comfortable in the NLL. After notching his first league goal last week, he recorded two goals with three assists.
Mark Donahue
There we go, Bandits! Full disclosure, I'm not much of a Buffalo fan, but success in Western New York is good for all sports. Banditland deserves to be rewarded and last weekend they saw their boys top one of the hottest teams in the NLL. Yeah, ten points from Great Dhane is a great sign, but he's not hammering the goals in and scoring from the group as a whole still isn't that consistent. Blazer does seem to be a huge spark for that lefty side. Four goals and four assists in the last two games makes a big difference, but it's Mitch Jones really coming into his own this year. Jones is maintaining career-high numbers so far with sixteen goals and eleven assists, on track to shatter 2016's contributions. They're also packing two quality net-minders and one of the most experienced defensive groups in the NLL. If there's a team that figures out how to play the back nine, it's the Bandits
T-5. Calgary Roughnecks (
+2

)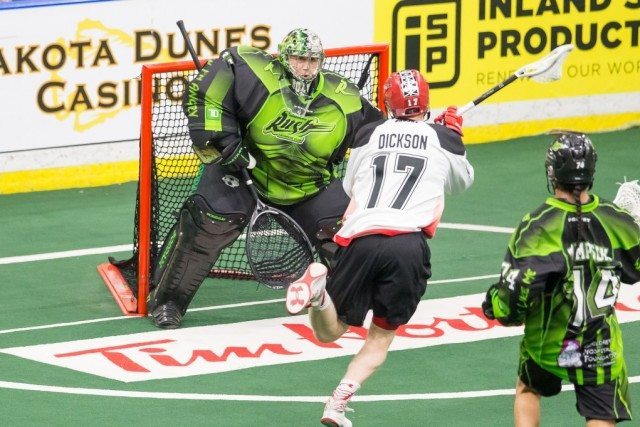 Record: 3-5
Weekend Result: 2/25 – Loss to Saskatchewan, 12-11 OT
Next Game: @ Colorado – Friday, March 3rd 9:30pm ET
Goals: Curtis Dickson – 25 (T-1st)
Assists: Jeff Shattler – 25 (9th)
Points: Curtis Dickson – 46 (7th)
Ryan Conwell
Having Calgary as my last place team does look weird. But this is looking more like a rotational spot in this case. They came really close to beating the Rush, which would have done wonders for their standing and season outlook. As it stands right now, they are just one of five three win teams in the league. For where it matters, they're tied with Vancouver for last place in the West. They're not far out of first, but they really need to buckle down and get those divisional wins.
Mark Donahue
Calgary has dropped four of their five games at home, nothing is a given for this squad. If they would have pulled off that OT upset over the Rush, this whole NLL Media Poll would have been thrown for a loop. A lot of pretty goals were packed in, but late mistakes would bury them. The Rush did what they do best, force turnovers and capitalize in transition. I get that they couldn't get into run and gun lacrosse with Saskatchewan, but they also didn't attack with a sense of urgency. They are stuck playing as individuals and not as a cohesive unit. They got a good game out of sophomore star Christian del Bianco, stopping countless run attempts. Digby (3+1) and Berg (4+2) were bringing home the bacon, but when two Riggers go to work, the others don't take the initiative to keep the train rolling. Four of their next five games are on the road with four games against Top 3 teams. They can prove a lot in March, or get stuck fighting Vancouver for the last Playoff spot.
4. Colorado Mammoth (
0

)
Record: 5-4
Weekend Result: 2/26 – Win over New England, 14-9
Next Game: vs. Calgary – Friday, March 3rd 9:30pm ET
Goals: Eli McLaughlin – 15 (T-14th)
Assists: Callum Crawford – 35 (4th)
Points:  Callum Crawford – 49 (5th)
Ryan Conwell
The Mammoth truly dominated this game against New England from start to finish. They did not seem to convert as much in the transition as I normally expect the Mammoth to do, but they started getting a few shots in there that really pulled Evan Kirk out of his game for New England. Callum Crawford continues to just amaze me in Colorado in how well he runs that offense. Stephen Keogh is also fitting in perfectly. He does exactly what he did in Rochester. Gets inside, disrupts the defense, and makes every possession physical. So far, it's definitely working.
Mark Donahue
The Mammoth have slowed things down and put emphasis on really peppering the goaltending. RC pointed it out, but this was the first time we've really seen Kirk frazzled all year. Brent Adams is still going hard in the paint, drawing attention to motion while the shooters dial things in. It could have been worse, but backup Dougie Jamieson posted thirteen saves in the final frame to keep Crawford and co. from busting things open even further. They're starting to really score by committee. With no hat tricks, we saw five two-goal performances, while four more runners sinking a solo shot. The move for Keogh (2+1) added more security right away with Junior off the floor. At nearly 84%, Dillon Ward busted out one of his biggest games so far. Second only to Rose overall with a .796 season average and 10.31 GAA, they can keep leaning on their starter to help build more traction over their last nine games.
3. Toronto Rock (
0

)
Record: 5-3
Weekend Result: 2/25 – Loss to Buffalo, 15-12
Next Game: vs. New England – Friday, March 3rd 7:30pm ET
Goals: Brett Hickey – 17 (T-10th)
Assists: Tom Schreiber – 29 (7th)
Points: Tom Schreiber – 41 (T-11th)
Ryan Conwell
I'm not dropping Toronto much because it was just one loss, and because everyone below them lost as well. This was a true back and forth affair with the border rivals in Buffalo. As every rivalry game should, this one was loaded with penalties. Five of Toronto's goals game on the powerplay, which may be more of a sign that they were on extra man situation throughout the game. The Bandits grounded the American duo, which may oddly be the key to containing the Rock this year. McArdle and Schreiber combined for 0 goals, 3 assists on 27 shots. Even shooting just over 10% could have been the difference in this game.
Mark Donahue
I'll give the Rock the benefit of the doubt after last weekend's loss. The Bandits were due for a big win and Toronto likely needed to take a shot to the chin to keep operating at a high level. The game got chippy and it resulted in five powerplay strikes, but they gave up four on the penalty kill. Having such a young team, it seems they're better off sticking to the plan of attacking the cage and not their opponent. Without quarterback Tom Schreiber racking up the points, stress was put guys to takeover. When they can't flow in the 5 on 5, the floor because pretty chaotic and they stop getting the looks they need. New England is going to be playing with a chip on their shoulders this coming weekend. With a dampened offensive front, Toronto will get a chance to get their defense into shape. With the Black Wolves looking to find easy ones in transition, the Rock must hold for long possessions. Consistently running their signature five man offense they've been winning with should finish things before they ever get started.
T-1. Saskatchewan Rush (
0)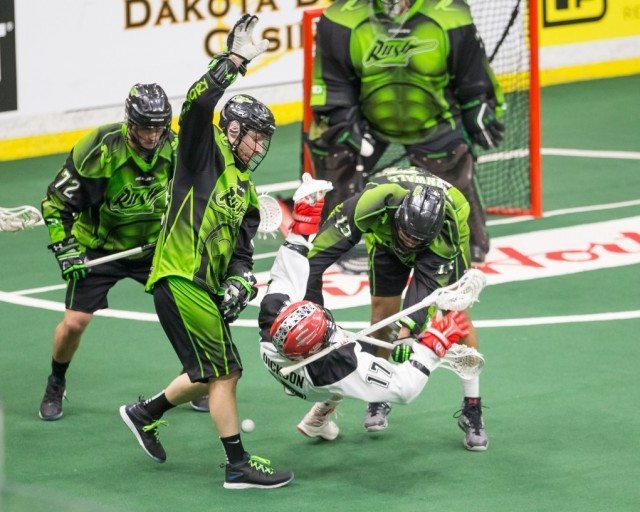 Record: 6-2
Weekend Result: 2/25 – Win over Calgary, 12-11 OT
Next Game: @ Vancouver – Saturday, March 4th 11:00pm ET
Goals: Robert Church – 20 (6th)
Assists: Mark Matthews – 37 (1st)
Points: Mark Matthews – 56 (3rd)
Ryan Conwell
I'm feeling better about having the Rush as my top team now after the Rock dropped a game while the Rush won an overtime battle against their rivals from Calgary. What's truly impressive about this win for the Rush is that they held Curtis Dickson scoreless, especially in the fourth quarter where he has made a living this season. Credit Aaron Bold, who only made 34 saves all night, but 13 of those were on Superman.
Mark Donahue
Let Jeff Cornwall have a chance to be a hero and he becomes Batman. The forecheck, with Cornwall still on the O side, was laid on heavy and the defenseman came up with the loosie. With his head up, Cornwall found Jones wide-open in front of the crease, put the pass on the mesh, and watch Jonesy bury the rock to seal the deal. They could have snuck into my top spot if the game with Calgary wasn't so tight. If they keep up what they're doing there is no doubt in my mind they're heading for a 3-peat. RC said it, Stone Cold Aaron Bold is the man. He doesn't get the law of averages to pad his stats, he goes big on the few shots his defense allows. We know this team can find goals from all sides of the floor, but it's great to get a hat trick out of Ben McIntosh. The more production that comes away from the big three (Jones, Matthews, and Church), the higher their chance of world domination. I feel strongly about their odds on the road this weekend for keeping things finely tuned.
T-1. Georgia Swarm
 (0)
Record: 7-1
Weekend Result: Did not compete.
Next Game: @ Calgary – Saturday, March 4th 9:30pm ET
Goals: Lyle Thompson – 25 (T-1st)
Assists: Lyle Thompson – 34 (5th)
Points: Lyle Thompson – 59 (2nd)
Ryan Conwell
Didn't play. Didn't move.
Mark Donahue
I couldn't justifty knocking the Swarm down a peg without stepping on the floor. Maybe if the Rush handled their business before overtime, I would have considered it. Lyle's is fulfilling his NLL prophecy, goaltending is tight, and goals can come from any stick. I still feel strongly about them, Saturday night in the Saddledome will be a good test.
NLL Media Poll #6
Rank/Team/Previous
1. Georgia (1)
1. Saskatchewan (2)
3. Toronto (3)
4. Colorado (4)
5. Calgary (7)
5. Buffalo (8)
8. New England (5)
9. Vancouver (6)
NLL Media Poll Votes
| | | | | |
| --- | --- | --- | --- | --- |
| Voters | Ryan Conwell (LAS) | Mark Donahue (LAS) | Tyson Geick (NLL) | Inside Lacrosse |
| 1 | Saskatchewan | Georgia | Saskatchewan | Georgia |
| 2 | Georgia | Saskatchewan | Georgia | Saskatchewan |
| 3 | Colorado | Toronto | Toronto | Toronto |
| 4 | Toronto | Colorado | Colorado | Colorado |
| 5 | Rochester | Calgary | Calgary | Calgary |
| 6 | Buffalo | Buffalo | Buffalo | Buffalo |
| 7 | New England | Rochester | Vancouver | New England |
| 8 | Vancouver | New England | Rochester | Rochester |
| 9 | Calgary | Vancouver | New England | Vancouver |
Video Explosion
Agree? Disagree? Feel impartial to our media poll rankings and opinions? Let you voice be heard and sound off in the comments down below!