Authors' Notes: Welcome back to another NLL Media Poll. We got fed up with lacrosse's lack of polls that tie together multiple media sources, so we made one ourselves. This poll features votes from Inside Lacrosse and Lax Power, along with our own Mark Donahue and Ryan Conwell. The bulk of the articles are tag-teamed by Mark and Ryan.
Well that was one exciting weekend of NLL action we just witnessed! The score margins were kept tight and when they weren't, we were still left with a lot to talk about. It's always a pleasure to be treated to five games in one weekend. Even if you do have to lineup multiple devices to watch most of them at once!
Anyhoo, some teams found their focus this week, others spun their wheels, and one team stayed undefeated. Let's break it all down, shall we?
NLL Media Poll #2
Rank/Team/Previous
1. Georgia (2)
2. Toronto (1)
3. Calgary (4)
– Saskatchewan (7)
5. Rochester (6)
6. Vancouver (3)
7. Colorado (5)
8. Buffalo (8)
9. New England (9)
9. New England – (6 points)
Record: 1-3
Next Game: vs. Rochester – Friday, February 3rd 7:30pm ET
Goals: Kevin Crowley – 9 (T-11th)
Assists: Shawn Evans – 14 (T-8th)
Points: Shawn Evans – 21 (11th)
New England packed the house with their first ever sellout and the fans were rewarded. It was a truly a fantastic game from start to finish. Evan Kirk was playing like his 2016 self and made some big saves on the Bandits when it mattered. What's even bigger was how much New England out shot Buffalo! 61-47 in a one goal game is a stat line that should not be ignored. The Black Wolves still have plenty of room for improvement, but this was not the same team we saw in Rochester a few weeks back. The offense is looking for dynamic and deliberate while the defense looks calmer and smarter. Things are obviously starting to click, but we need to make sure that Game 4 wasn't a fluke before climbing out of the hole.
It's looking like this team of seasoned veterans are finally starting to play to each other's strengths. They do have 7 guys averaging multiple points per game. The top 6 combine for a whopping 683 regular season games played, and an average age of just shy of 30. I'm counting on the veteran experience of Shawn Evans, Kevin Crowley, and Chad Culp to iron things out for the entire team.
Jay Thorimbert has been another spark to this team that's bound to pay off in a big way. He's over 65% at the draw circle and leading the group with 41 loose balls while still contributing a solid effort to the defensive side. Selfless lacrosse is the only way this team will stay together and get back to the playoff picture. They can really start to cause some commotion if they claim revenge over the Knighthawks on Firday. Georgia will follow the weekend after. They can build themselves a bridge and just as quickly burn it. Hopefully the house packs out again this weekend for the last home game in three weeks.
8. Buffalo Bandits – (10 points)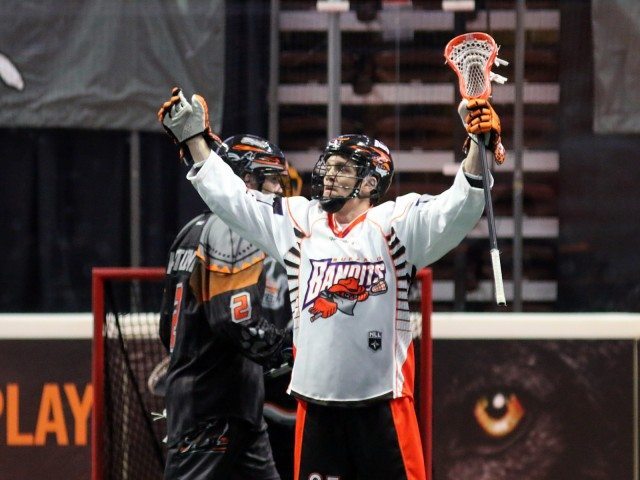 Record: 1-3
Next Game: @ Toronto – Friday, February 3rd 7:30pm ET
Goals: Ryan Benesch – 11 (T-6th)
Assists: Ryan Benesch – 15 (T-6th)
Points: Ryan Benesch – 26 (6th)
It's pretty obvious that the Bandits could really use 2016 NLL MVP Dhane Smith again. They seemed fine without him against the Stealth two weeks ago. But last weekend, the Black Wolves were able to match pace with the Bandits and score goals when they had to. Smith's always good for a few goals and a handful of apples, so it's hard to imagine that he wouldn't have been a major factor in New England. Although they lost to New England, the voters keep them a step ahead. It must be based on how convincing their only wins were. It's hard to think they're nearly a last place team.
The top four scorers in Buffalo (Benesch, Steenhuis, Jones, and Malcolm) are doing a pretty solid job. But there's not absolute domination going on like we got in all of 2016. Ryan Benesch is only leading the 11 goals and that's after a ton of shots. The next highest contributor after the top four is defenseman Steve Priolo (5g + 6a) highlighting a drop off in production from the forwards. It would be nice like to see Blaze Riorden get a shot in the lineup again to see if he can put that big body and those soft hands to work. They rely a lot on the transition game right now and it's starting to show that this team isn't exactly built for it. Nothing it too bad, it's also not too exciting.
A small highlight has been Davide DiRuscio's work in the crease since taking over the role from Cosmo. If they have their goalie situation figured out, it's a lot to build on.
They have high-flying Toronto on the docket this weekend, looking to return to glory after stuttering against Rochester. That's followed by a rematch with a revitalized New England franchise. What an exciting/nerve-racking time to be a Bandits fan.
7. Colorado Mammoth – (11 points)
Record: 2-3
Next Game: vs. Georgia – Saturday, February 4th 9:00pm ET
Goals: Eli McLaughin – 11 (T-6th)
Assists: Callum Crawford – 22 (T-3rd)
Points: Callum Crawford – 30 (4th)
Colorado's still looking shaky, at best. They had a narrow overtime win against a struggling Black Wolves team, and have now lost to the Roughnecks in back to back weeks. With Georgia coming up, they have little room for error as they are sliding down fast. Luckily they get them in the Loud House.
They are doing somethings right. They're leading the NLL in powerplay success, putting in 16 goals on 26 man-advantage situations. Unfortunately on the other side of things, the defense can only kill off a powerplay 35% of the time (8th). They're just shy of middle of the road when it comes to shooting % (6th), save % (6th), and face-off % (6th). Callum Crawford, Zack Greer, Eli McLaughlin, and Jeremy Noble are all averaging over 3 points a game. With Noble back from injury, things look better on the offensive end.
Defenseman Greg Downing is going animal style, leading the team in caused turnovers (10) by almost double. Another veteran, Ilija Gajic is on the IR, so it's really time for that deep pool of young talent to really show up and bolster the backline. Dillon Ward is seeing a lot of junk and that's where the Swarm can really shine. If it becomes a track meet with Georgia they'll get torched. They need to push long, smart possessions with mental focus on consistently moving the ball. Poulin is feeling hot, they really need to stretch him out right away.
6. Vancouver Stealth – (14 points)
Record: 2-4
Next Game: vs. Colorado – Sunday, February 12th 10:00pm ET
Goals: Corey Small & Rhys Duch – 16 (T-1st)
Assists: Corey Small – 28 (1st)
Points: Corey Small – 44 (1st)
This was not a great weekend for the Stealth, so a bye is probably a good thing. They came out swinging but have since changed their lineup like they change underwear. While it's hard to imagine that they, or anyone, could have beaten the Rush on Friday, they had a real chance against Georgia.
That late run by the Swarm buried Vancouver, but letting Georgia pull off six in a row after a quick 5-1 start was unacceptable for trying to have a turnaround season. We know Rhys Duch, Corey Small and Logan Schuss are going to score goals. There's actually a solid handful of guys chipping in too. The problem is the ability to maintain a strong defensive presence for a full 60 minutes. I like what we've been getting out of Tye Belanger when he's not hung out to dry. The transition team, led by Justin Salt, is pretty damn explosive too.
Things should start to gel as rookie James Rahe comes into form and Garrett Billings gets into his groove. If they can come back from the injury bug strong, they won't be back at the bottom this season. Not at full strength, they showed the ability to hang with arguably the two best looking teams in the league last weekend. But what they are putting out there for now will remain sub-championship caliber until we see a bigger lineup change.
5. Rochester Knighthawks – (20 points)
Record: 2-2
Next Game: @ New England – Friday, February 3rd 7:30pm ET
Goals: Josh Currier – 6 (T-24th)
Assists: Kyle Jackson – 13 (T-10th)
Points:  Kyle Jackson – 17 (T-19th)
A one goal win still doesn't build ton of confidence in this team, but there is definite improvement with their veterans returning to the floor. There's rumblings that Vitarelli will soon be back in the lineup and having Suitor and Dawson on the floor were huge keys to success, even if Dan Dawson didn't put up any goals right away.
The first two goals of the game were filtered through Cody Jamieson's stick and were absolute dimes, making the whole lacrosse world giddy to see Jammer back to his normal self after sitting out the first part of 2017. Then he disappeared to the locker room half way through the first frame and it only put visions of collapse into the back of all our minds. Fortunately, Matt Vinc played lights out between the pipes and a hat trick from Joe Resetarits came from a variety of different goals showing off his bag of tricks.
It's absolutely crazy that Kyle Jackson (17) and Josh Currier (14), a pair of rookies, are leading the team in points, with another rook, Dan Lomas (11) in 4th. Again, in theory. These guys are leaving it all out there for their teams on every shift but playing with the vision and level-headedness of seasoned vets. They will have to continue to rely on the young guns to be the difference makers since it doesn't look like their going to get Jamieson, Dawson and Viterelli out there all at once. They just released Quinn Powless after 5 goals in 3 games and Wayne Van Every following a good start, maybe they're getting ready to really shake the roster up with some trade action. It really couldn't hurt.
Visiting New England this week will be a great rematch between the two units. The constantly shifting roster isn't going to be much of a help, especially with the Black Wolves starting to find a rhythm and feeding off the energy of their packed out arena.
T-3. Saskatchewan Rush – (27 points)
Record: 2-2
Next Game: @ Calgary – Saturday, February 4th 9:00pm ET
Goals: Robert Church – 12 (5th)
Assists: Mark Matthews – 22 (T-3rd)
Points: Mark Matthews – 31 (3rd)
We knew they had it in them! That was the good old Rush we've grown to love, back on display again. Trapping guys with a double on the boards, causing turnovers, fast break goals, and forwards that don't shy away from anything.
As a whole, it's really hard to fault the Stealth too much considering the Rush took advantage of every little situation they could. That was the team that won back-to-back Champion's Cups, not the squad that started the season. Vancouver put up an incredible fight, but when the Rush buried 16 goals from 9 different runners (only two hat tricks), it was going to take a championship effort to put a stop to teamwork of that caliber. Especially when the transition game had the Rush flying around like bats out of hell. The offense wasn't even struggling to do their jobs and the defense still took the initiative to constantly push the tempo and stretch the floor allowing for Jeff Cornwall to torch the turf with a hat trick of his own. But Cornwall was just one of six defenseman to collect a point in the win.
Like Calgary, the Rush are particularly loaded with front-end firepower. The ones they have are some of the hottest in the game too. Mark Matthews already has 22 assists overshadowing his 9 goals and with the whole team pushing a collective effort on both ends, they should be just fine. Considering Adam Jones still hasn't got into the swing of things, we feel strongly about the future of Saskatchewan. Their defense isn't going to take the pedal off of the metal and even a mediocre performance from Aaron Bold is usually enough to do the trick for a W. It shouldn't take long for them to keep climbing the ladder, but the top four teams in the NLL are on another level right now.
T-3. Calgary Roughnecks – (27 points)
Record: 3-1
Next Game: vs. Saskatchewan – Saturday, February 4th 9:00pm ET
Goals: Curtis Dickson – 14 (4th)
Assists: Jeff Shattler – 13 (T-10th)
Points: Curtis Dickson – 25 (T-7th)
Calgary getting another win over Colorado has them sitting pretty in the West early on. If they can secure a win over the Rush this next weekend, they'll be officially in the driver's seat for the season. Yet, we've already seen a preview of what the team's peaks and valleys can look like. Just showing the top spot is by no means guaranteed and it seems like there is even more parity in the Division this season.
Their offense is fairly shallow, with production only really coming from 5 sticks. But those are 5 really dangerous sticks. Dickson, Shattler, Dobbie, Berg and Digby are it, albeit they do a ton. No matter how familiar they are with each other, it's only one line, backed by two newcomers (Loewen and Cattoni) that contribute a little here and there. If one guy goes down, this could be bad news bears. Bell and MacRae have been the only flashes of brilliance in transition, a game that they aren't looking to push. This formula can work for them if their defense can keep the pressure up and allow Scigliano to see the shots he wants.
The Roughnecks are locked up with the Rush for the #2 slot this week, although they possess the better record. The Rush appear to have made a 180, back to championship form, while the Riggers have struggled to generate a whole lot to talk about. If they get a win on Saturday, they will be 4-1 in the West with 6 divisional games left. That sounds like the recipe for the NLL Playoffs. Did we really just say that?
2. Toronto Rock – (29 points)
Record: 2-1
Next Game: vs. Buffalo – Friday, February 3rd 7:30pm ET
Goals: Brett Hickey – 7 (T-20th)
Assists: Tom Schreiber – 10 (T-19th)
Points: Tom Schreiber – 13
Maybe the Rock had a little bit too much time off. Losing a one goal game at home to a Knighthawks team they dominated in the season opener was not a good sign. Say what you want about Rochester looking a lot better, but they lost their star Jamieson part way through the first quarter and the Rock couldn't capitalize on it. They shut down Dan Dawson, a big plus, but let way too many errant passes and broken plays turn into goals for the transition team. The Rock also gave up three goals when down a man to a team struggling on the powerplay. To stay on top they need to stay mentally sharp and prepared to execute the little things.
Toronto doesn't score a ton of goals, but they score quality goals. They fight for their opportunities and the young guys are constantly grinding away to generate offense for the support. It's mind-blowing to see American rookie Tom Schreiber leading this squad in points, in theory. Then you watch him drive hard to the cage, draw the defense and dish it right to the open man and you realize he's commitment to his team and making himself an elite player. His passing is always on a rope and Brett Hickey and Kasey Beirnes are making the best of it. With all of the new faces on offense, it's no wonder that things aren't completely clicking until they build more chemistry.
But, even with the unfamiliarity, this team is 2-1 and showing a lot of brilliance. It's hard to imagine the mojo fading. Their upcoming border war with Buffalo will give us a better idea of where they stand.
1. Georgia Swarm – (36 points)
Record: 4-0
Next Game: @ Colorado – Saturday, February 4th 9:00pm ET
Goals: Shayne Jackson – 11 (T-6th)
Assists: Lyle Thompson – 15 (T-6th)
Points: Lyle Thompson & Jordan Hall – 25 (T-7th)
How could we not have Georgia still sitting on top after yet another win? Mike Poulin leading the league in save percentage has been a revelation for the Swarm. They've had good goalkeeping in the past, but Poulin has been playing great. If he keeps this up while their explosive offense does their thing, Georgia could be looking at a good playoff run.
Mark's been raving about Poulin for a long time now and every game he gives more reasons why. He absolutely shut it down in latter half of the Stealth game allowing his offense to make a couple key runs to stay undefeated.
They have the best balance of truly well-rounded guys and they all have legs for days. Last Saturday they had 4 guys with multiple goals, 7 multi-point performances, 3 hat tricks, led by super sophomore Randy Staats with 9 points (3+6). He's not even the team leader! Shayne Jackson is atop in goals (11) and Lyle Thompson ties Jordan Hall with 25 points, while Hall leads the assists (20). 8 players are averaging 2 or more points per game right in this undefeated start. No one else is touching #1 for now. But, it's still very early.
Agree? Disagree? Feel impartial to our rankings and opinions? Let you voice be heard and sound off in the comments down below!