Editor's Note: Paul Jones is the lacrosse coach at Westfield State in Massachusetts.  They're a college club team (but not in the MCLA) in lacrosse crazy New England.  Recently, Paul was driving back from a game with a couple of his players in the car when one of them asked him why he coached.  Paul gave what he thought was a decent answer, but the questions really got him thinking.  So he sent over his thoughts on Why He Coaches, and we thought it was really compelling.  Great to have guys like Paul involved in the sport.  As lacrosse players, we should consider ourselves lucky!
______________________________________________________________________________________________________
Why I Do It
For those of us who have been bitten by the lacrosse bug, there is often no better way to help spread the joy we have gotten from this game than to pass on our love of the sport, through coaching.
Depending on what level you coach at, there are different levels of both joy and frustration.  This is both an expression of joy toward the game I love, and the frustrations that accompanies it at times.  My situation is somewhat unique (or at least rare), in that I coach three different levels of the game; a college club team, a high school travel team, and a town youth team.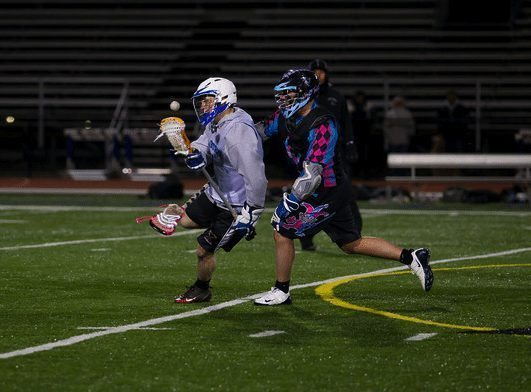 For more Westfield State photos, check out JCHPhotos.com!
I took the coaching job at Westfield State University in the fall of 2009.  I met with the person in charge of club sports and the two captains.  The captains were skeptical because they had been here before… 3 times before.  They asked what plays I ran, what type of offense I preferred, and how I handled defense.  My answers were honest, the captains were happy, and the school had a new coach.
Afterward, I found out that I had just agreed to take the helm of a team that had gone through five seasons of 0-for… meaning they had not won a single game in the previous 5 years that this club had existed.  I took it as a challenge, both to myself and the team.
A good group of guys, I asked the team questions the first time I officially met them (I had watched a practice prior to my meeting), and asked them what THEY wanted from this team.  I got a batch of typical answers from a bunch of college guys, but the one that got me the most was, "how about we win a game?".  More of a question, but still.
I asked the team if they all agreed that they wanted to win at least one game, and asked if they were all prepared to work towards that end… and they were all in.  I structured practices to go back to basics, focusing on catching and throwing, and put in a basic help defense.  In the meantime, I had to deal with an athletic department that wanted us to follow their rules, but only when it was convenient for them.
Our uniforms showed up in time for our third game of the season, but at that point, we were already 2-0.  We made the playoffs, losing in the semis, and finished at 7-2.  I also made some very good friends.  Simply put: this is why I do it.
I also coach a high school travel team during the summer, fall and winter.  The team is called the Western Mass SharpShooters, and this is another great group of kids.  The team originally started as the Chapter Representative team for the Western Mass Chapter of US Lacrosse for the U15 National Festival at Lake George in the summer of '09.  Many players on this team were from the U13 team two years prior, that I was the assistant coach of.
The kids on the team liked each other and loved playing together, and asked if I could help them stay together… so I did.  We have lost a few kids and gained a few more, and I have a blast with this team.  Good kids, great players, committed and helpful parents, and best of all, I get to coach my oldest son.
I am now helping these young men search for colleges to try to find a college lacrosse team to play on, at a school that fits what each wants and needs.  The entire team is made up of high school sophomores (with two freshman), and I look forward to the day when I might be able to see them play at the college level.  While all of this is great, it is the chance to spend additional time with my teenager that makes this both fun AND rewarding.  For selfish reasons, this is why I do it.
The youngest team I coach is made up of 1st and 2nd graders in Westfield, MA.  What better way to show your love of the game than to teach it to the next generation of players?!?!?!?!  The focus is on teaching proper technique of the fundamentals… and making it FUN.  There is no better feeling that watching someone be bitten by the 'lax bug' for the first time, right in front of your eyes!
Believe me though, there are challenges… like trying to prevent 20 kids from breaking into a full-scale sword fight, or having to deal with all of them having to go to the bathroom, but at 5-minute intervals.  It can make it very challenging to get through an hour and a half practice and get ANYTHING accomplished.  We have a lack of qualified coaches in our town, so I agreed to help this group out, but I agreed for my own selfish reason… I get to coach my 2nd grader as well.
After years of being dragged to his older brother's practices and games, it is now his turn to be on the field.  As a father, I couldn't ask for anything better.  It doesn't hurt that he is good.  He knows all of the basics, and already uses both hands… but has also picked up a little flash along the way.  The first indoor practice we had with this group last year ended with the kids being able to shoot on one of the other coaches, who was padded up and in the cage.
My son went down at the goal, moved to his right and shot stick side low…but behind the back!!  I could not have had a bigger grin on my face.  And THIS is why I do it!!