As the Polish Lacrosse Leagues 1 & 2 pick up speed, it's starting to become clear who has the upper hand. We'll also take a look at the distances our teams are traveling to play lacrosse. Talk about sacrifice to Grow The Game! Watch out for the game MVP's to make an impact in Denver next year.
Week 4 – PLL 1
Kosynierzy Wrocław @ Poznań Hussars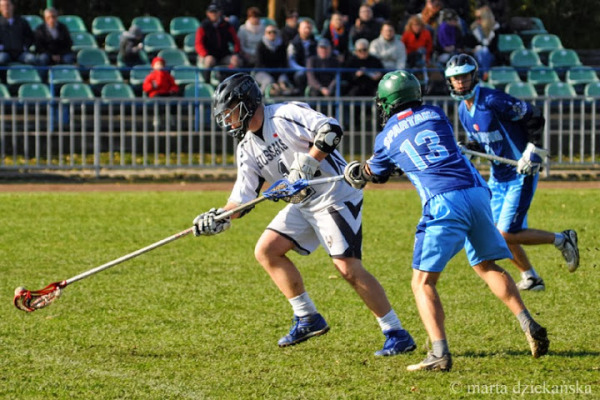 Photo Credit: Marta Dziekanska – check out her gallery for more top quality photos!
I finished off last time by wondering who learned their lesson from Week 3, as both teams had a hard time – Wrocław going into overtime with Kraków, and Poznań taking a loss at home from Warsaw. Furthermore, Wrocław traveled without three of their top scorers! This wasn't looking good to start with.
With the first half finishing 2:1 for Poznań you could see both sides playing their hearts out. Wrocław was trying their strength at outside shots, but Jerry Winiarek in goal was having an awesome time between the pipes. A well deserved game MVP for Jerry!
The third quarter ended 4:2 with Wrocław only scoring on Man-up. Poznań managed to score 3 unanswered goals to secure the win in the fourth quarter.
Travel distance: 107 miles (172 km)
Kraków Kings @ Spartans Oświęcim
Oświęcim was coming out of a Bye week and showed their teeth. A close game all the way through (2:2, 1:1, 1:0, 1:1) had the Spartans taking a two point lead early in the fourth quarter, but this got the Kings to rally and make a strong push for the goal. They failed to equalize before the final whistle and Spartans took the win in a tight game.
Michał Bucki secures the game MVP with a solid performance:
Kraków Kings scored some nice goals as well:
Jarosław Świerkot (OSW) plays some quality defense:
This is a close rivalry game, and the travel distance is only 42 miles (68 km), with both cities being in the same voivodeship.
Week 4 – PLL 2
As Kosynierzy were traveling to Poznań, Kosynierzy B were hosting the second PLL 2 tournament, with their rivals being the league leaders, Ravens Łódź, and the debuting Korsarze Trójmiasto (Tri-City).
The Ravens took an easy win against Tri-City 5:1 and and even easier win against Wrocław 9:1. The game to see was the last match up between the hosts and the newcomers. A tough game with both sides showing some good lacrosse. Korsarze manage to secure a historical win in the end, 5:3.
Travel distances from Gdańsk 288miles (463km) and slightly less than half that from Łódź.
Week 5 – PLL 2
A tough early schedule for the Tri-City Corsairs, as they traveled once again, this time to Katowice, to take on the host Legion and Ułani Lublin. But boy, are they turning out to be a team that travels well! A 5:3 win against the host Legion Katowice, followed by a staggering 8:1 win versus Ułani Lublin. Legion manages to secure points on the board against Lublin, but they just barely won, by a 3:2 score.
This takes the Corsairs to the #2 spot in the standings with the next league tournament being on their home turf. After seeing the Spartans' league debut end with third place last year, I would not be surprised if the Corsairs give Łódź a run for their money late in the season as they are quickly learning and benefit from good leadership.
Travel distances 333 miles (525km) from Gdańsk and 235 miles (378km) from Lublin.
Week 6 – PLL 1
Grom Warszawa @ Kosynierzy Wrocław
This was going to be the game of the Fall, as it was a Championship game rematch of last year. Grom playing like the thunder they're named for (and the Polish elite military formation) and Kosynierzy playing as if they lost something over the summer was going to make this game even more interesting. It turned out to be very tough game throughout with Grom taking an early lead in the 1Q 3:1 only to lose momentum to finish the half down 4:5. An all even third quarter had the game up to 7:8 for the final frame, and it finished off at 8:10, with a great defensive performance by Wrocław's Daniel Węgrzyk – the game MVP.
It looks like Wrocław has finally gotten their game together and are on the road to recovering from a weak start (at least by last season's standard). Tough loss for Grom who are currently ranked #2 behind Poznań in points.
Travel distance 223 miles (360 km)
Poznań Hussars @ Spartans Oświęcim
Oświęcim were one of the reasons Poznań missed out on playoffs last season, so this was an emotional game for the Hussars. Poznań took an early 3:0 lead in the first quarter and Oświęcim recovered in the second to make the game close once again at 3:2. The second half was once again for Poznań and this tough game ended at 5:3 for the Hussars. The emotions that I can't describe are visible in the stats with 21.5 and 22 minutes in penalties and an ejection late in the game.
Poznań goals:
Oświęcim goals:
When the playing gets rough:
Travel distance 248mi. or 400km.
Week 7 Preview
This weekend will be action-packed, with both leagues playing big games!
In PLL 1 Wrocław (2:1) travels to Oświęcim (1:2) for what looks like may be an easy road win. Meanwhile Kraków (0:3) travels to Warsaw (2:1) for what will most likely be a heavy-hitting game. Warsaw will not be fooled by the Kings' winless performance but can easily field a full squad for home games and will be looking for a shutdown if only by their players being more rested late in the game.
PLL 2 goes to Osowa by the sea where the Korsarze host Kosynierzy B and Legion and hope to take the lead in the league standings with two wins. Travel distances are 333mi. And 288mi. making this the worst (ie. longest trip) on the road tournament in league history.
Travel teams are not sponsored by PKP rail, taking even over 12 hours to travel 333km. Not to mention delays… Thanks but no thanks PKP! ;)Make sure to subscribe to polandlacrossevideo on youtube to get all the latest highlights!
Reporting from Warsaw for your pleasure,
Piotr Stalmach aka MeshWizardEU