In case you started flipping channels during Sunday's Jacksonville-Notre Dame game, a) I don't blame you one bit – that thing got ugly in a hurry, and b) you may have found yourself watching the NBA All-Star game, or more specifically, the hours of pregame entertainment leading up to the NBA All-Star game.
If you didn't watch it, Pharell ran through a medley of approximately 1,200 of his biggest hits, which culminated in him putting on a gigantic hat and singing "Happy" while a bunch of rappers came out and started dancing. Now, two of these rappers were Diddy and Snoop, which is the only way any of this paragraph makes any sense in a story about lacrosse.
If you're one of our younger readers, a brief history lesson may be in order. Diddy and Snoop were amongst the chief figures in the storied East Coast – West Coast rap beef of the 1990s: where two factions selling a similar (yet in many ways different) product, their businesses located on opposing sides of the country, decided it would be best not to associate with the other. Long story short, they each said some very mean stuff and things didn't quite work out for everyone involved, but look at them now, doing the Carlton dance on a stage in New Orleans, feeling like a room without a roof, and everybody is having a good ol' time.
Which brings us to today, and these potentially momentous times in the world of professional outdoor lacrosse. No more of this either/or mess, as the LXM and MLL have finally come together. Time to let a player play; if you can cut it, you can take your services to both leagues, just the way it should be.
If you're a pro lacrosse fan, you've probably heard the details of these arrangements by now. If not, check it out here and here; it's been all well-documented since the news broke.
With those bases already covered, why does this article exist? To be honest, despite occasionally pretending to be some kind of objective, professional journalist, these announcements have me feeling downright fan-ish. Like, 100% fan. At least. It was either write this article or post about 75 tweets in a row, and it's just easier this way, so let's talk…
First off, you know who had a good week? Adrenaline. Not talking LXM, but Adrenaline itself, the clothing side of the business. In addition to shirts and hats, they'll finally have those signature socks on the MLL field, by far the most logical and unlikely resolution to come from the league's sponsorship offers. Getting that logo on national television every week this summer can't be bad for business.
You know who had a really good week? STX. Take a look at what that camp's been putting together. First comes the MLL equipment deal, then two player signings, now they're saying they've got even more news on the way. From Kyle Harrison's gear on the field to Kyle Harrison himself on the field (maybe), STX flat-out kicked in the door these past few days.
Finally, you know who (potentially) had a great week, without doing anything at all? The Ohio Machine. They held on to Peter Baum's rights in the offseason, he will join the team in 2014, and now they get their pick of anyone in the player pool looking to join the MLL. Considering Baum finished this year's LXM tour tied with Sam Bradman for the scoring title, the Machine could conceivably begin the 2014 season with LXM's top two scorers on their roster (if those guys both decide to play, but we'll get back to that in a minute).
By signing up with the Machine, Peter Baum will become the first player to be signed with the LXM and MLL at the same time. That's a neat little piece of trivia down the road, and a big move for the Colgate product out of Portland, OR. Baum won the Tewaaraton in 2012 (the same year the Machine were founded) and was the #1 MLL pick in 2013. He had this to say about joining the Ohio Machine:
I could not be more excited to begin my MLL career with the Ohio Machine. They are one of the most exciting franchises in the league to me, and are a perfect fit for my desire to help spread the game to non-traditional lacrosse markets. The team has a young roster that is loaded with exciting talent, and I am really looking forward to getting into training camp and doing my best to make an immediate impact.
It's been a great week for several players as well; in addition to Tucker Durkin and Ryan Young signing with STX, Matt Abbott just joined Team Brine, and endorsement deals suddenly feel much bigger than they've ever been. Now that multiple sponsors are on board, companies may feel compelled to look around the league and add some depth to their rosters; if they don't sign a player to wear their gear, someone else might, the first time we've seen that concern in the MLL.
We don't know how many endorsement deals their budgets will allow, or how much an endorsement provides in terms of dollars anyway (I don't know the market, but I wouldn't assume it's necessarily that much. If my choices are "use brand X and we'll give you $0.00," or "use brand Y and we'll give you $1.25," it's team Y 'til I die), but companies are certainly more inclined to open up their wallets knowing it could impact the number of people who see their gear on a weekly basis.
But here's the most exciting part about the business side of things: it's not the money, it's the opportunity. Nobody's expecting every MLL player to show up to their games with a fur coat and a Bentley next season, but now that we get to see a free market in action, the opportunity to market one's self has grown exponentially, especially if you're at the top of the game.
Say you're an STX guy from the LXM tour who can now play in the MLL. You light it up, and the next thing you know, the league's talking about you on their website, you're going on their weekly TV show, you've got your own fathead gracing walls across America, you name it – sure seems like it could be a bit easier to fill the spots for that clinic you're putting together in the offseason, doesn't it?
A whole window of opportunity opens up now that the two leagues have decided to acknowledge that the other one actually exists. Again, not to say that a player will automatically make more money now, just that one obstacle has been taken out of the equation, and that could be a major step.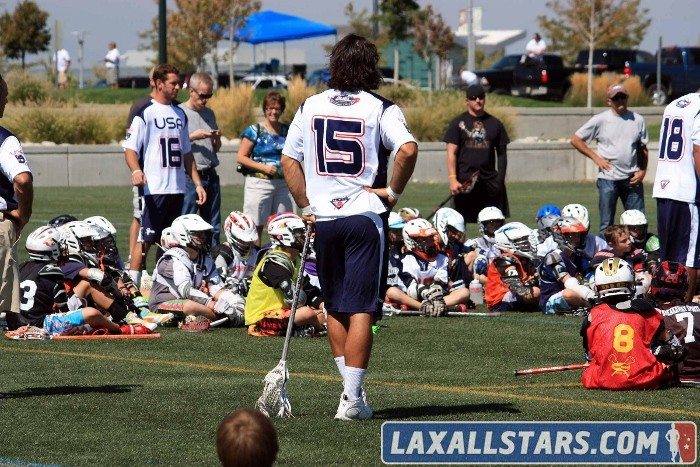 Now, regarding the LXM/MLL merger, I do have two quick questions:
Do the LXM Players Want to Play in the MLL? The instant reaction, and understandably so, has been to look at the LXM rosters and figure out where the players will best contribute in the MLL. But here's the catch: they've got to sign up. Some of these guys were drafted by MLL teams, and, for some reason or another, decided that playing in the MLL was a road they just didn't want to go down. Maybe they had work conflicts. Maybe they lived in California and decided they didn't want to make a cross-country flight every weekend. For some, playing a few lacrosse games on the west coast was just a better fit for them, and none of this changes just because they're allowed to play in both leagues. Major League Lacrosse isn't for everybody.
Will Many LXM Players Get to Play in the MLL? Weighing in on twitter, Quint Kessenich believes there are only six LXM guys who are ready to jump in and contribute right away to the MLL: Harrison, Peter Baum, the Brattons, Billy Bitter and Sam Bradman. I have no idea how much insight Quint has to the LXM talent pool, so take from that what you will, but even leaving ability aside, the numbers alone make this a daunting challenge for an LXM expatriate looking to settle down in the MLL.
Major League Lacrosse only has eight teams, the average team currently has 36 players on their roster (not including those selected in the collegiate draft), and any interested players will have to be added to a roster that's already been stocked with supplemental and collegiate picks, handpicked by coaches and GMs based on positional needs. With a maximum of 40 spots on the roster, it may not be easy to some players to find a spot for the 2014 season so late in the game.
At this point, all we can do is wait, but that player pool list is going to be interesting. Do you assume everyone from Quint's list is signing back up to play? I feel good about four of the names on it, one has me very skeptical, and one I have no idea, so I'll have to assume they're in. What about other MLL vets like John Christmas and Sean Lindsay, are they looking to get back into the game? How many of the lesser-known LXM athletes will throw their names in? How many will be selected?
We'll have our answers very shortly; player pool applications have to be submitted by Thursday at noon, and the waiver process begins the following day, meaning this entire section of the article is only going to be relevant for 48 hours at most. Know what? Don't care. I needed to talk about this. Told you, downright fan-ish. 100% fan. At least.
In conclusion, you probably noticed a whole lot of hypothetical in this rambling, frenzied mess of a column. Why? Because none of us know for sure what's going to happen with these moves. Maybe this is a sign of bigger things to come, and players will turn increased exposure into increased revenue. Maybe nothing changes at all, and this time next year, it'll be like nothing ever happened. Not quite sure, but that's what makes this such an exciting time.
The free market of professional lacrosse: a potentially rising tide, potentially lifting all boats – that's the embodiment of the entrepreneurial spirit. Brine/Warrior and STX on the same field, MLL athletes and LXM athletes, one in the same: if they can change, and you can change, everybody can change – that's pretty much the end of Rocky IV, but it applies here as well. Good for the fans, good for the players, and maybe, just maybe, great for the game.