Another week in the NLL and for the first time, we have a team that clinches a playoff berth in February. We have a coaching shake-up in Vancouver. We have a red hot team all of a sudden in Rochester. We have an East Division that somehow managed to get tighter with all five teams within 1.5 games of one another. We had a game with nine power-plays, and 9 goals on the power-play. We have more questions in goal for the Buffalo Bandits than answers. We have a team with a power-play efficiency rating of 75%. And we had a heart breaking loss in Vancouver.
We have A LOT going on and all of this happened in just three games this weekend. It's a league that never gets boring.
Dawson Headed to Saskatchewan
In what has been an interesting two weeks in Rochester, one of the main faces of the franchise is on his way out. Rochester dealt Dangerous Dan Dawson to the Rush in exchange for a 2018 2nd round draft pick (originally belonging to Vancouver) and a 2020 3rd round pick.
The precursor for this trade started with the K-Hawks game in Georgia on a Sunday night two weeks ago. Dawson didn't make the trip to Georgia and the Knighthawks offense finally caught fire with 17 goals. The following week against the Rush, Dawson volunteered to be the healthy scratch in the line-up if it meant keeping the core players from the Georgia game together, and the K-Hawks put up 16 goals. Dawson was once again a healthy scratch this past weekend with the K-Hawks beating the Bandits 17-10. Clearly you can't have a player as good as Dawson and as respected as Dawson sitting as the healthy scratch forever.
He is 36 years old and is a Free Agent at the end of the year. If this scenario continued, it was likely that Dawson would head elsewhere for the 2019 season. In this trade, Rochester ends any minor controversy on Dawson sitting and gets a few draft picks back. Rochester traded their 2018 1st round pick to the Rush way back in 2015 and this helps get them part way back to replenishing their roster post expansion draft.
As for the Rush, the draft picks given up were really of little consequence as the 2nd rounder was likely to be traded away anyhow. This trade really was questioned on the Rush end of things as to where Dawson would fit. It was later found out by Brad Challoner that Curtis Knight is on the injured reserve. So Dawson's immediate need was clear. However, it was later confirmed that Knight's injury is minor and his stint on the IR should only last 1 to 3 weeks. Its not the season ending injury that he suffered back in 2015. When Knight returns, Keenan will have to deal with his roster again. His options will be few. He will have to trade one of his players away, or, release someone off the practice roster and likely send Taylor down to the practice roster.
It's not like Keenan to trade for a rental player. He has for many years picked up solutions for the long term and collected draft picks along the way. And a few years ago, the #14 pick, which is likely where the 2nd round pick will land, landed the Rush Matt Hossack. So why does Dawson's acquisition make sense?
First off, Dawson is one of the top 10 players all time in the NLL. He can still score in bunches. And perhaps most notably, he can score from distance. For a Rush team that has struggled to get the ball inside the last several games, adding a player like Dawson forces defenses to extend out further. This in turn will open up those lanes through the middle for the likes of Church, McIntosh and Dinsdale. Dawson is also a versatile player. Keenan is a coach in which everyone plays a role for the betterment of the team. Dawson is a near perfect player to fit in such a system, where he doesn't have to be relied upon to score every night and will do what it takes for the best of the team.
Another thing to keep in mind is that while Dawson is a Free Agent this summer, he's also in the twilight of his career. If he can fit within the Rush system, there's nothing to suggest that he wouldn't re-sign in the summer. At this point in his career, there is nothing more that Dawson would want to win a few more championships and playing with the Rush gives him the best opportunity to do that. In my expansion draft projections, Curtis Knight is selected. If that holds, Dawson would certainly be a part of a solution for the Rush for more than the current year.
And for those Rush fans that love to see the odd fight, Dawson isn't afraid to drop the mitts. Last year he shocked us all with a beat down of Bill O'Brien in which the punch count was about 30-2. To see it go to this link and fast forward to 51:30.
Johnny Powless Traded…. Again
Just after this article came out last week, there was another trade with Johnny Powless heading from Georgia to New England in exchange for a 2nd round pick and a 3rd round pick. Interestingly enough as Graeme Perrow pointed out, New England paid as much for Powless as the Rush did for Dawson. That goes to show just how badly New England overpaid here. Powless now plays for the 4th team in his short career, with stints in Rochester and Vancouver previously.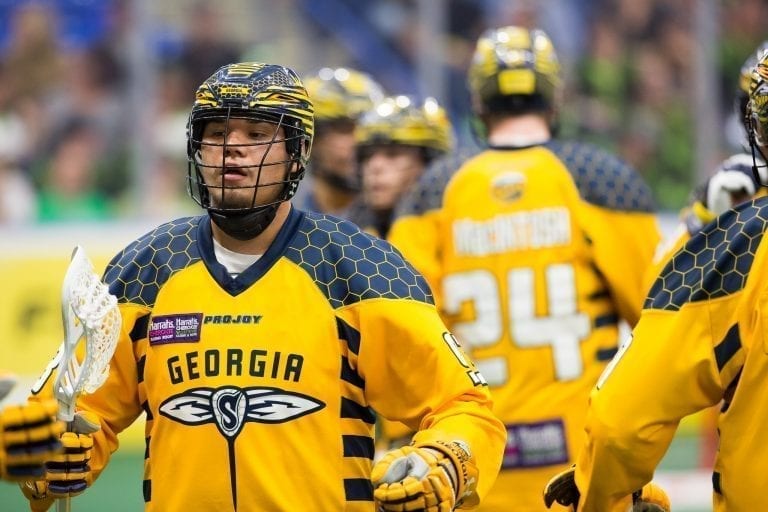 For Georgia this trade makes a lot of sense. They are loaded at forward and Powless was the healthy scratch the last two games prior to the trade. He had just three goals in seven games. As much as Georgia is already loaded with draft picks, to get even more for a player you don't really need is fantastic.
As for New England, this trade makes zero sense. New England doesn't have a 1st round pick until 2021. There are expansion drafts coming and New England has few draft picks to replenish their roster as it is. Shipping two more off didn't make sense, especially when they traded for Stephan Leblanc earlier this year to fill the same void. If they were looking to shake things up, this wasn't the way to do it.
Rush Clinch A Playoff Berth
In front of a league high 15,075 fans in a sold out SaskTel Centre on Saturday night, the Rush clinched a playoff berth with a, 10-6, win over the rival Calgary Roughnecks. The playoff berth isn't a surprise but how quickly it came is. It takes the huge record of a leading team and the poor record of the last place team for it to happen this quickly. Regardless, clinching a playoff berth isn't what the Rush want to accomplish, they want to be the #1 seed in the league heading into the playoffs. Clinching that is going to take a long time.
One interesting thing the Sask Rush Fan Page made me aware of on Sunday is potential scheduling problems for Rush playoff games in May. If the Rush were to go on to win the West, the date I would expect the West Division final to take place on is May 12. There is a Shania Twain concert booked for that night. The Friday night has a figure skating event. The following weekend is already booked for five days because of Cirque du Soleil. The Rush may be stuck with hosting the playoff game on a Sunday afternoon on May 13. We are getting ahead of ourselves, but it's a real possibility.
One thing that is even more impressive about the Rush clinching so quickly is that they have only played 4 of their 11 games at home. They still play 5 of their last 7 at home.
Rush Dominate Calgary
The last time the Roughnecks beat the Rush on the road was nearly three years ago, on March 8, 2015, in Edmonton. In that time, the Rush have won six regular season games, 2 playoff games and a pre-season game at home. The Rush have now won 13 of their last 14 against the Roughnecks going all the way back to the mini-game that decided the 2015 West Division final. The only victory the Roughnecks have had curing that span was the final game of the regular season in 2017, in which the Rush were resting players for the playoffs and the Roughnecks had already been eliminated.
In this tilt, the momentum swings were dominated by power-plays. The opening half ended 5-4 Rush, with Calgary getting three of its goals on the power-play. The normally fairly disciplined Rush took an uncharacteristic bench minor for unsportsmanlike conduct, just as Jeff Cornwall was on an open lane straight to the Calgary net. It's the type of mistake the Rush don't normally make. The power-play goal from Wes Berg early in the second got Calgary back to within two at 4-2, where the Cornwall shot could have opened the lead up to 5-1. It was a huge momentum changer at the time.
Oddly enough in the first half, the Rush were having a lot of success on Del Bianco firing at range rather than working the ball inside. But they abandoned that strategy in the second quarter and the only goal they scored was on a power-play of their own. A silly penalty on its own with Mitch Wilde taking the same unsportsmanlike minor just as a crease violation was being called on the Rush.
The second half of the game was dominated by the Rush power-play. Four of their five second half goals were scored on the man-up. The 5 for 5 performance on the power-play for the Rush increases their power-play efficiency ratio to 75.0%. The next highest in the league is Rochester at 59.5%. To put this into perspective, for Rochester to get to 75%, they would have to score on every one of their next 26 man-up situations.
For the most part, the Calgary defense was taking away the cutter through the middle and either caused a number of turnovers, or rushed a number of shots through the middle. When the Rush score just 10 goals, and half of those are on the power-play, you can't be disappointed by your night. As of the stats provided Sunday afternoon, Christian Del Bianco allowed just 9 goals on 51 shots (the 10th credited as an empty net goal as CDB was on the floor but not in his net). That lowers his GAA to 9.83 and increased his save percentage slightly to 0.809, the only goalie in the league above 0.800.
As for the Rush defense, they continued pressing the opposition similar to what they did in Vancouver a few weeks ago. Curtis Dickson was kept to the outside all night. Despite his two goals in the second quarter, prior to that he had fired 8 shots, most of them low to low, and the shots were forced. It wasn't the kind of start the Roughnecks needed by losing that many possessions with low percentage shots. The Rush only allowed two goals even strength. Evan Kirk didn't face a large number of shots, just 43, but the key was that he was solid when it was needed. Any night when your goalie stops 86% of his shots, you'll likely win the game.
One concern I have with the Rush is at the faceoff dot. Last week against Rochester, Jeremy Thompson went 7 for 23 on faceoffs facing Jake Withers. This week facing Tyler Burton, he went a meager 3 for 14. Over the last two weeks, Thompson is only 27% off the draw. Mike Messenger was 4 for 6. Given that Burton uses an old school power and rake faceoff style, I'm surprised the Rush didn't go to the much larger Messenger more often to counteract that power advantage. As much as you would hate to burn Messenger out on faceoffs, when the numbers are this lopsided, you have to consider using him. In a year where Thompson is a Free Agent, his numbers need to improve.
I finally had a good chance to watch Zach Currier. I couldn't watch his full game while in Calgary, and several times on Saturday I would not watch anyone on the floor except Currier. After watching him this closely, I have a whole new admiration for his game. The exhibition he puts on with loose balls is stunning (16 of them on Saturday night). Once he had the ball, he had to be constantly double or triple teamed to get it away from him. The Rush were well aware of Currier breaking the ball low and had that cut off the entire night. But it will be interesting to see where his game evolves. As Calgary transforms the next several years with a multitude of Free Agents and aging players, where his game goes to next is limitless.
Resetarits on Fire
If you looked at the top scorers in the league and knew there was a tie for the league lead in points, the fact that Mark Matthews is one of those two players wouldn't be a surprise. But it would probably come as a major surprise that Joey Resetarits is the other. Resetarits had a whopping 14 points in Rochester's 17-10 win over Buffalo on Saturday. Eleven of those 14 points were assists but I doubt Resetarits or anyone else on Rochester cares. If he's helping guys get the ball in the back of the net, that's all that matters.
This game was over with quickly. Just four minutes into the second quarter, it was already 7-0 Rochester. Resetarits had a point on each of the first eight goals. Alex Buque, who got the start, was chased after allowing 5 goals in 17 minutes, although he had faced 26 shots by that point. Zach Higgins with the opportunity to take over the starting role allowed 12 goals on 32 shots in 43 minutes. As a result, Buffalo's goaltending picture remains murky at best.
Buffalo's main problem on offense was that they were firing everything from distance. Perhaps this was their way to deal with a great Rochester defense, but you won't beat Matt Vinc from distance too often. No Buffalo player had more than 3 points. Josh Byrne was goalless in the game. Dhane Smith scored just once. Needless to say, you won't win too often with those kinds of numbers.
Rochester is certainly the team on fire at the moment, beating both division leaders the last two games. The win tightens the East and keeps them in the playoff race. But with the East so tight and each team going on its own mini-run at some point this season, you don't want to overestimate the confidence of any team in that division for any length of time.
Vancouver…. Almost Wins
The struggling Vancouver Stealth as expected shook up their coaching staff this past week, firing assistant coaches John Lintz and Jim Milligan, and replacing them with Art Webster and Kevin Alexander. The general feeling amongst Stealth fans that I viewed were that the changes didn't go deep enough, but it appears anyways that any deeper changes will be analyzed in the off-season.
The changes appeared to provide a bit of a spark to the Stealth as they took an early 4-0 lead. Their defense, notable for giving up large leads early, didn't allow a single goal in the opening 20 minute of the game. They had to be feeling confident going into the half up 5-3.
Unlike their last meeting where teams were going back and forth on 5 and 7 goal runs, this time around there weren't any major runs in the second half. New England just kept chipping away with two goals for every one by the Stealth in most instances. But up 11-9 late, the Stealth had to feel great about their chances, but two back to back goals by Seth Oakes and Kevin Crowley tied things up. In overtime, Peter McFetridge trying to push the ball without any support, caused a turnover, and immediately Shawn Evans fed a wide open Leblanc for the game winner.
The Stealth have several positives they can take away from this game. The defense finally held. Eric Penney played quite well. The newly signed Brendan Fowler won the faceoff battle 15-13, something the Stealth haven't done anytime in my recent recollection, and even more impressive facing Jay Thorimbert. Shawn Evans didn't score once, which is not easy to do. But at the end of the day, a loss is a loss, and the opportunity to try to climb back and catch Calgary had another major setback.
As for New England, they avoid an embarrassing loss which they would have assumed would be one in the win column. They stay in touch for 1st place in the East. But if they played this same game against almost any other team on Saturday, it's a loss. Their losing streak is snapped and possibly that gives them some momentum, but by the looks of the celebration in overtime, it was a sense of relief more than it was a celebration.
Attendance Update
The league has to be super happy with the attendance at two of its games, and disappointed, but expectedly disappointed, with the third. Vancouver had just 3,073 in attendance on Saturday. You had to expect this given the result in Calgary the week before. But as I have said before, I can respect the Stealth in that when there are only 3,000 in the building, they report 3,000.
On the other end of the spectrum, the league had its two largest attendances of the season in Buffalo and Saskatchewan. The game in Saskatchewan was sold out nearly a week ago and there were 15,075. People have asked me whether having more seats in the arena would help the Rush. In reality, having a sold out building with tickets that are hard to get is a far better thing than having a slightly larger arena that doesn't sell out. Buffalo did one better with 15,302 in attendance for the I-90 rivalry game. Overall, the Rush continue to lead the average attendance with 14,624, leading Buffalo with 13,057 and Colorado with 12,241.
Weekly Picks
A 2 for 3 week for me last week with Rochester upsetting the perfect week. I think Buffalo is going to encourage me not to pick them the way Vancouver did last year as I picked against them on both ends of their double header week and lost both. This week I picked them and they lose. I'm now 25-19 on the season.
Here's what I have this week.
Colorado over Georgia – I simply don't have enough faith in Georgia at this stage to pull off a consistent performance. The Mammoth stick it to a Georgia defense with several holes in it.
Toronto over Georgia – Neither team has been consistent lately. But Georgia is on the tail end of a double header. The Rock have the advantage here.
Saskatchewan over Vancouver – A team in dismay such as the Stealth are a massive underdog in this game and in the NLL this season, that's a recipe for an upset. But you won't see me picking it.
Colorado over Buffalo – keep in mind, the Mammoth are 5-1 this season when not playing a team named the Rush. They stay in the race for first in the West with a sweep this weekend.
Having Fun with the Officials
Each arena has its own little quirks as to the fun little things they do that are somewhat organic and developed by the fans themselves. At the start of this season, something new developed in Saskatoon after every goal scored. Depending upon how long the replay goes on the NLLTV feed, you might notice it if you look directly behind the penalty box. This season the two penalty box side officials and the shot clock operator signals to the official at the centre dot as to when the faceoff can proceed, with the shot clock operator being the last to signal it in.
The typical shot clock operator in Saskatoon is Ian Wilson, who is heavily involved with field lacrosse in Saskatchewan and has refereed at the last three, and the upcoming, FIL World Championships. So at the start of this season, the fans surrounding the penalty box started signaling with Wilson after every goal as a bit of a joke to throw him off his game. In the first game it was a few dozen people doing it. One game later it was several rows doing it. When I spoke with one Crew Chief after a recent game, he said he loved it. He didn't have to look for Wilson, he could just watch the fans.
This week the fans took it to a new level. In the pre-game announcements, Wilson may have got a louder cheer than most of the Rush players when he was announced. To top things off, one fan even got his own Ian #55 jersey. The dozen rows of fans that tease him has now grown to four sections. Always good fun.
Until next time…
For all the latest updates, follow me on Twitter!