Note: Rhino Lacrosse is a proud partner of LaxAllStars.com
As I pulled into the Saratoga Polo Association grounds in Saratoga Springs, New York, I couldn't help but notice the incredibly green, never ending fields that surrounded the club house. Lacrosse players of all ages, parents, siblings, and coaches were scattered across the fields as far as I could see, and I felt that sense of excitement I only get once in a while, when I know I'm about to experience something memorable, that others might only wish they had seen.
Day one was the Friday immediately following the Fourth of July. As I walked through the venue to get a look around, it was clear that timing of the event was well planned. The players running around were full of positive energy, and so were the Powells.
The Powells
Mike Powell was the first brother I spotted – from a hundred or so yards away. Truthfully, he's a little easy to miss (for the best in the game) if you don't know who you're looking for. But if you keep your eyes peeled for the clean cut guy with a big grin on his face, surrounded by a handful of kids attempting to do stick tricks, chances are you're looking straight at him.
Throughout the tournament, Mike was constantly moving around. The only time I saw him sit down was at the end of day one, when he took a seat in front of the piano in the club house and composed a jingle featuring, well, me.
The guy's energy is infectious, and as it turns out, so is older brother Casey's. This was the first time I got to meet Casey Powell, who looks like a professional athlete through and through. He brought his own team, Team 22, all the way from Florida for the event, and I must say those players seemed to have a ball. It seemed as though everywhere I looked, there was a kid with a Team 22 jersey on running around.
Meanwhile, Ryan Powell was quiet and composed – always a step ahead on tourney operations, but never too busy to pause and sign an autograph or three. He ran the show with a smile on his face and determination deep in eyes. Nothing short of what you'd expect from a guy with the accolades he's earned, and the business he's built over the past several years.
The Saratoga Springs Lacrosse Shootout was the first tournament Ryan's company, Rhino Lacrosse, has hosted. And it also marked the start of a new chapter for Ryan, who has recently relocated from Portland back home to Syracuse, where he's expanding his business with an East Coast office, and new marketing director in his brother, the aforementioned Mike Powell.
The Experience
Not even a rained out Powell Hour on Friday could get in the way of this tournament being a total success. Day in and day out, there was literally something for everyone in attendance.
While players naturally take precedence when putting together a tournament, Ryan and his crew, which in this case included George and Kevin Leveille of the Lake Placid fame, made sure to provide a fun atmosphere, comparable to a large family gathering, that appealed to all ages and served the whole crowd.
From Mike's stick trick challenges and position-specific instruction from a variety of Rhino coaches, to competitive games featuring former talent from Syracuse University and many other NCAA D1 schools and Rip's Grill full of good food, there was always something to see or some way to be involved throughout the day. On Saturday evening, Powell Hour was resurrected in front of an enthusiastic crowd. This was the first time all three brothers had performed together since 2006.
Admittedly, Ryan later explained to me that it took them a few minutes to get in sync, but I can't even begin to tell you how cool this was to see. Each brother was entertaining in his own unique way, and aside from the display of tricks that one can only dream of being capable of someday, they each took time to speak to the crowd about self improvement – sharing bits and pieces of what's inspired them to play, and learn the game.
The Competition
The Saratoga Springs Lacrosse Tournament is meant for established teams, school or club, and so there was a variety of talent on the fields. While some teams struggled to find their rhythm, there were others that have practiced and played together for months. It was all about playing lacrosse, not about recruiting or getting noticed, and that made the games I watched feel more authentic to me.
Due to the team-specific nature, there was a level of intensity I'd really never experienced at a summer event before. From coaches on the sideline to parents across the field, you'd hear constant jawing at the officials and lively reactions to every goal. I'm convinced this only elevated the sense of competition amongst the players on the field.
When it was all said and done, each division had a true champion crowned: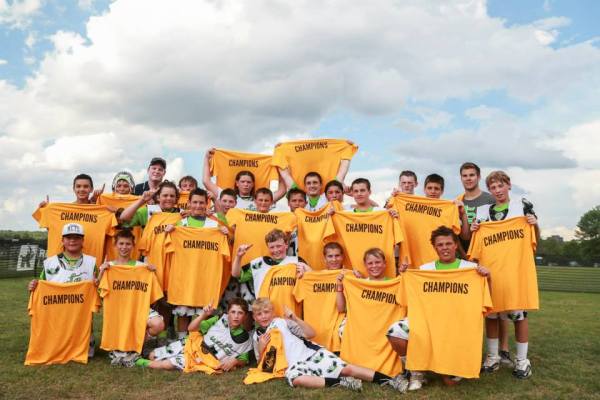 Photo credit: Tommy Gilligan
The Future
On Sunday, as things came to a close, I got to spend some time with Ryan and ask him a few questions about how the first inaugural event went and his plans for the future of the tournament. He was very pleased with the event overall, and you could tell he was thrilled to have his family there to help him put it on. The Rhino staff executed without a hitch, and a new tradition in the Northeast has been born.
The tournament will grow larger in year two, with more women's teams and additional activities for families as well. The goal is to make this a destination tournament similar to Lake Placid, and from my perspective, that shouldn't be too hard, even though it's a lofty goal. The venue is amazing, and the city of Saratoga Springs is very cool.
If you're an athlete committed to playing lacrosse and you want a fun experience to match your passion for the game, mark your calendar for the Saratoga Springs Lacrosse Shootout next year.