As I mentioned yesterday, Day 1 began with Coach V challenging the campers to hustle and give 100% every minute of the day. Well, Day 2 started with the campers responding to that exact challenge.
It was apparent throughout the whole day that the campers did a complete 180 and were ready to go. After some warm-ups, drills and a little face off competition, we had the first round of morning games. The ball was moving, campers were talking and there were some pretty snazzy stick skills and shots being displayed all around.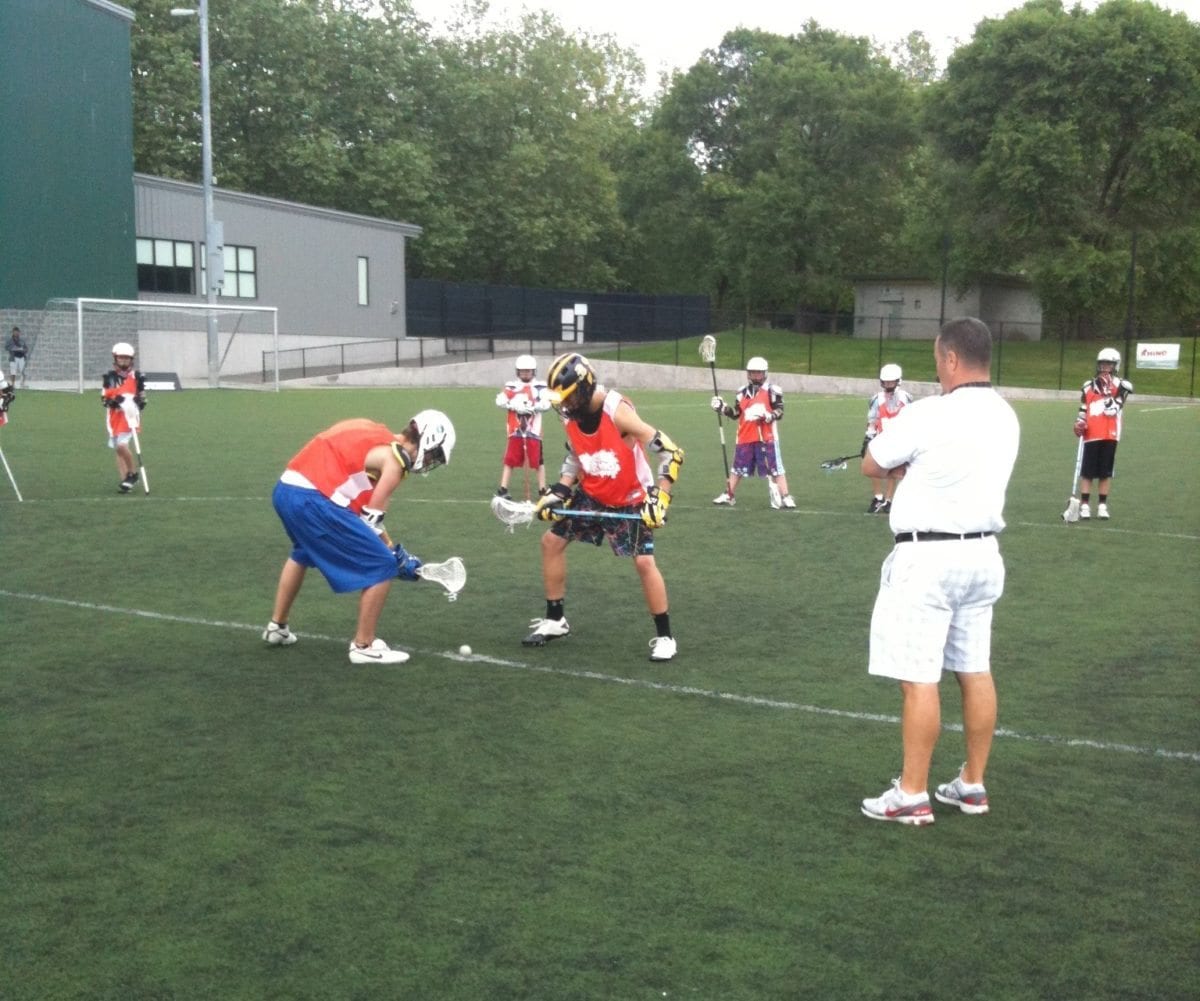 I love humble players who just do work and get respect. The camper in the blue and yellow helmet came up to my face-off station and when I went to split them up, he said he was only 'alright' at face-offs, but subsequently went ahead and battled his way to the championship of the camp. That's some hard stinkin' work!
After morning games and lunch, we checked out Seattle's stick skills. There was one gentleman that stood out above the rest, seriously WAY above the rest. See for yourself.
Lax world, meet Mackey AKA Quizno AKA Rhino Lacrosse Camp: Seattle Stick Skills CHAMPION.
Once the champ was crowned, we went into team practices to work out fast breaks and some 3v2's that Coach Coffman, RP and Coach V demoed for the campers. I was really impressed with how quickly the campers picked up on some of the concepts of the fast break. They found open lanes and moved the ball around to the open guy very well. Even the goalies were stepping up their game in 3v2's and stuffing some crease shots.
Off the topic of the daily routine and happenings at camp, I've had the pleasure of being able to meet some really smart minds of the game. Last week it was Brian 'Doc' Dougherty, John Galloway, Joel White, Casey Powell, Coach Ventiquattro and RP (of course!). This week Coach V has returned with RP and Jason Coffman, who as I mentioned before is one of the best players you've probably never heard of. Coach V in particular though, is an incredible coach. Not only does he have an immense amount of knowledge in his back pocket, he also demands hard work and respect from the campers – a trait that is really overlooked these days IMHO.
Did I mention he has a pretty decorated background as a coach? Check it out. Since the 2006-07 season alone, he has compiled a record of 98-17, as well as these accolades…
– 9 time Frontier League Coach of the Year
– Section 3 Coach of the Year 1997
– Syracuse Post Standard Coach of the Year 2000
– Coached 12 High School All-Americans, 30+ Division 1 players, 100+ college level players
– 13 League Championships
– 5 Section 3 Championships
– two Upstate Championships
– two State Title appearances (2000 & 2002)
Coach V delivered a great message to the campers at the end of practice about "controlling what you can control." Don't worry about the refs, any missed calls or possible dirty hits – worry about your own game and how you can help your team to win the game by playing the best that you can.