This year's NCAA D3 Men's Lacrosse Championship game – Salisbury Vs Wesleyan – deserves a lot of attention, and for so many reasons. This game features a legendary monster of a program, and another that aims to win their first ever national title. It features two teams that can play a multitude of speeds and styles of lacrosse. It's got famous lacrosse alumni. And it even features two vicious bird mascots that people write off far too often. The avian fever of 2018 is real. Also, I predicted this match up last week, and was pretty close on how both games would go down. so there's that.
D3 Birds gonna bird!
Time to traipse through the Salisbury Vs Wesleyan match up, and dig a lot deeper! Now, in the interest of full disclosure, I should note that I am a Wesleyan alum, stayed on to coach under John Raba for two years after graduating, and I have a hard wired bias towards the Cardinals. That being said, I also love D3 lacrosse in general, so I'm going to do my best here to have some fun, but to also give this game the kind of attention that it deserves. And I respect Salisbury immensely, so this is going to be fine. Just fine.
This game will be played SUNDAY, at Foxboro Stadium in MA, at 1pm. Be there!
Historical Program Comparison – Salisbury Vs Wesleyan
Salisbury University Sea Gulls (20-3)
Program Overview: Salisbury is the epitome of a Division 3 PROGRAM, with capitalization being very intentional. Jim Berkman, the man at the helm for 3 decades, is the driver behind all of this, and while he has plenty of help and gets a lot of support (and has a ton of alumni on his coaching staff), he is the man with the vision and he sees it through time and time again. Former players would run through a wall for him, and it's just as much about what he does off the field with these young men as what he does on it. Ask an alumni of Salisbury what they think about Coach Berkman and they'll tell you the same thing. They are the cream of the crop in the CAC, as well as D3 lacrosse, and they have been for as long as I've been paying attention to this great game.
On the old LaxPower forums the best questions you could ask was, "when is Salisbury going D1?" It was nothing but a compliment. The best response was, "I heard they beat Duke in a scrimmage", because they probably did. Or "I hear the freshmen are looking good". That's just a classic.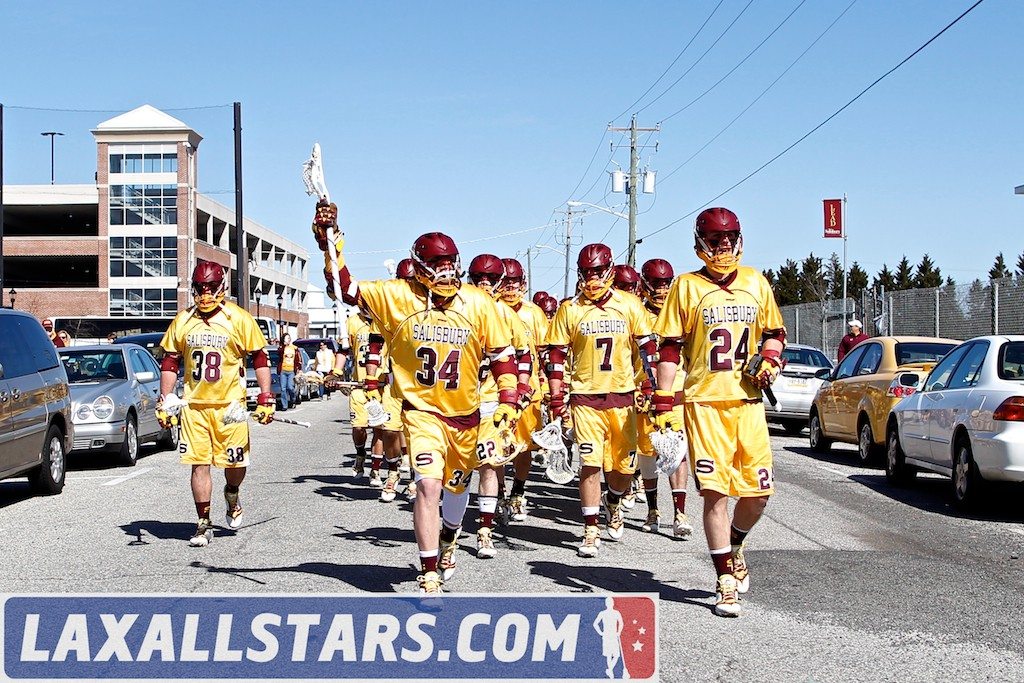 Program History: The Salisbury Sea Gulls have won 12 national titles, played in the last two championship games (winning in 2017 over RIT in a great game) and have made 17 appearances (2018 is #18) in the championship game over the years. You have to go as far back as 2001 and 2002 to find two consecutive years where SU has not been playing in the finals. Hold on for one second now and recognize that Salsibury has a 12-5 record IN THE D3 FINALS. Most D3 programs haven't won 12 NCAA playoff games over the history of their program. Salisbury has won 20 CAC titles. Berkman has been Coach of the year 5 times. From 2004 to 2008, they ran off 5 straight undefeated regular seasons. There are other stats, and they are all just as impressive. It's an incredible run, it's still going strong, and it shows no signs of slowing down any time soon.
Notable Salisbury Alumni: On top of all that team success, Salisbury has produced some absolutely amazing players, a couple of whom have gone on to see success at the absolute highest levels of the game. Eric Martin has been a standout player in both the NLL and MLL, and he was named D3 player of the year while at SU.
Kyle Hartzell is another former SU standout, who plays for the Lizards and Team USA. Jason Coffman is the all-time leading scorer in NCAA men's lacrosse, and his 455 points are just ridiculous. Jake Bergey had a long pro indoor career for Philly, and he was a terror at SU. Jeff Bigas is another guy who played pro out of SU, and I could really go on and on about this group of alumni forever, as they have 243 All Americans through 2017, with 88 of those guys being on the 1st team. 11 guys have been drafted into the MLL. That's just all… incredibly impressive.
Wesleyan University Cardinals (18-3)
Program Overview: Wesleyan plays in the NESCAC, which has historically been the strongest top to bottom conference in the country. The conference has produced 3-time national champs in both Middlebury and Tufts. Coach John Raba is the man at the helm for Wesleyan, and he is the longest serving NESCAC coach. Wesleyan is a… different kind of school, and for a long time the focus on athletics was not all that concentrated. While Wesleyan did have some solid one off seasons in and before the late 90s, the program really started building up in the early 2000s under Coach Raba, and in his 22 seasons as head coach he has been methodically bringing the team along, going from NESCAC doormat to league contender, and then quickly on to the national scene, really starting in the 2005-9 era.
Program History: This is Wesleyan's first ever trip to the finals, and their fourth ever Final Four appearance. Wesleyan has made the NCAA tournament 5 times, and they still have a winning record of 13-5 in the NCAAs, including their 4 wins from 2018. They made the Final Four in 2017 (losing to RIT on the road), the Quarterfinals in 2009, the Final Four in 2007 (losing to Cortland 9-8 at home), and the Final Four in 2006 (losing to Cortland 7-6 in OT). Wesleyan has been close a number of times, but this will be their first time playing on the biggest stage as a program. Coach Raba was named D3 coach of the year in 2017, and has been the New England coach of the year 6 times.
Notable Wesleyan Alumni: As a lacrosse writer, I don't fit in this group, but I did go there, and a little shameless self promotion never hurts. But it has to be shameless, and it was!
By far the biggest name that is attached to Wesleyan Lacrosse is Bill Belichick, coach of the New England Patriots. The game is being played at their home stadium in Foxboro, so you can bet he'll be there. Belichick played football and lacrosse at Wesleyan and he stays in contact with Coach Raba. His daughter, Amanda, also went to Wesleyan and played lacrosse.
Bill Belichick will be watching the game, you can bet on it. I mean don't bet on it, but you could. Glenn Adams is one of the very few Wesleyan guys who have seen any time in the pros, and if an MLL team had really given him a shot they would have been better off for it. I'm biased, but that's true. His brother is Brent Adams, now a pro MLL player. Field Yates is an NFL analyst for ESPN with lots of league scoops. Spike Malangone was the 2009 Player of the Year, and I think he was an extra on Billions, which is a TV show or a movie, I think. Chris Meade and Matt Wheeler are the founders of Lacrosse Recruits, now Sports Recruits. Wesleyan has 50 All Americans to their credit, with 5 first teamers.
Salisbury Vs Wesleyan – Diversity Universities
Wesleyan used to call itself Diversity University. The diversity of the students at the school was great, and it made for a fantastic educational experience, but the phrase was a tad self-righteous for my tastes. But I digress.
I use the phrase here to describe both teams' ability to play a multitude of speeds, and styles, in this great game. If you want to play slow, both teams can play at a methodical pace. Salisbury proved that a couple times this year, and their game against York in the CAC finals as well as their semifinal win over Gettysburg were great examples of how they can grind out a win, if need be. Wesleyan also showcased this ability in the NCAAs against Cabrini. The game was much more scripted, but Wesleyan earned edges where they needed to. Both teams COULD play slow, but I don't see it giving a distinct advantage to either team.
Both of these programs can also play fast, and score at a frenetic pace, while maintaining their poise and focusing on what they do well. Salisbury came out slow and sluggish against a jacked up CNU team, but they clawed their way back pretty quickly, and showcased an ability to go on long runs, and feed off of emotion for goal after goal. Wesleyan showcased that they can play in 5th gear for long stretches of time against both Tufts and RIT, and likewise can go on multi-goal runs if a couple bounces go their way.
So what will we see in this game? Will it be slower, or faster?
I'll get into the details on WHY below, but given what I know about both programs, and having watched them both play a number of times this year, I don't believe this is going to be an either/or scenario between fast and slow. Both teams will likely vary their pace of play, and one of the things that will be most interesting to watch is how and when both teams do decide to play more methodically, or with a little more urgency. If it's even, the pace could slow a little through the middle and pick back up at the end, resulting in 16-25 total goals being scored. If one team goes on an early run, and both teams sprint it out, this one could be a shootout, and we could see 30+ goals when it's all said and done, even with some slower portions of the game.
Salisbury Vs Wesleyan – Methods of Madness
It's worth talking about how each of these offenses and defenses work, because I do think we will see plenty of settled six on six, and goals after longer possessions could lead to prolonged goal scoring runs if a D is gassed and on their heels, especially if the weather is hot and humid, and it looks like it might be! Conditioning will matter. It always does on Sunday.
For Salisbury's offense, you will see ball motion out of a wider set to start, but when it comes to creating settled looks, SU crashes down tighter, and you will see a lot of off-ball movement around the crease, with four or five players sometimes involved inside. This not only creates a hectic inside game for the defense, but it also draw the defense away from the ball, and gives dodgers more room to operate, and additional time to make decisions. If the dodge does not pay off, Salisbury does a nice job of transitioning a new ball carrier through a pick or triangle passing scheme on the wing, delivering a new dodger, and he is mostly alone and isolated. The beauty of this offensive approach is that it pulls a defense out of its normal shape, creates long and confusing slides, and opens up dodge to shoot and dodge to feed opportunities at the same time.
The Gulls also do a good of staggering cutters, so that if the first look isn't there, a second look is often available along the sight line, making it easier for feeders to identify next level looks. They run nice follow cuts on the right hand side of the crease, and will also set screens on the goalie in tight. The look down low to the sides of the crease is one they try to create often, and execute well. The backside must be protected against this group. And don't think they will only dodge from up top. They can run a lot of similar, but tweaked, schemes from the wings and X as well.
Pierre Armstrong and Josh Melton are extremely balanced attackmen for Salisbury, who can feed and score from multiple locations, while Griffin Moroney is typically a little more focused on finishing, and he does it well with 46 goals on the year and a 33% conversion rate on shots (46 for 140). All three players are sophomores, with 57+ points each, which means the Gulls will be very good on attack for years to come. Nothing new really, but this group is talented, and looking to make their own mark on the program.
Corey Gwinn has been leading Salisbury's offensive midfield but he did not play against Gettysburg, and while his stats say he is more of a pure goal scorer (47-19-66), Gwinn also creates a lot of mismatches for opposing defenses, and his hockey assist count has to be really high. He draws attention, commands respect as a scorer, and this really contorts defenses, resulting in quick ball movement, and team goals. He was excellent this year and if he doesn't play it's a considerable loss. Garret Reynolds fills a similar goal scoring role to Gwinn, and is another great option to attack a short stick at any time, and he is capable of having some big games when needed with a couple 5 or 6 goal efforts this year to his name.
Zach Pompea may be Salsibury's most balanced midfielder, and he is yet another 50 point scorer for SU. What impresses me the most about this group of six players is that each has at least 40 points, and that each is also shooting at or above 30% efficiency. Emory Wongus is certainly another guy to watch as he has almost 40 points and converts around 42% of his shots into goals, which is incredible. He could play a huge role in Salisbury's game plan for Sunday. He scored a huge goal in their win over Gettysburg, he's a tough cover, but more importantly, he's a very smart player and showcases excellent "team first" decision making. Beyond that, SU has additional midfield depth and talent, with a lot of it coming from younger players, so don't be shocked if some other guys chip in with points.
The Wesleyan defensive zone is not passive, meaning it does not sit back and wait, but instead extends and applies pressure. With all of the activity from SU's lower players, a key contested area will be maintaining defensive shape and the battle around inside play. If the zone stays higher on a single dodger then lower looks can open up inside. If the zone shifts, the inside looks may taper off, but defenders will be left on an island. Wesleyan has good LSM and midfield cover players, but any decent amount of time and room can be dangerous for the Gulls' shooters, and they have a couple guys who can really sling the rock from outside.
If Wesleyan can disrupt the flow of the SU settled offense, that could cause some problems, especially early on, as SU obviously has great players, but they reach a higher level when they are able to feed off each other. If the diversity of SU's looks can be limited, they can be made more predictable. Otherwise, Salisbury will do a lot of different stuff, keep the D guessing, and make good on chances.
Andres Rodriguez leads this group, and he is a relentless, physical defender who has been making huge plays when Wesleyan has really needed them. He throws great takeaways, is an animal on ground balls, covers very well, and slides hard. Otto Bohan is the man between the pipes, and he can be streaky at times, but is also capable of standing on his head and confounding an offense when he's on his game. Being solid early is important in this one. Colin Malarchuk and Jake Cresta spend a lot of time down low, but Thomas Clejan, Ben Shively, Chad Malinowski, and Mitchell Patton will all see time in the game, and in different spots. D-middies are Colin Hitter, Eric Meyreles, and Sean Penney, and this group not only plays great D, but they are also instrumental in Wesleyan's clearing game, via their speed, decision making, and good stick work.
Offensively for Wesleyan you also have a group that can do different things, and do them all well. The Cardinals use speed or size to generate mismatches well, and when they don't have a look they are quick to send the ball through X, kick it to the backside and attack again. The skip pass to shooters and dodgers up top forces defenses to respect all six guys out there, and much like Salisbury, Wesleyan does a nice job of putting defenders on an island with shifts in alignment and ball movement. When a defense is stretched, skip passes open up, and Wesleyan does a good job of converting on wing shots on the backside of the play. Wesleyan starts wider than most teams, and tightens the noose. How they deal with pressure as they tighten will be key to watch.
Harry Stanton and Carter Hawthorne lead the way for Wesleyan on offense and the smaller attackmen use speed and slickness to make things happen. Ronan Jacoby is a lefty finisher and the freshman has 65+ goals this year, but has also carried and dodged well, proving he is much more than just a shooter. The top midfield group features speed from Cole Turpin, size and shooting range from Taylor Ghesquiere, and a little bit of both from Christian Barker, who is extremely balanced as an O mid and can fill a lot of roles. Scott Irwin and Ryan Flippin add to this depth.
Defensively, Saliisbury is a big "on hands" team, and they always have been. They play aggressive, athletic, pressure defense, and they are constantly chopping and hacking (legally, usually!) on the hands of ball carriers, and they get physical with cutters. The SU defense obviously wants to stop you flat out, but if that fails, the pressure produces another benefit – it throws off the timing off opposing offenses, and passes start getting picked off, or arriving too late. Dodges are now made into traffic and not on an island. Shooters have that half second less to get off a shot, and a goal turns into a popcorn save. I've literally seen it a million times. Ok, like 18 times. But whatever! The point stands – Salisbury plays an aggressive on hands defense, they press and pressure, and this forces a lot of offenses out of rhythm. One risk here is over extending, as Wesleyan has speed on offense.
Speaking of forcing a team out of rhythm, I can see Salisbury shutting off one or two different players on Wesleyan with a short stick during different runs of the game. I don't think it would be an all-game approach, but when I talked earlier about changing up approaches and speeds of play, this certainly figures into the equation as an option, and SU has done it before, most recently against Gettysburg. Wesleyan has seen some shut off before. Salisbury likes to protect the middle, so up field adjacent slides can open good wing looks if the second slide is late. Even then, the gap closes quickly and SU is back on hands with pressure.
Brandon Warren is an extremely competent keeper. He makes good saves, runs a good clear, and provides a good bailout option for SU's defense. In front of him you have two senior defenders is Will Nowesnick and Kyle Tucker. Both can cover, play great team D, and are animals on loose balls, with good sticks in the clearing game. Tucker is an excellent takeaway guy. Drew Borkowicz and Kevin Murphy are two sophomore defenders who see time down low and these guys are VERY solid. Corey Berry is a senior LSM and he can flat out play, great on GBs, and just relentless on rides and play in between the lines. I really like Troy Miller as a d-mid, and when you talk about the SU defense being "hands on", Miller is a great example. Even with a shortie he generates caused turnovers. Jeremiah LaClair is another force with a short stick for the Gulls, and I love seniors playing d-middie. Experience and lacrosse IQ is vitally important for that position.
Between The Lines – Winner Takes All?
As a fan of the game, I am really looking forward to the above six on six play. It's going to be stellar! But I'm not sold that this is where the game will be won or lost by either team. Sure, one of the defenses could totally shut down their opponent, but both of these squads have needed to pour in goals at times, and they've done it when settled. And yes, one of the offenses could absolutely explode for 15+ settled goals (both have the potential), but given how good both of these defenses are, I find this to be equally unlikely.
There is a good chance that this game will come down to about 10-15 different plays in the midfield, and what comes of these midfield plays in terms of scoring. On a turnover, how well can either team negate the coming transition chance? Off of clears, who will be able to capitalize on chances for d-mids and poles? Can either team produce a couple goals off of the ride with their attack? Will either team try a more aggressive press ride? Salisbury is always aggressive on the ride through the middle of the field, but if Wesleyan can deal with it well, does that advantage switch? THESE ARE THE QUESTIONS!
Face offs also have the potential to play a huge role in this game, not only for possession counts and chances, but for pure offense, goals, and continued runs. While the guys taking the draws for both teams are excellent, the wing play and units interacting with each other could be the difference maker here. Each guy will win a couple clean, but ground balls, wing play, and takeaways/turnovers after possession has been called will likely generate game changing chances. Both teams heavily pursue ball, and value 50/50 chances highly, which means both teams can get over aggressive in their pursuit, and this can create chances for players who cherry pick a little… but only if their team comes up with the ball. Little things like loose ball gooses, physical ground balls, and staying away from pushes from behind will all be absolutely key in this arena.
TJ Logue and Brett Malamphy are SU's primary face off options, and while Malamphy wins more to himself, Logue works really well with his wings (guys like John Wheeler, another senior in a blue collar position) to create wins and transition opportunities. For Wesleyan, Zack Zavalick has proven to be a really good draw man, and Ryan Lynch provides another good option. The difference maker this year for Zavalick has been his play after the draw. Whether he's making a good pass, taking the ball down the wing himself, or chasing down an opponent after a loss, he's been relentless and smart, and it's paid off.
What About Goalies?
Any goalie who stands on his head and plays the game of his life can win a game for his team. I have no idea if this will happen this year, but it can't be ruled out. Sometimes goalies just see the ball and feel the game, and when that happens all the best laid plans go right out the window. Tarnow, Foglietta, Hipenbecker… these guys were game changers on the day. Will either of these goalies join those ranks?
Or Will It Be Intangibles?
There is always the chance that both teams will just play smart, great lacrosse in between the lines. Both will generate chances, and it will end up being a wash. If this is the case, I think this game comes down to intangibles, like goalies making saves they probably shouldn't, or players scoring ridiculous goals that they probably shouldn't. These are the kinds of things that will lift a sideline, and give teammates another breath of fresh belief, allowing them to move past all the injuries, aches, and pains that this long grind of a season can incur on any player.
Another intangible aspect of this game harkens back to the history of these two programs. Salisbury has been here before – heck, a lot of the guys on this team were here last year, or the year before. They know what it feels like to win, and they know what it feels like to lose. The staff has also been here before. This is nothing new for them. It's all part of the annual plan. It's business as usual.
For Wesleyan, this is something different, simply because it is their first time, inherently making it different. The program has never played in an NFL stadium, never played before a crowd of this size, and has never made it through a season where literally everything was on the line in the final game. This does not mean they will be unable to deal with it all, as teams have been able to come in and win their first ever title game appearance in the past – Naz in 1992, Tufts in 2010, and Stevenson in 2013, but it's worth mentioning.
All that being said, this Wesleyan team did play in the Final Four last year, lost big, and then came back to beat the same team the year after. While the program might not have the same experience as the Gulls, these players do know what it feels like to come close, and have it all slip away, so my guess is they will fare well here, but jitters could certainly play a part, and this seems true for one team more than the other. Maybe those jitters will help? You can't rule it out! And again, this is what all of this so exciting.
Random Facts – Salisbury Vs Wesleyan
This is the first time these two schools will ever meet on the field for men's lacrosse. Talk about setting a precedent.
Coach Raba has been at the helm of Wesleyan for 22 seasons.
Coach Berkman has been leading the way at Salisbury for 30 seasons.
Will Pilat, a Wesleyan assistant, is the son of Bill Pilat, the Roanoke head coach.
All 6 of SU's assistants – Justin Axel, Knute Kraus, Erik Miller, Jayme Block, Tom Cirillo, and Ben Sandlin – attended SU as student-athletes.
None of Wesleyan's assistant coaches played at Wesleyan, but Will Parker and Rick McCarthy have been there for 15-20 years.
Wesleyan scored a season high 19 goals against RIT, and beat the #1 and #2 teams in the country last week in RIT and Tufts.
Salisbury beat the #3 and #9 teams in the country last week, only giving up 7 goals in each game.
Final Thoughts and Predictions – Salisbury Vs Wesleyan
If you're going off history, or love for the Gulls, Salisbury is your pick.
If you're like me, and you support Wesleyan, you'll pick the Cardinals. Who else am I going to pick? REALLY.
But if you're just a fan of the game, or an independent watcher of 2018 D3 lacrosse, you can look at the trends and see Salisbury operating a press defense that is stifling, and scoring just enough goals to win games. You can also see Wesleyan picking up their scoring pace whenever needed, with a defense that seems able to answer the call when a big stop is required. Both teams are finding ways to win, and are capable of doing so in a number of different ways.
The biggest questions seem to be 1) can Salisbury figure out how to generate good looks against the Wesleyan zone early on, and 2) can Wesleyan can get through the SU ride effectively, and score some unsettled goals? Either aspect could be a turning point in the game, and it's where my as-unbiased-as-possible prediction comes from.
I like Salisbury to score some goals. They have a good group of players out there, an excellent offensive set of approaches, and guys who can shoot the ball. They will come out hard, as they always do in title games. Pez dispenser Yoda knows this is true. But the Wesleyan defense has shown an ability to play from the whistle, so I'm not ready to give that edge to the Gulls just yet. On the other hand, I have seen an improved clear from Wesleyan recently, and they have dealt with pressure well lately. Salisbury is of course another level of ride and pressure, but I honestly think Wesleyan can break it enough to win here.
I'm picking Wesleyan to win 11-10, possibly in OT!
It's a thin margin, but that really just speaks to how good this game could potentially be. The D3 game is often the best of the weekend, so get there, see it for yourself, cheer for your squad, and enjoy every minute of it. I'll see you in Foxboro.