Editor's note: Please welcome GameChanger (and coach Scott Marr) to LaxAllStars! GameChanger has developed an amazing new app called Team Manager, which we encourage every lacrosse team administrator to try. The folks at GC love lacrosse, and we're pumped to have them on board as our partner. We hope you enjoy their podcast!
Today on the show we have the Head Coach of the University of Albany Men's Lacrosse team, Scott Marr. Coach Marr is on his 18th season as head coach of Albany. During his time at Albany Coach Marr has coached two Tewaarton Winners, 29 All-Americans, 6 Tewaarton Finalists, and 8 America East Players of the Year.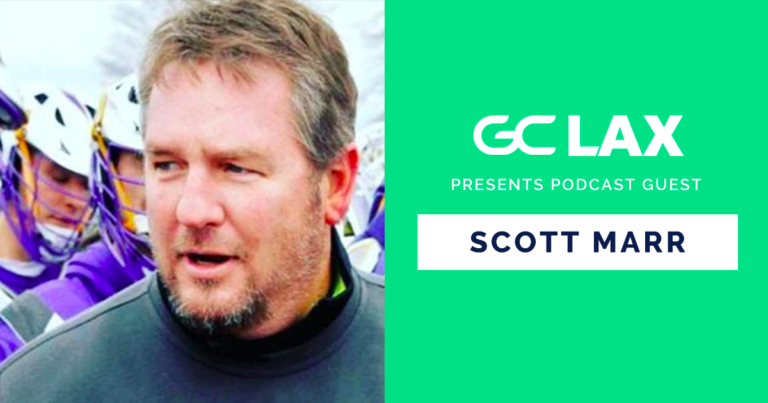 In 2017, Albany's offense ranked as high as #4 in the nation for the second straight year. Albany is currently the 2 seed in the 2018 NCAA tournament. They play Richmond on Saturday in the first round.
Coach Marr is a graduate from Johns Hopkins. He started his coaching career at Delaware. He then moved on to be the assistant coach for Dick Edell at Maryland for six years before moving on to the Head Coaching job at Albany.
Whether Coach Marr knows it or not he had a major impact on my lacrosse career when I was a camper at Maryland Lacrosse camp. During out talk we had the opportunity to talk about his entire coaching career, how empathy and compassion play an important role for him, and who transformed for him, what it meant to be a head coach.
Scott Marr: GameChanger
BONUS: Read LaxAllStars' recent article on Coach Marr and the Great Danes – The UAlbany Way
The GameChanger Lacrosse Podcast is about talking to people who have dedicated their life to the game of lacrosse and learning about who they are, how they got to where they are today, and what they do to improve themselves and their teams.
Be sure to follow us on twitter, @GCSports. And, if you're a coach, a parent or you run a travel or club team, check out GameChanger Team Manager in the app store. Its the essential, all-in-one, scheduling and communication app for lacrosse coaches and parents. Unlike other team apps, GameChanger Team Manager is free, easy to use, and doesn't serve ads. Learn more at GC.com/TeamManager.
Meet The Host