At some point I said that I would likely submit the next edition of this blog. I just had this one thing about my upcoming wedding, family stuff, and then I would write an update on the upcoming Summer League in its second year and the pending end of the SEMLA season. Blink, enter January 2016. I have no idea where the time went. And now I have so much more to cover!
Well, I do know where the time went, but this is about lacrosse and not organizing a wedding, moving house, and other things. In the hope that this makes for a kind of apology, let's take a look back. We'll look at the end of last season (14/15), how Hillcroft's multiple club teams fared, and what we took from it.
Then I will provide a look into our summer league, including the visit by the England U19 side, how we went about pre-season this year, and how the first half of the season (15/16) went down. Lastly, there will be a short bit on EC15, WILC15 and the upcoming European Championships to really hit on almost every aspect of England Lacrosse!
SEMLA Season Recap
The last SEMLA (South of England Men's Lacrosse Association) season ended with deserved title wins by Spencer. I won't touch on the eligibility discussion from the flags cup semi-final, because the fact is that Spencer ended their season without a single loss and that is a formidable achievement. No reason to dig up old stories here, it was a heck of a season!
Our second side team, most importantly for us, claimed the intermediate flags at the flags final in Reading. They competed against undefeated Cardiff and claimed the flags by the closest of margins. This was, and is, a huge achievement for the club. Cardiff fielded a strong team that had won promotion to Premiership and has competed effectively in the present season.
Our third side team, Hillcroft B aka 'Thrillcroft', looks back at last season as a stepping stone. Following promotion from East 3, retaining the league would give our club the opportunity to give all levels of ability and experience decent game time reliably and frequently. Finishing in the top half of the table was better than expected although some losses were much heavier than necessary and the current season's objective is very clear – we want to win that league and see our second in the East 1 division.
Overall, our club did well, although some more silverware was more achievable than we thought. That meant, amongst other things, that pre-season would start in August!
2015 Summer League
Enter May 2015 and we took on the summer league – an interesting second year, which was bound to be more difficult than the year before. The kit definitely looked better than the year before. Fred Hacking from London won the design competition and, more importantly. He also recently had shoulder surgery (get well soon Fred, we miss you in attack!).
We also started running women's games at the summer league.
This was always about running games in the summer for everyone. While it took us a while to understand how to reach women's lax players effectively, we managed to run about four games of six scheduled ones over the course of the summer. Turns out, the ELA's Super League (really good players play there, it's the best women's lax in Europe outside of European Championship) and the European Championship really are more interesting than our league and there are fewer intermediate players available than we thought. In the end, we learned that working with helpful clubs like Central London Lacrosse club could make all the difference.
The men's competition of the summer league saw a new team as the Foreigners were relaunched as The Tropics under new captain Mathew O'Leary, then calling from Purley LC. The draft had been much more even this time around as captains learned some lessons and picked more balanced rosters. Moreover, we had all four teams protect five of their players. That gave all teams a solid spine of players.
While the foundations were set, five protected players is not enough to protect everything, and there was a wide range of strategies – some teams protected their teams from last year, some went after a diverse mix of players, and the table below shows the range of choices made.
From first to last game days, tighter than expected and also some surprising results kept the league interesting. It was interesting enough that on the last game day, three of four teams could still become champion. The parity gods were good to us this summer!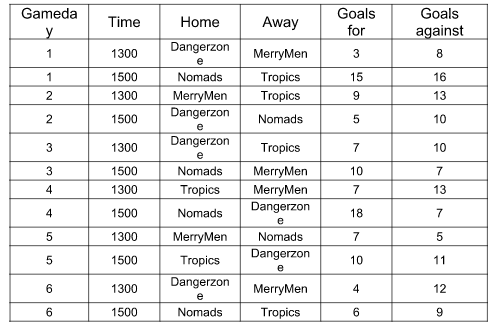 MerryMen retained their title with a strong team performance, rallying from a losing record of 1-2 halfway through to a 4-2 record at the end of the regular season. They took the title behind some serious team focussed Lacrosse. Notably, the patience of captain Tom 'Daisy' Hatton with all of his players, including those making unnecessary mistakes in the earlier games, paid off in the back end. Nomads finished third, losing their final game in what proved to be the final game for Nomads in the summer league with captain Rob Clark withdrawing from his captain role for the upcoming season. Big thanks to Rob for his efforts in making the summer league happen.
U19 England Team Visit
A weekend of particular importance was the visit of the England U19 side to one of our summer league game days. Preparing for the upcoming world up in Canada, Paul Coups brought his entire roster of 50 players to London to compete against a side of England Universities and England development players, our club's first side and a select team made up of players from the summer league.
The England U19 displayed a strong performance throughout the weekend and were a true privilege to have around. Their first game against England Development/Universities was a disappointing loss but in all fairness, they had spent about seven hours on a bus and got about five minutes of warm up.
Following this game, they competed against our first side and produced a solid win. It was a big insight for our club at the beginning of pre-season to compete against such a level of ability and fitness. The third scrimmage of the U19 against Summer League Select pitted them against a team full of current and former senior international and NEMLA players – a win for the Summer League team was well received by us.
However, the most important thing we heard all weekend was that players wanted to play more often at this level. Without the U19 committing to travel and give us a game, our players would not have played these games and we are very grateful for their wiilingness to join us. Excitingly, an England U19 side will travel to London on 1 July, subject to detailed plans working out which we expect. We are looking forward to see our U19 side compete in the world championship and wish them all the best!
The Current Season!
On to our current season. We're fielding four teams, three men's and one women's side. The men's team are competing effectively across all divisions. T The club has recruited well on all lines including current 1st team starting keeper Matt O'Leary, some North American additions and a range of university students. With turnover elsewhere minimised, our club managed to consolidate recent growth and now turns out teams frequently. There is a near entirely new leadership group and Brian Potter is now firmly in charge of team.
Thrillcroft carry one loss against local rivals Spencer 3s from early in the season. Having good competition nearby is amazing for development, practices and the general growth of the game. At the very same time, it does not make anyone happy if you lose to the local rival. I am also really, really tired of reporting that we lost to Spencer. Thrillcroft bounced back well and have claimed their key game in the weeks before Christmas against and Brighton away, the first away win at the coast for this team ever.
Chillcroft/Hillcroft A deliver some very strong Lacrosse and are on route for defending the all-important flags title and contending for the league title. Recently promoted Oxford and Cambridge make East 1 more competitive than last year and the top half of this division could give at least half of the next division up a good game on any day. Having Chillcroft at this level is essential for the club as having a very strong, well-functioning second side means having an even better first side.
Our first side started the season on a loss against Dark Horse of the year Reading LC and a much recovered Hampstead side in the flags game. Since then, Eoin Dunne and his men have strung a series of wins that included a huge achievement – beating Spencer's first side. While it is just one game and won't mean anything if the rest of the season is not equally good, it is a big achievement.
Spencer are more than certain to come back for more, much more indeed and that's one of the great things about local rivalry – it's driving us and them to improve. The recent draw in Cardiff, literally a game in another country (beautiful Wales), shows that there are no easy games left. We shall see what the rest of the season will look like, but it's been good so far. Credit has to go to Blues LC who came back from a two goal deficit in the fourth quarter, claiming a draw at our ground last week. The 1s still have every chance at the title, but it's obvious that a draw is not helpful with that.
However, the team develops very well and while the results may not be perfect, the continuous improvement is clearly visible!
The current season is also different because there are very few LDOs. Visa issues prevented a large number of coaches to begin their coaching and playing roles. The impact of this on our game can not be overstated. It's yet to be clear what will happen next, but losing that many coaches across the country on that short notice and with little or no scope for effective replacement will have the predictable impact. Practically, this also means that that EU passport is ever more valuable for any coach looking to work in the UK. For more information on this, see the ELA's update page.
England on the International Scene
International Lacrosse saw two big events, the European women's championship (EC15) and the box lacrosse world cup (WILC15). For the latter, I would like to thank the organisers for doing an outstanding piece of work. Watching box Lacrosse live online was even more fun than it was educating, in particular some of the commentary gave some very valuable insights. I won't add to the views on the WILC15 other than that I will most certainly be very keen to watch as many games as I can of WILC19. And of course, just how good was that final.
The EC15 saw England retain their title. It also saw the first European appearance of the Israeli women's team. This tournament is important, not only because it makes the European champion but its timing and format represent recent change in the European game. Historically, men's and women's championships were in the same year and venue. This was changed by the ELF to account for the size of the task, which made it increasingly difficult to find effective venues, and to give both men's and women's a year's worth gap between world and European competitions. Seeing the EC15 run smoothly, if only online and nowhere enough, was great. The high level games were very much fun to watch, although I personally enjoyed close games between newer countries a lot more.
Whatever those teams may be missing, they bring a passion and commitment to every moment of the game they play which made it so much fun to watch.
The next international gig to watch are the men's Lacrosse European Championships in Hungary next summer. Anyone's favourite are England who have changed their approach after Denver. A new head coach runs a wider roster and the demands on England players have increased. The team gets together very frequently and trains in some very nice facilities in Manchester. Out of the teams that could compete with England on paper, Israel and Ireland seem like good teams to pick.
Israel pushed England very hard in Denver and will be hungry for more. Ireland's new head coach Chris Arnold has a wealth of experience in international Lacrosse and is not known for running push over teams either. The event itself will be run by recently established Hungary Lacrosse and Laxallstars recently reported on the groups. So, without having done anywhere here some sort of forecast I will be wrong with from my end.
– England will be in the final: They had a short trial period followed by a very intense and ongoing training cycle. Some southern English players made it and if their improvement is anything to go by, those sessions are effective.
– Germany have new coaching and management staff and field a 100% residents roster. Germany will be in the semi-final, at least.
– Ireland have a very effective coach in Chris Arnold from Texas who has a record of building teams playing very effective Lacrosse. They beat Germany in Amsterdam and might well be in a position to repeat their placement from 2012. Ireland will make the semi-final at least.
– Israel will bring a team with players dedicated enough to go to trials on new year's eve and new year's day. The experience level and talent in this squad showed when they just missed the Blue Group. Israel will make the semi-final, at least.
Then there is a range of teams with every capacity to truly upset thing. These would include:
– Sweden, top four side from 2012. It's most certainly uncertain where they would be in the top eight teams.
– Latvia, whose toughness is only matched by their record with the penalty box. Were they play with less minutes man down, they could be a handful.
– Czech Republic, a top team with arguably one of the highest expected average stick skill levels in the tournament. Can they translate their box lax prowess into a solid field score?
– Wales, they have a range of players competing in English top level competitions so their players will see the most high level Lacrosse, like Scotland and only outranked by England.
Another thing to look at, is the things to look forward to:
– Passion, plenty of it, in every game. Every single player at this tournament sacrifices so much for representing their countries. That will show in the games, whether it's the title or a placement game.
– Improvement: Watch the unranked teams early and late in the tournament and see just how much playing decent competition helps the teams.
– Close games: Assuming past trends continue, the margins for error between most of the eight top sides will be tiny. That will give us some lovely close games.
In the next edition of London Calling, you will get more insight into what it's like to run a newly established women's team, some updates on the various title races, and some other bits.