In last week's Old School, Jimmy Ciccone opened up a Penn State closet and found tons of old lax gear.  Before that, we took a look at a book called "Lacrosse Is For Me", and before THAT, we took a look at Oxy Lax back in 1971.  Rehashing old lacrosse memories and equipment keeps us connected to the game and its history, and this week is NO DIFFERENT!
LAS Reader, Dave Shuma, sent in some THEN and NOW photos, along with some background info!  We love learning more about our readers, and helping them tell a short story.  If it helps even one current player fall in love with the game, we've done our job!
Take it away, Dave and thanks for sending in this top notch Old School submission!
Still have the old Bacharach from college/Sunday club ball proudly displayed with an STX SAM in my home office.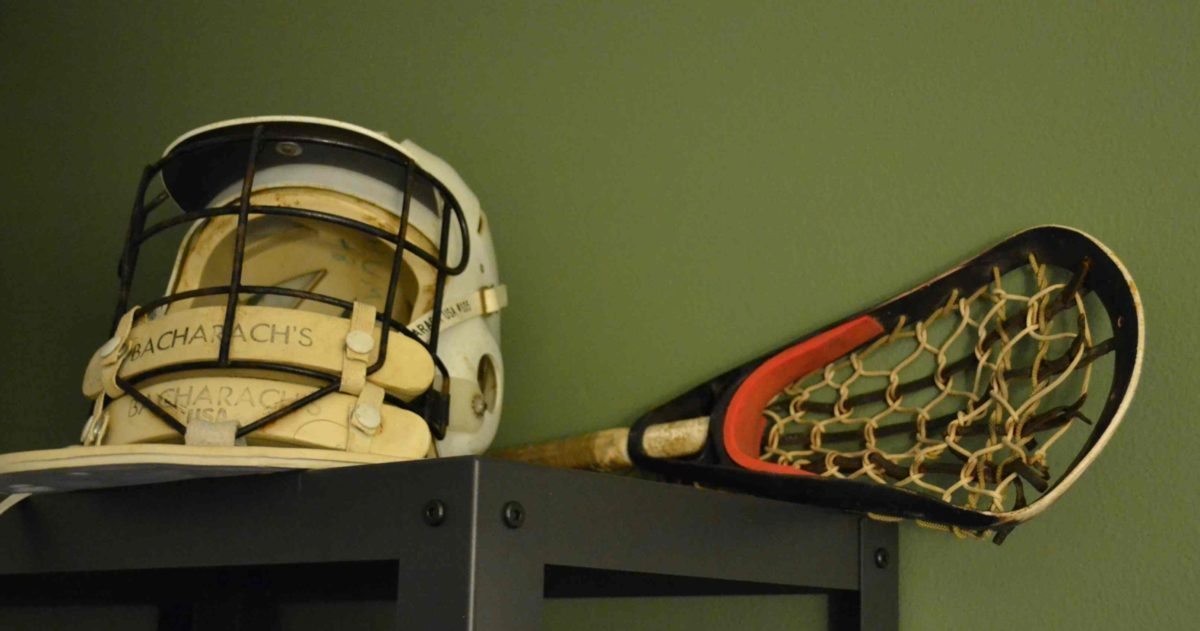 It was the first year they switched to new, "thicker" NOCSAE approved model I believe.  If you look closely in the NOW photos, it is an old Bacharach fasemask off my high school helmet on there, but original (to the helmet) thicker mask in the 3rd picture.  Loved the old THIN helmets…
The third picture is from a Fall 1990 scrimmage featuring West Chester University (PA) @ Villanova with me in goal (Class of '91). WCU was D-III during my years (there was only NCAA and "just club teams" back then, no MCLA, etc.) and we regularly played Salisbury, Washington College, Lynchburg, Haverford, Swarthmore, Dickinson and Widener.
We also played variety of D-I schools each year like Villanova, Drexel and UMBC. WCU went D-II a few years afterwards, but ultimately ended up as a Budget/Title IX casualty back around 2003. Below is a link to the 2002 Media Guide. HC Pat Cullinan (most recently HC of St. Joe's in Philly until resigning last year) was one of our assistants: https://athletics.wcupa.edu/MLacrosse/Men's%20Lacrosse.pdf
See?  Right there is a cool little piece of information!  DIII and DII teams used to play DI teams regularly because there simply weren't that many NCAA teams overall.  As the sport has grown, inter-divisional play has dropped off though, especially in areas that have seen a good amount of growth.  Also, West Chester University used to offer varsity lacrosse!  Just add it in to the fact book you keep in your head.
And since Dave's submission featured an STX SAM, we have a bonus thought for you.  The new STX commercial goes through a ton of their old heads, finally ending with the Stallion head for 2012.  Did you see the ad during the Hop-Manhattan game?  It's cool to see the progression in heads and pockets, but the best stick of them all still looks to be the Model 73.  Seriously, how GOOD does that model 73 look?!?!?!?!?!