Scrolling through Instagram, I stumbled on a new account that stood out immediately as unique and authentic. I had no idea who Signature Sidewalls was, nor was there an abundance of information surrounding the brand. Yet, there was no lack of content coming from the source.
Posts focused on everything from inserting lacrosse into the Mayweather/McGregor boxing match, to a well-sniped 'Low Angle Challenge' were filtering into the feed.
https://www.instagram.com/p/Bahpn6eB-dm/?taken-by=signaturesidewalls
The motivation behind the content was clear, someone was brining a new lacrosse head to market. Nothing groundbreaking there. But, there was something clearly different about the way Signature Sidewalls was going about it.
When I looked a little deeper, I recognized a familiar face. Here and there we would start to see the man come out from behind the camera. Turns out, that guy is Tommy McKee. Tommy is a former Air Force goal scorer and that shifty American cracking his way into the NLL last season.
The Man with a Plan
I've crossed paths with Tommy and was well-aware of his Air Force commitments after college and his drive to find a spot in the NLL, but I had no idea what he was working on behind closed doors. When I reached out to Signature Sidewalls about learning more about their emergence into the industry, my response was met immediately with enthusiasm directly from Tommy.
McKee is currently an Air Force Financial Management Officer stationed at Ellsworth Air Force Base in Rapid City, SD. Outside of his work life, there isn't an abundance for a young lacrosse player stationed near the Black Hills and Mount Rushmore to do. So, on top of training, Tommy put his time, resources, and energy into building another identity with the lacrosse space that he could be proud of.
After his cousins from New Hampshire came to the family Christmas in Michigan with their lacrosse sticks, Tommy was hooked. Those first games of catch seemed to come naturally and from the 7th grade and on, lacrosse started to become synonymous with his life.
"I specifically remember what got me hooked was my cousins' 'Brine Prophecy' stick. I thought it looked so cool with the blue plastic on the sidewalls. So it is pretty ironic that a decade and a half later I am starting a stick company called Signature Sidewalls that specializes in sidewall/head customization." – Tommy McKee, founder.
Frustrated by the barrier of entry a lacrosse player faces when seeking customized gear, Tommy sought ways to change that. Not every lacrosse player is a dye artist and often there's too much fear around sinking money into a product tailored exactly to the user's liking.
Thus, Signature Sidewalls was born.
I caught up with the man behind the project to find out when we will see these bad boys in action, if we will see him on the floor again, and what the future could look like!
1-on-1 with Tommy McKee, Signature Sidewalls
Let's start at the beginning, Tommy. When and where did this idea start and how did you get it rolling?
I have always had a passion for customized gear but in order to customize a lacrosse head you basically have to be Michelangelo. I wanted to create a head that gave players the ability to rep their teams and their personality without having an Art/Chemistry degree.
The company got rolling a few years ago after I graduated from the Air Force Academy and finally had a little more free time on my hands.
Right now, are you still a one-man operation, or is there a team focused on bringing this dream to life?
There are a number of different people involved with Signature Sidewalls. We have been in touch with players, teams, coaches, and stores around the lacrosse community and after we debut in Vegas [Lacrosse Show] you will start to release some of these partnerships in further detail.
Oooh, cryptic. I like it. When will we be able to see your heads in action?
I used some the first prototypes throughout the Vancouver Stealth's training camp last year. I wanted to use it during the regular season, but due to sponsorships & timing for the company I chose not to.
You will start to see the heads in action this fall with a variety of different college teams, high school, and youth players. I will be using one in the Pros vs. College showcase game to wrap up the Las Vegas Lacrosse Show at the end of this month.
I will also be using Signature Sidewalls heads during NLL training camp this fall with the Rochester Knighthawks.
The development process that went into creating these heads was extremely tedious.
There were so many different factors that went in to the creation of these heads. I knew that the new technology and processes introduced would create a superior product. But, I was unwilling to release the product to the market until it proved to be a head that I would personally use over any other on the market.
Durability was also one of the most important considerations. Once we had a head that could withstand the rigorous abuse of NLL gameplay, I knew that we had a head that would last for players of all ages and skill level.
It sounds like you've really got your ducks in a row and are moving forward with a clear vision. Where does it all go from there?
The next step is debuting the company at the Las Vegas Lacrosse Show. We have already received an amazing reception from the lacrosse community at this point and we can't wait to get the actual product in the players hands nationwide.
Can you tell us a little about the actual product, the heads? What positions are they made for, was stringing a big focus? You know, stuff like that.
Using our leading-edge 'User Integrated Manufacturing' we are able to create the highest quality customized heads tailored to the individual player. We don't necessarily classify our heads by position, as players of all positions have differing opinions on what features they like in a head.
We will be releasing two heads during our initial launch. The S1 Force, which is tailored toward the player who likes a stiffer head with a little more structure; and the S1 Flash, which offers reduced weight and a quicker release without sacrificing durability.
Using our online customizer, players will be able to easily build their head from the ground up. The player will have the ability to customize both aesthetic, as well as physical features of the head.
String-ability was definitely a big focus, as the quality of your pocket can have a drastic effect on your gameplay. Our heads tailor closely to the minimum face shape specifications and with 19 stringing holes on each sidewall, players will have no problem stringing up the pocket that best suits their playing style.
Overall, I would say, durability, stiffness, aesthetics, and string-ability were pretty evenly factored into the design process.
This all sounds pretty groundbreaking, but how do you plan to produce affordable customized lacrosse products when your technology is something completely new to the industry?
The way that we create our heads is revolutionary and completely different than how they have been made for years. This results in the most premium lacrosse head available.
Our heads are stronger and more durable than the standard head. I think most of us have heard the saying "you get what you pay for." This revolutionary technology, combined with unrivaled customization, has allowed us to create the most premium heads on the market.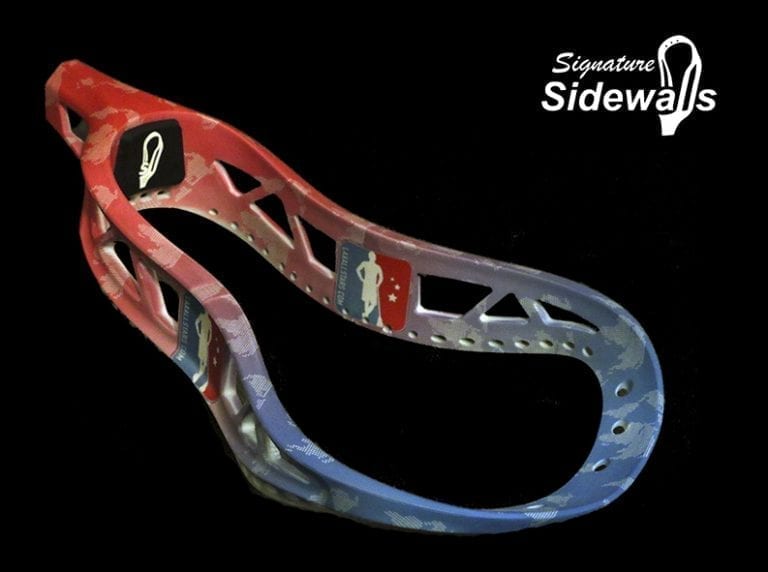 Naturally, the costs associated with creating a product of this caliber are higher. But the upside is that you are receiving the most premium lacrosse head on the market that will last you years.
I can promise you that price transparency and affordability are very high on my priority list and are something that the company is continually analyzing in order to reduce costs for our customers.
It seems like there is a really big vision here, but with the players coming first. If you could affect the lacrosse community in anyway, what would you want your legacy to be?
Nothing makes me happier than the act of giving. I would love to be remembered as someone who led by example in making this world a better place, through acts of generosity and helping others both inside and outside the lacrosse community.
One-way Signature Sidewalls will be walking this walk is by donating proceeds of our heads to different charitable organizations.
That's incredible and I can't wait to follow the impact you make. It's probably smart to wrap this up before we talk lacrosse all day. Last question, is there anything else you want the world to know before the release?
Individualism from stringing pattern, dye job, and throwing and shooting mechanics have always been a huge part of lacrosse. Each players' different personality all coming together to achieve one common goal is something that makes this sport unique. We are excited to help you, "Put your signature on the game!"
We want to encourage everyone to follow @SignatureSidewalls on instagram to receive all of the latest updates about our products and our company.