Since there is a large gap between this and my last UNCG post, I'm gonna break this down into two parts. Get ready to read a lot and look at pictures.
PART 1
Thursday we had ourselves the 4th practice of the season, which was my 2nd. Our first game is in a week and I'm about to miss practice all next week. I really wish I was able to come out every night, however, I have a job that pays me and requires me to work nights during the week. Lucky for me, I'm able to contribute off the field quite a bit.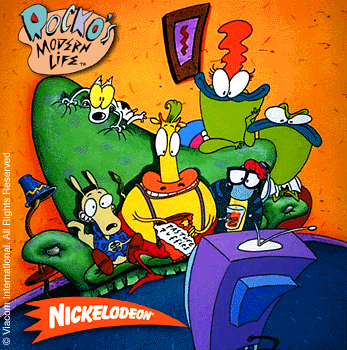 I loved this show. You loved this show. No this has doesn't have anything to do with lax.
This time, Coach Wright worked me into practice a bit more than last week. Running some drills and critiquing players is a bit foreign to me, but it's a great experience and one I'm enjoying. Also getting in on some drills was our other assistant coach, who threw on some gloves and a helmet for some clears, rides, and a little 6v6.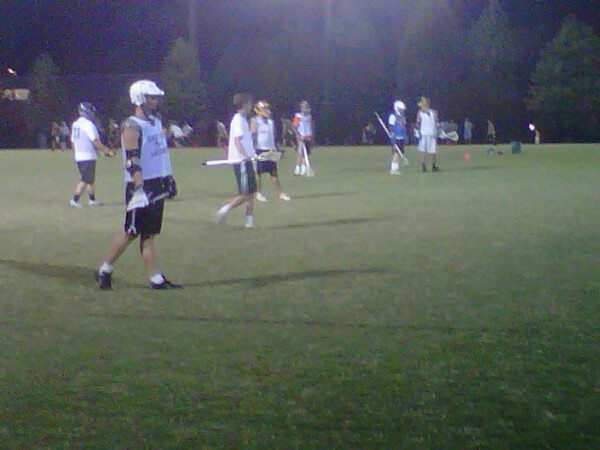 Coach Wright coaching. Coach Ward in a drill. Coach Lax taking pictures from the sideline for LAS!
On the recruiting front, we've been contacted by quite a few individuals over the past week or so. Mainly, they are coming from the recruiting page on our website. We've heard from both current students who want to play, incoming students, and even a girls lax player despite the fact that UNCG doesn't field a women's team.
We also possibly have another sponsor lined up, which is great. It's a result of Coach Wright's push for alumni involvement. He sent out an email to last years alumni to keep them in the loop and ask them to join our alumni database. Upon receiving said email, I asked the only UNCG lax alumni I knew to ask any fellow alums he knew to join the database too… Lo and behold, one of them wants to sponsor us!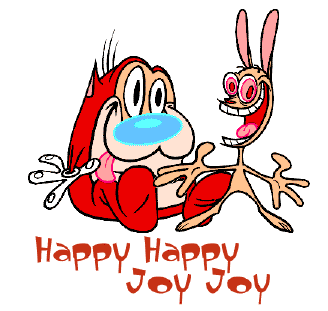 I think my reaction was on par with Ren's.
Another thing we have discussed is something I am pursuing for the Spring of 2012, which is our tentative first MCLA season. UNCG lacrosse wants to host a 6 team tournament: 3 SELC teams, 3 others. Each team would be guaranteed 3 out-of-conference games. I already know of one possible team who would play and another that would be likely. We still need 3 non-SELC teams.
Word on the Twittle is that this year's version of the Pac-10 Shootout has become the Pac-12 Shootout. Also, Oregon is the only team that won't be joining, aside from Washington State, who I'm assuming is still folded. That means UCLA, USC, Arizona, Arizona State, Washington, Oregon State, Stanford, Cal, Utah, and Colorado will be playing at UCLA. Legit.
Follow me on Twittlez. Trust me, I'll reward you eventually.
Follow UNCG Lacrosse
Become a fan of UNCG Lax on bookface.
Take a look at our website, and if you happen to be an alumni fill out some info and join our alumni database so you can be up to date on all your UNCG Lacrosse news.
_________________________________________________________________________________
PART 2
On September 25th, we had our first game of the fall season. Traveling up to Appalachian State, which is about a two hour drive into the mountains, to play the Mountaineers.
First things first, we traveled a bit light in numbers for various reasons. Some of which involved the fact that it was homecoming on campus. Either way, lesson learned. We need to travel with better numbers. I was surprised at how many guys App State had on their roster. They played about 60 guys deep, and had somewhere around 6-7 midfield lines.
In talking to App's new head coach, Blaine Patrick, before the game, I learned they are traveling to Atlanta to play Indiana Tech this spring, though I am unaware of any other out-of-conference games, but I'm sure Coach Patrick has that situation under control.
App's fall gear is pretty nice. Definitely Sweet Sweet Lax worthy attire.
GROUND BALL WAR!
Oregon helmet on the East Coast? Thank You Coach Wright.
Freshmen goalie Mitch Watson and d-pole Conor Dey making an App sandwich
If you don't like App's threads, you're wrong.
We lost this game 15-5. Stuff happens when you don't have numbers. I think it was a great game to make my debut. It was my first time in Boone, and I absolutely love it there. I definitely have to make another trip up there for non-lax purposes. Shout out to my boy Petey Pabs on App's team.
My next post will be a recap of our High Point game.