Editor's note: Welcome to another great installment of "Spotted". With your help, we hope to shine a light on lacrosse spotted in unexpected places, whether it be on TV or in real life. If you find any aspect of lacrosse in a place you didn't expect it, we would love to hear from you. Take a quick photo or video and email it to info@lacrosseallstars.com.
We've had a ton of Huarache spotting so far this NFL season, and we aren't done yet! Although the Buffalo Bills didn't make the playoffs this year, they did have a few players wearing Nike lacrosse cleats.
Here's what spotter Broderick has to say:
In watching a Bills game a couple weeks ago, I noticed that our backup QB, Thad Lewis, was rocking some Huarache 3s, however, I couldn't get a good picture. Again, the week after that, I noticed one of the wide receivers, Robert Woods, had on what I'm pretty positive are Huarache 4s. Today a picture popped up on my Twitter feed that had BOTH of the previously mentioned players (and their cleats) in it. Robert woods is #10 and Thaddeus Lewis is #9.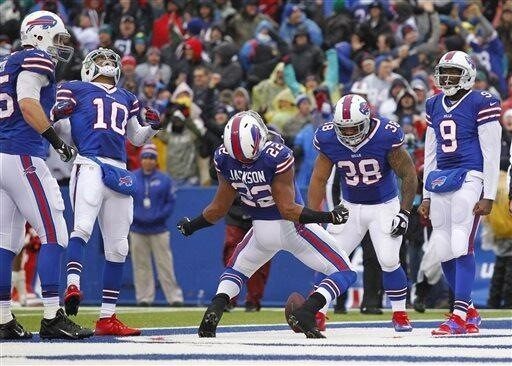 Other Huarache Spottings:
Breast Cancer Awareness Huaraches 1
Breast Cancer Awareness Huaraches 2
University of Phoenix Commercial
Check out ALL our past spottings!
Spot lacrosse somewhere unexpected? Email your spottings to info@lacrosseallstars.com!