Editor's Note: The State of the Union address airs tonight in the US, and while we'd love for President Obama to mention lacrosse, we just don't think it's in the cards.  The President has much bigger issues to deal with right now!  But that doesn't mean that lacrosse doesn't deserve a "State of the Game" address, and since no one else has stepped up to do it from across the internet, we told Connor to do it.  Next year, we'll have a brand new speaker.  It's a tradition.
But for now, we give you the 2012 version.  Can we expect a rebuttal!  We wonder who would give it…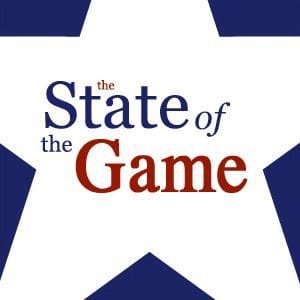 The 2012 State Of The Game Address:
Mr. Brunelle, Coach Tumbas, members of LaxAllStars.com, distinguished guests, and fellow lacrosse enthusiasts from around the globe:
I would like to begin on a deserved high note, by congratulating the men and women of the sport of field lacrosse, as well as our brothers who play the box game, on a great year. (Applause.)  Of course, as we mark this occasion of celebration and reflection, we must also keep those who were lost along the way in mind.  Each of us probably has at least one person in mind, but one person I'd like to recognize tonight is Kendra Kennedy, a lacrosse mom who lost her brave fight with cancer last week.  Kendra will be dearly missed. (Standing Ovation.)
We have had our differences over the last few years.  The debates online, on the field, and at the bar have been contentious at times; and many have argued fiercely for their "side".  We firmly believe the conversations have been helpful, because frankly, that's just what a dynamic sports community demands.  It is what helps set us apart as a group of athletes, and a culture, and we embrace it. (Applause.)
But at the same time, we can not rely solely on talk, words, controversy, conversation and argument to help our community improve across the board.  More must be done in reality, a greater responsibility must be hoisted from the ground up, and we must all work together, probably more now than ever.
We are all part of one great family.  We have all inherited this game from our Native American brothers, as they were given the game by the Creator.  In the end, we ALL come from the same place no matter what our skin color, financial situation, nationality, gender, sexual preference or other "defining" characteristic may say about us.  Simply put, we are all lacrosse players, and lovers of the game.  This has long been what unites us, and it is the torch we shall carry through the darkest hours.
Much has been said about the growth our game is experiencing, and many people have chimed in with ideas on how to best tackle the issues that lay in front of us, but with a simple set of guidelines, I firmly believe our sport, and larger community, can do more, and push to even higher levels of success.  We should dream of being successful at success, and a cooperative approach rooted in honest competition is the path to continued growth and increased popularity and awareness.
What has set us apart as a sport is what will take us to the next level.
Lacrosse has long been a sport of small community, where everyone knows everyone, and where dedication and experience were the top draws.  But as the sport has grown, the influences of larger sports have swooped down on lacrosse, and in this new environment, we must be careful.  The top issue will remain the growth of our sport, but how the mandate is enacted will make all the difference in the world.  The values of hard work and true understanding of the game must remain.
The sole focus can not be on making money.  And it can not be on "looking good".  The focus must remain on growth, because we are not where we could be quite yet, but more importantly, because we can not stand still.  Standing still in lacrosse will get you killed, and it is the same in life.  Flow, gear and money are all attractive, they sell, and they keep the wheels greased momentarily, but out sport survived for centuries without that influence, and it can continue to do so moving forward.
Throughout the years, lacrosse has changed.  It has gone from a sport that only Native Americans played, to one where they were banned from playing due to gambling laws, and back to one where the Native originators are again welcome and honored.  There was certainly a hiccup in 2010, and it was an absolute shame that the Iroquois were not in Manchester, but the result was a bigger support network for, and awareness of, Native American lacrosse.  And this attitude must be taken in all-things-lacrosse as we move forward.  We should be proactive, and re-imbrace the spirit of the game.
We can not wait until disaster strikes.  We can not divide ourselves along unimportant or arbitrary lines.  We should not look down on lacrosse in the MCLA, or a high school team in Arizona.  We should not speak harshly about new international programs, but instead support them.  And we must continue our efforts to see lacrosse played in more urban and rural areas.  The suburbs are simply not enough.  And beyond that we must expand our efforts, and find new groups of people to involve.  It can not be a stagnant pattern.  We can not become content.  We must remain somewhat separate from every other sport out there, and aim to be better, and more open, while remaining humble.
What separates our sport from all of the other "games" out there is two-fold:
1) There has been a longstanding willingness to Grow the Game above all other wants and needs.  We can not become complacent.  This must remain as our top priority for years to come.  We realize there is inequality and make it a goal to provide opportunity.  This must continue.
2) Our game comes from a higher power.  It was not invented by a mere man, and it is not simply some sport.  It is the Creator's Game, and we must all remember that when we play.  To honor the game with good play is to honor the gift of life.  And this is the keystone to our continued success and salvation as a community.  It's more than just a game, and it's not about money.  It's about honor, community, and life itself.
From the earliest days of our sport, Lacrosse has been the story of ordinary people who dare to dream and celebrate life. And you know what?  That's exactly how we will win in the future as well.
I hope we will continue to be a community that says, "I might not have a lot of money, but I have this great idea for a new program."  Or "No one in my family has played college lacrosse, but I will."   Or even "I don't know those people in need, but I think I can help them, and I WILL try."
The idea of Growing The Game endures. And the destiny of our sport shall remain our choice, and within our reach. And now, more than 1000 years later, it's because of our small community that our future is so bright, that our growth continues, and that the state of our game is strong.  With continued perseverance and dedication, we can see that it remains in that state, and only improves.
Thank you.  May the Creator bless you, and may the Creator bless the beautiful game of lacrosse and all who love it. (Applause.)
(Portions of this address were heavily influenced by, and borrowed from, past State of the Union addresses by Presidents Bush, Clinton, and, in particular, President Obama's address from last year.)
Get real time updates from Lacrosse All Stars sent directly to your device.