Sweden box lacrosse is still in its infancy, but one of the newest international box lacrosse teams definitely has a lot of potential! Read on below for a primer on Sweden box lacrosse, how it got started, where it's heading in the future, and how you can help.
Sweden Box Lacrosse – New Beginnings
In 2015, Swedish box lacrosse started to pick up some momentum, and it's really quite a neat story. Here is some info from a press release provided by Sweden Lacrosse:
In 2015 Sweden Lacrosse and the Stockholm-based company Plantagon established the collaboration known as the Haudensaunee Sweden Lacrosse Alliance. Plantagon is a Swedish company with roots in the Onondaga Nation. The idea was born when representatives from Sweden Lacrosse and Plantagon met during the official opening ceremony of trade relations between Sweden and the Onondaga Nation. Hans Hassle, Co-founder and Secretary-General of Plantagon has been and still is one of the driving forces behind the alliance.
(sweet uniforms by Uncommon Fit!)
The alliance has already proven to be fruitful in the form of the newly appointed Head Coach for the Swedish National Box Lacrosse team – Rex Lyons. Rex has an extensive lacrosse background with both coaching and player experience. He has played for Rochester Knighthawks as well as represented Onondaga Nation in Box Lacrosse and Iroquois in Field Lacrosse. Most recently he coached the Onondaga Nation Junior team. "When Hans asked if I would be interested in coaching the Swedish National Indoor team, I didn't hesitate", Rex comments, from upstate New York, "I'm honored to be considered for the Head Coach position".
The Swedish Box Team has come to life thanks to the hard work of General Manager Curt Kinney and a group of dedicated Swedish box players, who have worked hard the last two years to shape a Swedish box-program. With the Head Coach in place the program now moves forward with try-outs, that are to be held during the Northern Light Lacrosse tournament in Luleå this weekend.
Northern Light Lacrosse in Luleå, or NLLL (yes, the abbreviation is deliberate) is an annual in-door field tournament hosted by Sweden's northernmost Lacrosse team: StiL. This is the first year the tournament will have box features included on the schedule. Anneli Jonsson, womens coach in Luleå and one of the main project leaders for the tournament is excited for the weekend: "It is always fun when the Swedish Lacrosse community get together. The box try-outs will be a great addition to the games and demonstrate the emerging diversity of Swedish lacrosse. I look forward to introducing this new element of the game to both visitors and new players".
See? I told you it was a cool story!
Obviously we wanted to know more, so we asked Curt Kinney a couple questions, which he of course answered, with vigor!
1) Will the Swedish Fish, or another Swedish team, go back to the Ales Hřebeský this year?
Yes, a Swedish team will be back at AHM. The 'Swedish Fish' though? They never existed. With our uniform design last year, the assumption that we were calling ourselves the Swedish Fish is completely understandable. It is a privilege and honor to be there under whatever moniker the box community calls us, although the official name of the team was Helan Går (pronounced like 'hell an gore') It's the name of Swedish drinking song that we just so happen to sing at the end of each game.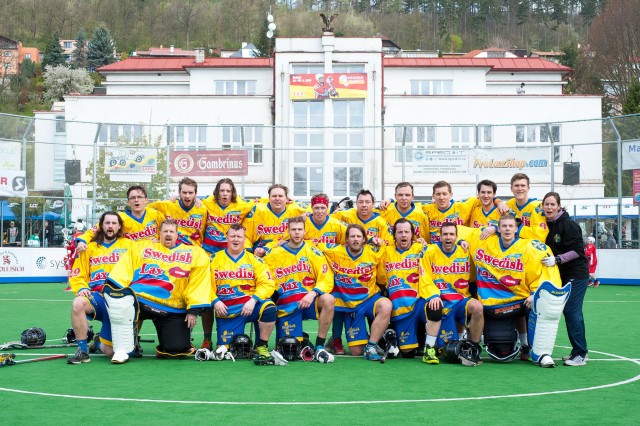 2) Would a Swedish team want to come over to the LASNAI box tournament next September in Onondaga? I run the tourney with Scott Neiss and we would LOVE to have you guys come over. LCC Radotin, GoldStar Tel Aviv and Jamaica all came last year. This year will be even bigger!
I know the guys would love it. I also know the guys would love even more to be able to afford it. EBOX, AHM, and EBLC will drain the bank accounts and vacation days of most of our players. Going there as a team would be great, but a more realistic expectation would be just to get a couple of guys to participate. Even if one or two guys go, it will benefit the team. They'll play and more importantly they'll learn. And then bring back what they've learned. Those players will return with more confidence and a greater game IQ. Those kinds of things are priceless for a new box team.
Thinking out loud: Maybe a European All-Star Team for LASNAI?
(Um, yeah… that's a GREAT IDEA!)
But getting back to your original question, I would expect that as a team we will be aiming for tournaments a little closer to home that time of year.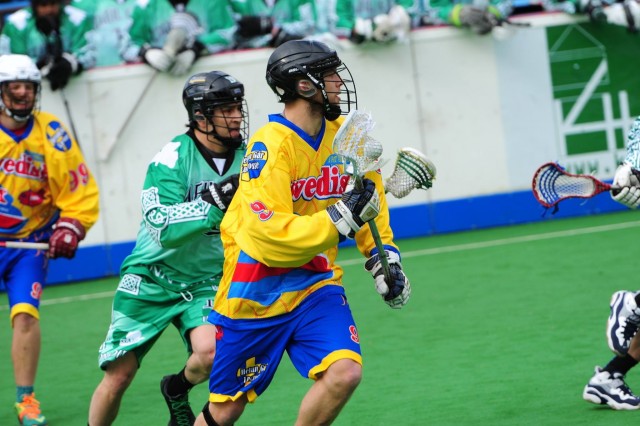 3) How are things looking for the Euro Box Championships this summer in Turku, Finland?
Things are looking great. We recently completed a small box clinic/try-out session conducted by Rex Lyons and Ed Shenandoah. The overall goal of the weekend, at least from the box team's perspective, was to get the coaches a first look at the players while at the same time providing new players exposure to the box game. The box events were held at the end of each day of an annual field club tournament held in Luleå, known as the Northern Lights Lacrosse Luleå.
The field tourney itself is played on a shortened turf field 7v7 (2 attack, 3 middie, 2 longsticks) with four club teams playing FIL field lacrosse rules. During the day, the coaches were able to watch players during their field games and take notes on their performances. At the end of the day, 6×6 goals were swapped out with 4x4s (4'x 4'9", but who's counting?) and the goalies geared up.
The coaches then put players through a series of drills that tested their box skills while at the same time dropping buckets of knowledge on their heads. It was a great opportunity for all. The weekend was concluded by the ceremonial swapping of swag, where some lucky Swedes got their hands on some Iroquois Nationals apparel.
4) When does Swedish Box Lacrosse play? Summer or winter? Do you use indoor or outdoor rinks? Have you worked with any hockey clubs to get their players involved in the offseason?
Our team tries to get together monthly all year round. We only have enough players to make up a single team and those players are spread out over a country roughly the size and shape of California and Oregon combined. So getting all the players together at once is a challenge.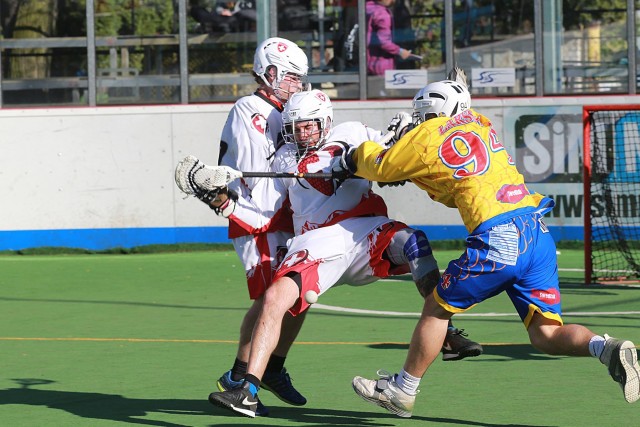 We almost exclusively play indoors and it is rarely in a rink, which segues directly into the answer to your hockey club question. It is a common statement I hear all the time, "Sweden is a hockey nation, it should be easy for box lacrosse to get a foot hold." Well, the opposite is true. It is because Sweden is a hockey nation it is very difficult to get box to take off. During hockey season, generally August through April, there are almost no hockey rinks available. And usually if a rink has removed its ice, it is for maintenance purposes or set up as an off-season weight-room/cross-fit facility for hockey players.
For example, the town I live in and home to the Linköping Hockey Club has three indoor rinks within 25 meters of each other. Two have ice all year round and the third has a two week window in July when the ice is removed before it gets turned into a gym. In fact, last year one of the rinks sat unused all summer to allow the floor paint to dry. I wept.
There are of course outdoor rinks around the country, but I have yet to find one yet that has a surface that isn't gravel. But I am always looking.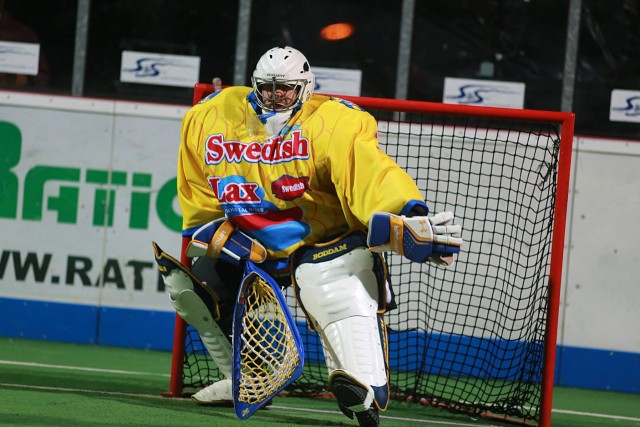 Our only real window to get some proper floor time is between May and June, which puts our team in competition with Sweden's already established inline hockey federation. The month of July is our best hope for getting proper floor time. But if you know Swedish culture, you'll know that the month of July doesn't really exist.
The 4-6 week summer break is when Swedes make use of every minute of good weather that they rarely get. Sports in general, especially indoor ones, usually takes backseat to enjoying the sun and great outdoors spaces that Sweden has to offer. And after spending five winters here as an expat, I can't blame them.
5) What can people do to help Sweden Lacrosse, and Swedish Box Lacrosse?
What can people do to help Sweden Box Lacrosse? Here is my list:
1. Ban ice hockey which will free up facilities and get us players, OR
2. Contribute to global warming so more outdoor rinks have ice less months out of the year, and then maybe they'll get paved, OR
3. Consider making a donation to our GoFundMe site.
Your donation will keep hockey from getting banned and more importantly it will be good for the environment.
6) How can I help?!?!?!?
Publish this.
DONE.