On average, it looks like we're seeing more goals in 2013, but the Syracuse – Army game was a low-scoring affair, with the Orange coming out on top, 6-2, in the Carrier Dome, over the visiting Black Knights. The last goal of the game was scored by Cuse's Derek Dejoe on an outside shot, with about 10 minutes left in the third quarter. Both teams then went scoreless for the last 25 minutes of the game.
Cuse had six different goal scorers, and only Dylan Donahue had more than one point for the Orange (on a goal and an assist). Garrett Thul was held scoreless for the first time in 42 games (2010 against Hofstra was the last time he didn't score a goal in a game). Credit must be given to Brian Megill, who covered Thul excellently all game, and Bobby Wardwell, who made 11 big saves in net for the Orange.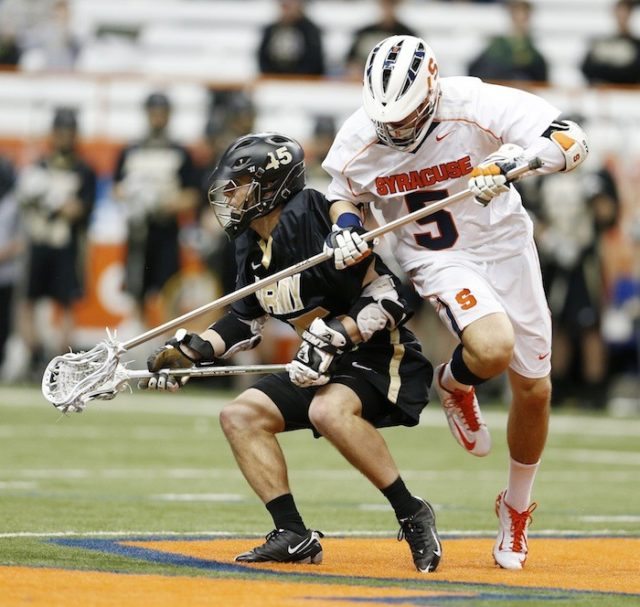 Photo Credits: Tommy Gilligan
Both teams generated more chances than they were able to score on, and I can remember at least three shots ringing off the pipes, with a Derek Maltz hockey style shot really standing out as a close call. Army was plagued by turnovers at times, and Cuse did well to pressure and generate some up and down situations.
Holy yardsale, Batman:
Cuse outshot Army 44-25, and won the GB battle 34-21, but the two teams split face offs with 6 wins apiece. Both teams cleared the ball well, but Army went 0-2 on the man up, while Syracuse went 2-3, and that was a definite difference maker. Army's Sam Somers was electric in cage making 18 saves while giving up six goals in the loss.