With the NJCAA Championships taking place on May 11th and 12th, we've reached the final month of JuCo Lacrosse for 2013. The five regions are starting to get sorted out, and an at-large is on the line for everyone else. Six teams enter, One team leaves… as champions!
If you haven't been paying attention to NJCAA lacrosse, and want to catch up, check last week's Report to get up to speed. I focused on who was likely to receive each bid for the six team NJCAA play offs.
If you'd like to see your team featured in the next JuCo Report, send us an email with video, photos, insider information, or tips. Help us power the machine! Just place "JUCO" in the subject line!
NJCAA Top Ten
Onondaga Community College (Syracuse, NY)
Genesee Community College (Batavia, NY)
CCBC-Essex (Baltimore, MD)
Nassau County Community College (Garden City, NY)
SUNY Delhi (Delhi, NY)
Suffolk County Community College (Selden, NY)
Harford Community College (Bel Air, MD)
Howard Community College (Columbia, MD)
Monroe (Rochester, NY)
Anne Arundel Community College (Arnold, MD)
Also receiving votes: ASA College (Brooklyn, NY), CCBC-Catonsville (Baltimore, MD), Brookdale Community College (Lincroft, NJ)
Genessee Over Essex In OT
(Story by Andrew Crofts) Jonathan Gill scored the game winning goal 2:17 into the second overtime on Friday afternoon, to help the No.3 Genesee Community College men's lacrosse team defeat No.2 Community College of Baltimore County Essex, 15-14.
Genesee trailed 6-3 after the first quarter but rallied to score the only four goals of the second quarter to take a 7-6 lead into the half. Gill started the scoring in the second period with a goal, his second of the game, just one minute in, to get GCC back to within two. Pete DiLaura followed just ten-seconds later after he collected a ground ball off of the faceoff and walked in on the Essex defense to get Genesee to within 6-5. Christian Reiller tied the game at six with his 28th goal of the season before Saxon Weil gave the Cougars a 7-6 lead with just under a minute left in the opening half.
Essex responded early in the second half and scored four consecutive goals in the first eight minutes of the third quarter to take a 10-7 lead. The Cougars then took advantage of a three-minute Essex penalty and scored three man-up goals to tie the game at ten. Luke Grahnert started the scoring and Marcus Palvino and Gill followed. Reiller then gave Genesee back the lead at the 12:25 mark before Essex tied it at 11 apiece with less than a minute to play in the third.
Essex broke the tie early in the fourth quarter, scoring 3:04 into the final period, but Gill got the goal back just ten-seconds later for GCC to tie the game at 12. Essex then took advantage of a Genesee penalty and scored a man-up goal at the 4:48 mark to take a 13-12 lead. After five-minutes of scoreless play, Reiller scored his third goal of the game to tie it at 13 with just over five-minutes to play. The Cougars took the lead at the 11:41 mark when Reiller assisted Nick Gray with his 11th goal of the season, but with just four-seconds remaining and a man-up, Essex tied the game at 14-14 to send it into overtime.
In the first overtime session, goalkeeper Brady Lawrence came up with one of a number of big saves on the afternoon to keep Genesee alive. The Cougars nearly ended the game with less than a minute to play in the extra session, but a Reiller shot went just over the top of the CCBC-Essex net.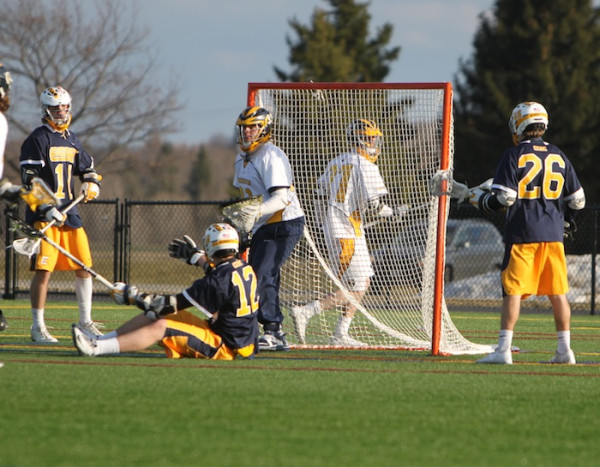 In the second overtime, both teams had a chance before Gill collected a ground ball rebound and beat the Essex goalkeeper to give Genesee the win. Gill finished with five goals and one assist and Lawrence made 23 saves including four in the overtime sessions.
Reiller added three goals and three assists, Palvino finished with two goals and five assists, Grahnert also added an assist with his goal and Chris Rabung, Tyler Skowronski, Gray, DiLaura and Weil all finished with a goal apiece. Johnny Astrologo led the team on defense with five takeaways and four ground balls.
The Cougars improve to 9-1 on the season and will travel to Mercyhurst North East on Wednesday for a 4 p.m. start.
Delhi Keeps Rolling Along
It is unlikely that Delhi will knock off the top team in their Region to take the Regional Bid to the NJCAAs, but it is looking highly likely that Delhi could take the At-Large bid this year, as they continue to rack up wins, and avoid losses. A team's overall record is the premier selection point.
Last week, Delhi topped Herkimer 13-7 and got balanced scoring as 10 players registered points and three goalies saw time. David Fernandes led the scorers with three goals and two assists while Matt Sialiano made 12 saves in net for the win. Jon Cooper was great in net for Herk, making 17 saves.
Delhi's next win came 17-5 over MVCC and this time they had 14 players score at least one point, with Fernandes once again leading the way with a hat trick and two helpers. All three goalies once again saw time and each made at least four saves. Evan Thompson made an insane 28 saves in the loss for MVCC.
Finger Lakes Over Hudson Valley
Finger Lakes went down 3-2 after one quarter of play, but erupted for a 9-0 run in the second quarter to down Hudson Valley 18-8 last week. Jack Timerson had 7 goals and 2 assists, while Parker Weeks had a hat trick and four helpers for 7 points. Robert Pelkey went for 4 goals and 2 assists for six total points. John Perrucci played most of the game for FLCC and made 11 saves while giving up 7 goals.
ASA Then & Now
The first photo is from one of the first ASA Lacrosse practices in October of 2011, with just a handful of players in attendance, and the beginning of the Freedom Tower being constructed in the background. Fast forward 18 months later to the Spring 2013, and ASA has a full squad that is challenging for the playoffs, and the Freedom Tower is nearing completion in the background.
Love this before and after!
Which Ranking Is More Accurate?
Is the Top Ten above a better line up for the NJCAA, or is this Laxpower Power Rankings more accurate?
They are both pretty similar, but which is BETTER?