Editor's Note: This post will be focused more on the Men's Elite side of things, we will be reporting back on the Masters a little later.
This past weekend we were able to head to Las Vegas, Nevada for the 2012 Las Vegas Lacrosse Showcase, an annual lacrosse tournament for every age from youth all the way up to Masters. Lacrosse All Stars was lucky enough to be able to field two teams; one in the Men's Elite division, and one in the Men's Masters division. Before I get to that, let me fill you in on a little history from last year.
At the 2011 LVLS, we had a very disappointing finish with a loss to the Xiphos, who would end up losing to last year's tournament champion, Twisted Steel and Sex Appeal. Overall, we all knew we could have, and more importantly should have, played much better throughout the entire tournament. Things got a little sloppy from time to time and it was no real surprise, as most of us had never played with each other before.
When talk of this year's team came rolling around, we all knew that this was our time for a little redemption. We had the talent to win the whole thing, and if we put a good streak together, we could definitely make it to the Championship game. From the start, that would be our goal.
Brian Silcott and Anthony Kelly returned for another year and agreed to help organize our team and roster with the help of Jon Bongiorno. When we all rolled in for our very first game, you couldn't help but be a little starstruck by the guys who were on our team. The Open division had several Pros on it and our Masters team was riddled with guys who have been around the game for years, one who even played in the American Lacrosse League for the Denver Rifles – true Game Growers! Check out our full roster here. As you can tell, we had a couple last minute drop-outs so we ended up having several of our Masters guys play down with us.
The Elite Team
For one reason or another, our first game ended up being against San Diego State. Yes, the 40-man roster of college guys in great shape from the MCLA. Needless to say, it was a little intimidating to see a hoard of guys dressed in black walk up to the field and then look over to your mixed roster of 18 or so Elite and Masters guys.
There was something different about this team though, and it was evident from the moment we stepped on the field. Every single one of the guys had one thing in mind: winning the Championship, and they would do whatever the team needed them to do so we could make it there.
From the first whistle, it was like we had played with each other all summer long. Guys knew where to be and everyone fell right into their role. Although we played SDSU pretty close through the first half, we were able to pull away to a 7-2 victory.
Our next game would be against 2011 LVLS Champs, Twisted Steel and Sex Appeal. While we never got the chance to play them last year, we still felt compelled to come out hot and take down the champs. It also helped that a certain Jeremy Seiverts and Tim Cassi showed up to bolster our roster a little more.
Just like the night before, we started off a little slow before stretching out our lead as we cruised to a 12-6 victory. This would give us just the confidence and time we needed to make the push through the end of the day.
Our last game of the day would come against a team we lost to the previous year, South Bay, a team of very talented Southern California laxers. As was the trend, we came out a little slow, but recovered and worked our way to an 8-4 victory and the #2 seed in the Semifinals behind the Xiphos.
After another night in Vegas, it was onto the final day and a chance to take the trophy home. We were set for a rematch from the previous year against the Salt Shakerz. Our game last year was a very intense, back and forth match that LAS was able to sneak out of with a win.
This year would be much of the same battling, but unfortunately for us, it came with a different result. We started out very slow and the Salt Shakerz went up 4-0 before we were able to get on the board. As lacrosse is a game of runs though, we fired right back and took the lead 6-5 by halftime. The second half would be no different, Shakerz came out and took their own run to put us down 9-7 with only two minutes left. We were able to fight back and tied the game with under 20 seconds left in regulation.
Both overtimes would be back and forth with some close calls and great saves – as you know by know, the Salt Shakerz would come away with the final goal and claimed the win with a 10-9 victory in double overtime.
Salt Shakerz would go on to play and beat Xiphos in the championship 7-5, that, at least to my eyes, seemed to be secured by a great defensive effort by the Shakerz, who kept a couple goal lead for most of the game. Congratulations gentlemen!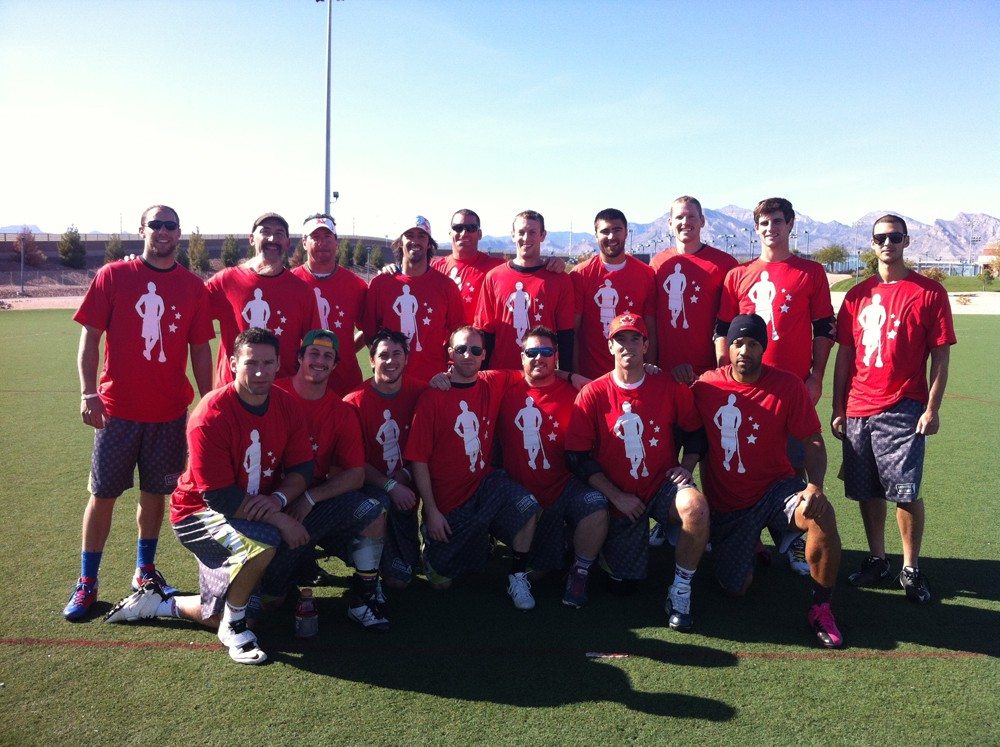 All in all, it was a fantastic trip and only made me more excited for next year. Better start training, only 359 more days until the 2013 LVLS! For more on our trip down to Las Vegas, check out our live updates from the weekend.