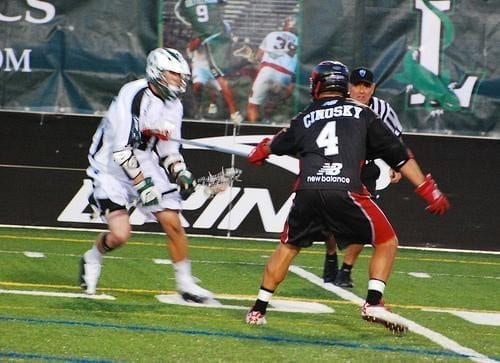 After watching over 100 games from the most recent college lacrosse season via TV, online, and in person, the switch to the MLL can be a little difficult.  The college game is so organized and structured, and the exposure level is so high.  The college game is still the pinnacle of the sport to many, and it is a set up that we are all, for the most part, comfortable with.  And then the Late Spring arrives, college winds down, and the MLL kicks off, and things take a slight turn.  But that turn isn't for the worse.
In the MLL, there is a shot clock, a ton of transition, less than 20 guys per team and some SERIOUS depth of talent.  Unlike the college game, there isn't a single player in the MLL that is only an athlete.  These guys are all lacrosse players.  And they really have to be able to do it all to truly succeed at the highest level.  There are D-middies in the league, but they are always more well-rounded than most of their college counterparts.  The pace is rapid but with the lack of practice time and team schemes, the need for individual stars (and guys who can seamlessly fit into any team concept) is almost overbearing.
As the league progresses, I'm sure practices will be more commonplace, and the overt reliance solely on superstars (not in name, but in ability) will diminish to an extent, because team concepts will come back into vogue and will be easier to install.  Right now you'd be hard pressed to run a good motion offense in the MLL, but a guy like Paul Rabil can be a game changer.  With one practice per week, that makes sense, right?  In the end, the MLL is a little less of a team game.
But at the same time, the product on the field right now is excellent.  Sure, the Hamilton Nationals are struggling in a major way, and the Rochester Rattlers are still winless, but there are only 6 teams in the league at this point.  So SOMEONE has to be the whipping boy, or everyone could be 2-2.  But who wants that?  And a couple of blowouts and a bunch of losses doesn't mean that the games aren't exciting.  Ok, the blowouts are really quite boring, but at least Rochester has had a bunch of close games this year.  5 teams out of 6 ain't bad!  So the games are definitely good.  Let's focus on that in the next section.
_________________________________________________________________________________________________________________________
What the MLL is doing WELL…
I recently watched the Long Island – Chesepeake game (last Thursday on ESPN2) and I was totally entertained.  100%.  Chesepeake started out hot and ripped open an early 5-1 lead.  This imbalance on the scoreboard continued for a while but eventually, Long Island caught up by never stopping their assault.  Then they went down big again.  They kept going to the cage hard, kept pushing transition, and throwing checks on D.
Chesepeake seemed like the better team for much of the night, but the MLL rules wouldn't allow them to sit back and coast to a win.  They were forced to keep playing, and Long Island was able to take advantage of that, and come back and win the game.  It takes a full 60 minutes to win an MLL contest whereas the college game can slow down much more easily as coaches tend to take the air out of the ball.
Now sometimes, when teams just keep playing, the results are quite different.  The recent throttling Denver put on Hamilton is a perfect example of this, and Kyle Devitte posted a great reaction to that game over on Inside Lacrosse.  But at least the action keeps coming!  And surprise, surprise, not every game is 15-7… or 20-17 for that matter.  The recent LI-Chesepeake game was 13-10, but still plenty exciting.  The addition of the LSM was a great move by the league, and it has brought scoring down a bit.  But it's more like "real" lacrosse.
The MLL has a lot to offer to lacrosse fans other than that.  The action is fast-paced, and you won't see even a minute of boring slow-down lacrosse where coaches try to out maneuver each other.  This is a players' league, and the creativity and love of the game shines through pretty much the whole time.
There are still a LOT of things to be worked out (which I will cover one by one below) but overall the MLL game has improved, and games on TV are now much more watchable.  The flow to the games is there, and that's a huge step.  Teams are starting to develop personalities, and players (and the league) have been around long enough that it now carries added weight.
So the next time an MLL game is on TV or being played in your area, make sure you check it out.  If you haven't seen a game in a couple years (or ever), I think you'll be impressed with the quality of the play.  If you have seen a game and didn't like it, try one more, open your mind, forget what you think you know, and just watch the game.  I think you'll enjoy it.  You might just be surprised at how much you like what you see.
____________________________________________________________________________________________________________________
Problems the MLL still needs to address…
– Practice.
Yes, I'm talking about practice.  Pro teams don't practice once or twice a week.  They just don't.  Now I understand that players live all over the country and can't always make practice… I get that.  But maybe the MLL needs to put more of an emphasis on players being local guys so that they CAN practice more.  If I'm the Boston Cannons, I want at least 16 of my 20 regulars to live in Boston, and be able to practice for 2 hours, at least 3 nights a week.  I'll fly in Rabil and maybe one or two other guys for games, but that's it.  There are more than enough great lax players in Boston, and I'd take a team of guys that practice together over a team of flown-in superstars any day.  And as we've seen the last couple years, flying in superstars will win you regular season games, but it doesn't win you Championships.  Creating a real team atmosphere does!
– Exposure.
One game on national TV per week?  Okay, I can deal with that.  We're still in our TV infancy here.  But it would be my hope that local stations would also broadcast the games, and in certain areas, they are.  In other areas, not so much.  For example, if you live in New Orleans, and have Cox Cable, you got to see ALL THREE games from the past weekend.  I live in NYC and got to see ONE game, on Thursday night.  I'm not really complaining, but if NOLA gets this much lax, shouldn't NYC?  MSG, YES, TWC Sports and a number of other channels need programming.  MAKE IT HAPPEN! The MLL needs to do a MUCH better job of getting its games on TV, even if it is only locally.
I know it's hard, and I know they are trying.  I'm not even asking for an added emphasis or anything.  But the point has to be made.  This is a TV/youtube generation and the MLL must do a better job of utilizing that avenue for new fans.
– More Penalties.
There aren't a lot of penalties in the MLL, but there sure are a lot of questionable hits and slashes!
Man-up is a great chance to get goals on the board (and enjoy a lot of pretty passing!) so I don't see why the MLL isn't tighter with this.  Offensive players will also dodge more if they know they won't get mugged every time they go to the hole.  The MLL allows guys to get away with pinched heads, and some of the pockets on guys' sticks are like fishing nets, so some will argue that they have to be looser with penalties.  Ok, here's a novel idea, just make the pockets legal and pinching illegal.  And then call penalties on real penalties!  Crazy, I know.
Then we won't see guys get detwigged, watch their stick fly 20 feet, and the ball stay in it.  That's not stick skills, it's cheating.  It's also skill-less and boring and opens the game up to athletes with weak fundamentals.  Less bags, less pinch, more penalties.  This is lacrosse, not rollerball.  You'll get more goals, more transition and less thuggery.  One result is that certain longpoles will quickly find they no longer have a place in the league.
– Local Players.
They don't have to be BORN where the team is located, but the guys on the teams need to live in the cities where they play.  This is true for a couple of reasons.  The first is practice and how important it is, but I covered that.  The second is to build a relationship with the community.  The third is lowering costs for the franchises.
Players live local, they can practice more.  Boom. Simple.
When players live local, they can interact directly with the local fan base EVERY single day.  They do it on their way to work, when they go to the gym, when they play wall ball, when they go out at night, and when they COACH!  Every minute out in Denver is a chance for an Outlaw player to meet and make new fans.  Why wouldn't the Outlaws want almost ALL their players doing just that?  A star who lives in a different city is good, but are people in LA going to be Denver Outlaws fans?  Probably not.  Face to face interaction on a daily basis is key to building trust, and trust is the essence of wetness, and wetness is the essence of a strong fanbase.  You get that, Zoolander?
And lastly, when players live local, the teams don't have to fly players in for practices, or home games.  They don't have to pay for hotels.  They don't even have to pay as much to advertise and draw crowds because the players are doing it for them, solely by living in the area, and being lax guys.  Kids are more willing to go see their HS assistant coach play in the MLL than some guy they followed in college.  It's true, ask any kid out there and you'll see I'm right.  The MLL doesn't matter enough right now to have a big draw of its own.  Relationship building is key.  So the money they save flying guys in and putting them up in hotels can be paid to… THE PLAYERS!  Now salaries are a little higher and guys are incentivized to live local.  All the MLL has to do is pay guys more, and then make them cover their own travel to home events like practices or games.  See how many guys live local then!
______________________________________________________________________________________________________________________________
If I ruled the MLL World…
So what if I ruled the world and ran an MLL team (and could make changes to the MLL rules)?  What would I do differently?
I would definitely focus on local players.  Not only guys who grew up in the area, but also guys who live in the area.  I wouldn't have any lawyers or bankers, or guys who worked over 40 hours in a normal week on the team either.  I'd take no-name DII and DIII guys as long as they would fully commit to being on the team and becoming better players and athletes.  I'd hold practice 3-5 times per week and do team community service events and clinics.  My players would get bonuses for coaching at local High Schools.
This would ensure that the community had my back and supported my team, because I'd make it clear that I had theirs.  I would encourage players to join for Teach For America in my City, and to pursue careers in teaching and coaching, so that we could all educate the next generation on the greatness of lax.  After all, we still have a long road ahead of us.  Teachers also have more flexible Summers, and to this day, I can't figure out why more MLL players don't go down this route.  Maybe we're just picking the wrong players?
I would focus on getting young players who were in shape and who wanted to learn.  I'd forget everyone's name, and judge them solely by what they could on the field, and in the MLL.  I'd try to look for guys who were dynamic players individually, but that could also play a team game.  And then I'd hire a coach who loved to run and gun and create transition.  Defensively, we'd even run some zone, and this would FORCE other teams to practice more, otherwise they'd never beat us.  And I don't want to hear that zones won't work in the MLL.  We heard the same thing about the D1 level for YEARS (thanks Quint!) and this year a bunch of teams ran zones successfully.  So much for that myth.
These aren't groundbreaking changes… they're all pretty basic.  But if the MLL embraced a couple of pro league attributes like practice, increased exposure through local players, and some travel cost saving, I think they'd see a real improvement in not only their trajectory, but also their sustainability.  Big name players (some of whom are out of shape at this point) are great, and flying guys in for games sure SEEMS professional, but really that's just gltiz and glamour with very little substance.
The MLL prides itself on looking towards the future, and building to something greater.  They ask a LOT of their players, and some people find fault with this.  I say they can ask more, and they'll still find guys who want to play, and can play with the best of them.  And by this, the foundation they lay for future success will be that much stronger.
We all want to see last year's All-Americans play in the MLL, but like any pro league, it wasn't the guys who put in the work in college who do well, it's the guys who KEEP putting in the work that truly shine.  The MLL only has to embrace this attitude and things could improve, which would be a nice bonus, because if you look at it for what it is, the MLL is pretty darn good already.  As fans, we just want to see it be that much better!