I got to speak with the MLL Commissioner, David Gross, about the upcoming MLL Collegiate Draft, which will take place in January at the US Lacrosse Convention. We talked about Rob Pannell, how the Winter draft changes things and what the Commish expects for 2013!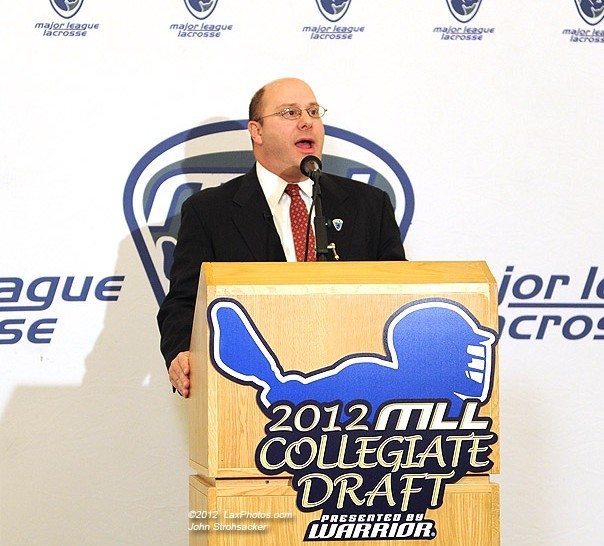 With Rob Pannell getting drafted last year, and then returning to school, is he eligible to be drafted again? Or are his rights still held by Long Island? 
At the end of September, teams need to reduce their total roster size to 23 players. Long Island protected Rob as one of their 23, so they retain his rights and he will not be in the draft. If they hadn't protected him, then he would have gone back into the draft.
Were the any obvious learning areas from last year? Players have had three years to impress MLL teams, but there are always those seniors who break out for stardom late in the game… does that just add another layer of excitement once the MLL season actually starts as teams scramble for late blooming talent? 
This is now our third year that the draft has taken place in the Winter. Not having the senior year to evaluate players has been an adjustment, but our teams have transitioned to looking at players earlier than in the past.
It certainly does add another layer of excitement. Last year Eric Lusby wasn't drafted, had an amazing NCAA championship weekend and ended up getting picked up by Charlotte. The year before Matt Dolente got picked up by Hamilton after not being drafted and he was an All-Star in 2012.
Which college team do you think will have the most players drafted this year? 
Our GM's do a much better job answering this question! However, I have heard that this is a very deep draft, so we expect to have plenty of new stars joining the league.
Has the MLL considered letting teams draft players, and then hold on to their rights for a couple of years? Kind of like baseball or hockey?
We have not considered this. We like the NBA and NFL model.
What are your expectations for Philly this year? Any current MLL stars going to be in attendance?
Philly is a great location for the draft and we are excited to partner with US Lacrosse again on the event. We usually get a bunch of MLL players at the draft. So far, I've heard that Paul Rabil and Kevin Leveille will be in attendance.
Thanks to the Commish for taking some time out of his busy day to answer some of our questions!
If YOU have an MLL question you want David Gross to answer, drop it in the comments section and we'll try to convince him to come on over and answer himself. Gross is a stand up guy, so he just might do it!