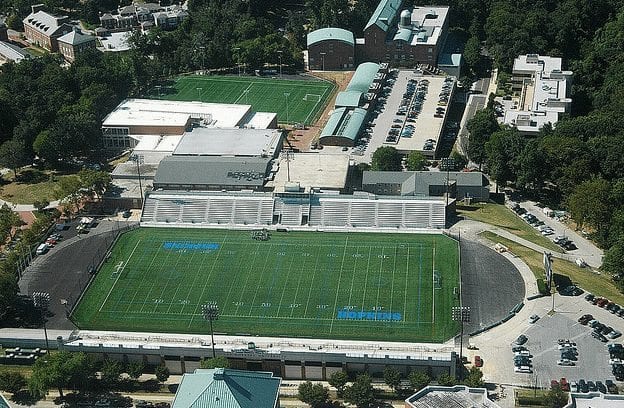 Originally, I was going to create a Top Ten list of the BEST places to play a college lacrosse game, but honestly, there were just way too many good choices, so I expanded to list to 25 places instead. This list was created using my brain, research on the internet, and the opinion of some of the best to ever play the game, and also my friends! My list includes legendary D1 lax fields as well as NJCAA, D3, and MCLA choices here and there.
It's not really a Top 25 in the sense that #1 is automatically better than, say, #12. It's a Top 25 list in that all 25 of these places are awesome.
The list is based off of the quality of the field (or lack thereof), the quality of the facilities (again, or lack thereof), the overall atmosphere (including fans and weather) and other intangibles as they present themselves. The point is that playing there has to be MEMORABLE! The only fields that were considered were home fields for schools. Large football stadiums like Foxboro and Baltimore, that are used in the Championships were not considered for this list. Also, it doesn't hurt if a team is really good. That makes the games played on the field bigger in general, and only helps a field become legend!
You know I'm all about channeling lacrosse players of days past and present.
Check out my Top 25 Places To Play A College Lacrosse Game List! And see WHY each field was selected, and who liked it!
1) Homewood, Johns Hopkins (NCAA D1) Almost every person put Homewood on their list. Even Kyle Harrison put Homewood on his list after I EXPLICITLY told people not to do that. But in this case, we'll forgive him, because he's right. Homewood is THAT special. One can debate the merits of the Carrier Dome and Homewood until the cows come home, and the debate will never be settled. But the fact that lacrosse at Hopkins is a D1 sport, where they are one of the top teams each year, and all of it happens at an NCAA D3 school puts the Hop over the top. Homewood has as much history as any field in the country, and teams from a number of divisions TRAVEL just to play there. It's sort of like our lacrosse Mecca. Matt Danowski described it as having an "aura". I think that's a good description actually! You have to make it there at least once. There were some ties later in the list, but I felt like you deserved a #1, so I made the call. Homewood is my pick.
2) The Carrier Dome, Syracuse (NCAA D1) Now for every person who said Hopkins was the BEST, someone else said the Dome was Superior. Deciding 1 and 2 was probably the hardest part of this whole list! That's just how great the Dome is. The facilities are big time, because let's face it, it's an indoors lacrosse field, but the atmosphere at Cuse is what truly separates it from the pack. When the Dome gets a rockin', don't come a knockin'… just come inside and get ready for an awesome game of lacrosse. A game at the dome is a truly unique experience in college lacrosse. Kyle Harrison even acknowledged how great the dome is. "always a close game, fans are loud and hate every team that comes in there! All the history of the program and great players who have stepped on that field makes it one of the best places to lace'um up!" Coming from a die-hard Hop guy, that's a big compliment! Chazz Woodson has Cuse in his top spot with a simple "Nuff said". Fair!
3) Navy's Marine Corps Stadium, Navy (NCAA D1) The Stadium is right down by the water in beautiful Annapolis. Navy has been playing forever, the Academy and town love their lax and games there are an absolute treat. All the Navy students only adds to the atmosphere, and taking in a game at Navy quickly reminds you of our sports' ties to the military. Add in the fact that Annapolis is a pretty fun place and you've got a great recipe for a top notch college lacrosse field. This was a favorite of Mat Levine, founder of CityLax.
3) Michie Stadium, Army (NCAA D1) Also perched right on the water, West Point's stadium is something special. The large stands look out over the field and then over the water, and much of what was said about Navy's history and atmosphere can also be said of Army. Top notch facilities, great views, and an atmosphere that stands out. Levine also raved about Army's facilities and I trust that guy to the ends of the Earth!
5) Sea Gull Stadium, Salisbury (NCAA D3) Salisbury's field is known for a couple of reasons. One is that the Gulls are VERY good at home. The other is that they make you changed in a shed. Matt Schomburg of FoGoLax.net pointed out, "Salisbury has to be near the top. Hearing the Darth Vader music and seeing 500 of them come out in line is pretty intimidating". Add on the fact that people at the SU of the South LOVE lax and it was an easy choice for the Top Ten. Brian Kelly of Whittier Lacrosse summed it up nicely, "toughest place to play from the horrible visitor locker room (read: equipment shed) to the mystique of a program that is virtually unbeatable at home". TRUTH!
6) James M. Shuart Stadium, Hofstra (NCAA D1) Some people don't love Hofstra because they feel it's too big of a stadium, but come playoff time, it's a great location, and for years served as the home of Long Island lacrosse. And since Hofstra dropped their football program, men's lacrosse is the biggest sport to use the stadium, so it's a 17,000 person LACROSSE stadium. That along with the history and importance of the stadium to the local lacrosse scene make it an easy choice. When you factor in that a ton of top D1 players come out of Long Island it makes sense that playing at Hofstra is somewhat of a homecoming for many of them. Danowski remembered it was nice to see a lot of family and friends at a game.
7) Byrd Stadium, Maryland (NCAA D1) This is an historic stadium for lacrosse. It's seen more good games than most places and will remain one of the most important locations for college lax for years. Joe Barile of Warhawk Lacrosse put Maryland in his top spot for opponent's fields while he was at Hofstra, and it made a lot of different people's lists. Home of Terps!
8) Oosterbaan Field House, Michigan (Former MCLA, Current NCAA D1) I guess Michigan also gets extra credit for being able to play some games in the Big House, but ultimately that stadium is just way too big. At least for now. Oosterbaan, on the other hand, is intimate and super cool because it's a field house, for lacrosse, in Michigan. MCLA teams must have thought they had gone to lacrosse heaven before games, and hell afterwards. Michigan was THE team in the MCLA, and they had THE place to play. Brian DeSpain of 1 Lacrosse also remembered that they had Cheerleaders in the field house, and as an MCLA guy, that was extremely rare. It's probably rare on the D1 level too!
9) Klockner Field, Virginia (NCAA D1) A number of former D1 guys said they liked Virginia's set up, and about 2/3s or them also made comments about the grass being nice, but nicer when it was green. Early season games at Klockner could be iffy, but most seasons by mid April the field is a sight to behold, and Virginia student-athletes are notorious for supporting each other even if they play different sports. So you just might see some other UVA stars on the sidelines. I've also heard the visitors' locker rooms are terrible, but to me, that only makes it a better place to play a game of lacrosse. After all, we show up for battle! We don't need no stinking nice locker rooms!
10) Fetzer Field, UNC (NCAA D1) Again, a lot of former D1 guys liked UNC's field.  It had a LOT to do with weather, and then of course facilities, atmosphere, etc.  But it even had to do with the drive to the field.  K18 remembers cruising through campus on the team bus seeing kids out on couches, sitting in the sun, and enjoying themselves… and for some reason it got him going!  The relative warmth of UNC is a great change of pace for visitors, and when you factor in a nice drive through campus, it's easy to see why people like playing there.
11) Peter Barton Lacrosse Stadium, Denver (NCAA D1) Barton isn't the biggest stadium in all of D1 lax. In fact, there are probably D3 stadiums that can hold more people, but they likely can't hold a fire to what Denver has going on in terms of fanatical dedication. The stadium is only for lacrosse, and games actually sell out there in a matter of hours sometimes! It's a tight, intimate atmosphere and it's the furthest west D1 lax field in the country. Denver is the frontier. The turf is immaculate, and the giant gold tower off to the side makes for cool added visual bonus. Gerry Byrne of Notre Dame Lacrosse mentioned Barton as a favorite place to travel, and I trust what that man has to say!
12) Cortland's Stadium (NCAA D3) Great facilities due to NFL training camp being held there, and the fact that Cortland values their athletics. This is where Body By Jake comes from and as someone who has seen a game or two there, I can attest to its excellence firsthand. The stands are massive for a D3 school, and the press area is great. Cortland is one of those big-time D3 programs, and that only makes the atmosphere that much better. When you look at their facilities in comparison to most other SUNY schools, Cortland is head and shoulders above! This was the best field Jerry Ragonese of ProAthletics played on in college that wasn't RIT's.
13) BYU (MCLA D1) BYU gets the shoutout here for a couple of reasons. Brian DeSpain of 1 Lacrosse cited "excellent facilities (locker room, field, etc), snow covered mountain backdrop, full PA announcement and press-box on sidelines and home games televised on the BYU network". Wow, that is special! Ryan Craven of LAS fame adds that "the fans a pretty loud for a bunch who don't swear. Very "big time" for MCLA".
14) Peter Kohn Field Middlebury (NCAA D3) Midd gets the added bonus of having two AWESOME places to play lacrosse. Peter Kohn Field serves as the primary home for the Panthers, and it's named after one of most legendary figures in all of lacrosse history. Google "Peter Kohn Lacrosse" if you don't know what I'm talking about. The Panthers also have Youngman Field at Alumni Stadium which is beautiful grass field with large stands on one side. The rest of the field is sunk about 4-5 feet below a grass knoll for spectators to sit on. The Vermont mountains can be seen in the background. The field has seen a lot of great players and great games. It's awesome.
15) Notre Dame (NCAA D1) Do we need to explain why playing at Notre Dame is special? CJ Greene didn't. The Salt Shakerz lead gangster gave reasons for his other nominations but just said "ND", and that was it. A number of people put Notre Dame down, and Joe Barile of Warhawk was another one of them. It's simply special to play the golden domers in South Bend.
16) Princeton's Class of 1952 Stadium (NCAA D1) This field makes the list for two reasons. One is good, and one is bad. The good is that the stadium is cool, intimate, and let's face it, it's Princeton. Getting to see their shabby chic band is also a highlight. The bad also contributes to the field's high ranking, and it has to do with the old school turf in the place. People hate it, but it's hard to forget, and that certainly helps make it memorable, and a top experience.
17) Bucknell (NCAA D1) C J Greene of the Salt Shakers notes that playing at Bucknell is special because students would pull couches right up to the field on nice days, heckle the competition, and look preppy. The field is nice, but the fans are what makes this small D1 school a special place to lax it up.
18) Garber Field, UMass (NCAA D1) UMass is another school with unfavored old school turf that makes the list, mainly because people HATE to play there. More people said they hated playing at UMass than any other school, and that makes it good somehow. Because it wasn't just the field, it was UMass at home, and that made wins ever harder to come by. Getting out of UMass, and off their tough turf field, with a win is an accomplishment, so it makes the list.
19) Sonoma State (MCLA D1) We have yet another "rough" field on the list, but this one is different. A bunch of people listed it as a top field, but they ALL said that it was also one of the worst places to play. It is a legendary mud pit, where balls have LITERALLY been lost in the mud, and never seen again. How do you play or ref in a game like that? It just goes to show the inspiring lengths that MCLA guys will go to play lax, and it makes Sonoma's field that much more special.
20) Onondaga Community College (NJCAA) Try to go to OCC and win, I dare you. The atmosphere at an OCC game is something to behold and the intensity and importance of a lacrosse game just can't be overlooked. Want to see a college game with a ton of Native American influence? Head up to OCC. I won't even talk about the facilities or field itself because that it besides the point. It could be the best or the worst, and this field would still be on the list.
21) Roanoke (NCAA D3) Brian Kelly of Whittier loved playing at Roanoke and this probably had a large part to do with the fact that those two squads used to combine for some SERIOUS goal scoring back in the day, but that's just how Noke rolls. Those guys score, score, score and the sidelines create an intense atmosphere. Noke has been good for years, they've been scoring in bunches for years, and their field has long been one of those places in D3 lax that continues to a favorite, especially if you can win there.
22) Cal Berkley (MCLA D1) It's just a beauty of a field. What else is there to say? You'll get a pretty good idea of what I'm talking about in this BHSVideoDad highlight from their scrimmage with Dominican. Cody Hart of Sweet Sweet Lax is a big fan of the venue, and we can see why!
23) Stevens Tech (NCAA D3) The field (and Stevens) is located in Jersey, but the New York City views are pretty outstanding. Stevens has one of the olderst collegiate lacrosse programs in the entire country, and it's a great academic school. The Ducks have had a lot of talent come through their program and playing at Stevens is straight up historic.
24) Whittier (NCAA D3) Whittier makes the list as the western-most NCAA lacrosse field in the country. They've got a cool hill that sits on one side of the field and the setting is very good for D3 lax. The facilities have improved over the years, but an NCAA home college lacrosse field in California is good enough for me!
25) Terry Jackson Field aka The Birdcage, Wesleyan(NCAA D3) I could have gone in a lot of different directions here, but I'm going to be a TOTAL homer and give Wesleyan's old lax field the nod. It's grass, a little uneven, and super old school. Behind one goal there is a fence, and on one sideline and the other end there are large concrete art dept buildings that nearly line the field. The fans are on the only truly open side. It creates a tight feeling, and sound bounces back so the field gets quite loud. Wesleyan (and NESCAC students in general) are known for their amusing and abusive sideline behavior, and it makes EVERY game played there an emotional battle. Inflatable pools on the sideline when the weather warms was also standard. I'm a total homer, so what?