It's been a wild ride in the NCAA this season, and the "May Madness" hasn't even started yet. In a season where many longstanding NCAA and program records have been shattered, several senior women's lacrosse players have stood out as true game-changers. Many of them will have the opportunity to continue their playing careers this summer with the Women's Professional Lacrosse League (WPLL).
Ahead of Monday's 2018 WPLL Collegiate Draft, which will be broadcast on the WPLL's Facebook Page, here is our list of the top 10 players that deserve a chance to play for the Baltimore Brave, the New England Command, the New York Fight, the Philly Fire, or the Upstate Pride this summer:
Top 10 Women's Lacrosse Players Going Pro
10) Shayna Pirreca, A, Florida
14-3 Florida has been enjoying a successful 2018 season behind the leadership of senior captain Shayna Pirreca. The 5'4" attacker from Mount Sinai, NY has saved her best season for last, stepping up after the graduation of Mollie Stevens (Upstate Pride) and taking charge of the Gators offense. Before the start of the Big East Tournament, Pirreca leads Florida in goals scored (49) and is second in total assists (18). Pirreca, who's accomplishments include First Team All-Big East (2018) and Second Team All-Big East (2017, 2016), would be one of five Gators in the WPLL, joining former teammates Stevens, Nicole Graziano (New York Fight), Lauren Lea (Philly Fire), and Caroline Fitzgerald (New York Fight).
9) Kristen Gaudian, A, James Madison
After finishing 2017 with a 14-7 record, JMU has exploded onto the scene this season. The Dukes, who are ranked #4 by the latest Inside Lacrosse poll, currently boast a 16-1 record, due in part to Gaudian's play. A 5'8" attacker from Fairfax, VA, Gaudian was a solid bench player during her first two years at JMU, scoring 2 goals as a freshman and 11 goals as a sophomore. But Gaudian's production has increased drastically after entering the starting lineup as a junior. She tallied 53 goals and 7 assists in 2017, and with a few more possible games on the horizon, she currently leads JMU in overall points with 57 goals and 14 assists while also collecting an impressive 64 draw controls. Most impressive, Gaudian leads the nation in shooting percentage, scoring on 63.3% of the shots she takes. The scariest part about Gaudian's game is that she has made incredible improvements each season. If given the chance to play professionally, there is no telling how much her game will continue to grow.
8) Gussie Johns, GK, USC, Team USA 2017
The heir-apparent to Devon Wills' longstanding title of go-to Team USA goalkeeper, Washington, DC native Gussie Johns is poised to take over the net minding role that Wills has held since 2009. And with impressive play with Team USA in last summer's FIL Rathbones World Cup and World Games, Johns also makes a strong case as a player that may be drafted by the WPLL. Though the Women of Troy have had a tough season and will need an At-Large bid to make it into the NCAA tournament, Johns is a four-year starter that has proven she can compete with the best attackers in the college game. Johns, who's accomplishments include MPSF All-Conference First Team (2017), IWLCA All-West/Midwest Region First Team (2016), and NCAA statistical champion for goals-against average (2016) would be a great addition to the WPLL. The only question is, with 11 goalies in the league already, where exactly would Johns fall?
7) Katie O'Donnell, M, Penn State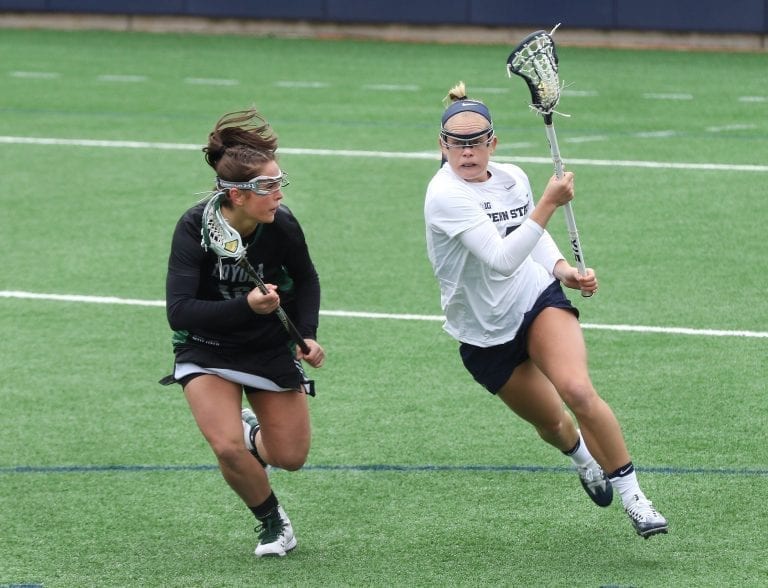 Penn State made it to the Final Four in 2017 and 2016, and midfielder Katie O'Donnell's play is a big reason why. On talented rosters that featured WPLL players like Madison Cyr (New York Fight) and Steph Lazo (New England Command) O'Donnell played a key role, tallying enough goals and assists to become Penn States second leading point scorer during the 2017 and 2016 seasons. And as a senior, it has been the "Katie O'Donnell Show", with O'Donnell leading Penn State in points (58), goals (52), ground balls (29), and caused turnovers (19). Though Penn State has struggled this season and hopes to turn their luck around during the BIG10 tournament, O'Donnell has been a commanding force, controlling the pace of play on both sides of the ball. One of the most well-rounded college players this season, O'Donnell's would be a great pickup for a team looking to find a player that is as effective on the defensive end as they are on offense.
6) Lydia Sutton, D, USC, Team Canada 2017
One of the top defenders in the class of 2018, Minnetonka, MN's Sutton has made an impact at USC since stepping foot on campus. Named a Third Team All-American in 2017, Sutton also has international experience, having played for the Canadian U-19 Team that brought home a gold medal in 2015 and the Canadian Senior National Team that won silver medals in last summer's FIL Rathbones World Cup and World Games. Her success at the international level separates Sutton from other defenders in the class of 2018 as it shows she has experience defending some of the most talented attackers in the game. Sutton has the third most ground balls in USC history, after teammate Gussie Johns and current WPLL player Courtney Tarleton (Baltimore Brave), and her 91 caused turnovers is good for the second most in USC history, falling shy of Tarleton's 125 and ahead of Baltimore Brave midfielder Amanda Johansen's 64. Could Sutton be reunited with former teammates Tarleton and Johansen this summer on the Brave?
5) Jenna Collins, M, Navy
A dynamic scorer from Clarksville, Md., Collins has had an impressive career at Navy. Under the coaching of WPLL players Gabby Capuzzi and Aly Messinger (both of the New England Command), Collins has become one of the most reliable scorers in the nation. A four-year starter and four-year First Team All-Patriot League selection, Collins was named Patriot League Midfielder of the Year in 2017 and 2016 and led Navy to the NCAA Final Four in 2017. Collins recently tallied her 200th goal and is poised to finish her career as Navy's leader in career goals. In addition to being an offensive threat, Collins is also a lockdown defender, previously recording team highs in caused turnovers and groundballs.
4) Marie McCool, M, UNC, Team USA 2017
A true facilitator, McCool's strength is making her teammates play better. This season McCool leads UNC in ground balls, caused turnovers, and draw controls and sits in second place with total goals, but it's the things that she does without the ball that are equally impressive. A two-time First Team All-American and a 2016 NCAA Champion, McCool is used to competing at a high level. Last summer at the FIL Rathbones World Cup McCool gelled nicely with linemates Taylor Cummings (New York Fight), Katie Schwarzmann (Philadelphia Fire), and Laura Zimmerman (Baltimore Brave), showing that she is prepared to continue competing with the best players in the game of lacrosse. McCool, who was a Tewaaraton Award finalist in 2017 and was recently named the 2018 ACC Midfielder of the Year, is a reliable two-way player that has proven that she can more thank keep up with the WPLL's pace of play: she can improve it.
3) Courtney Murphy, A, Stony Brook
Courtney Murphy's return was worth the wait! After a 2016 season where the Shirley, NY native scored a NCAA single-season record 100 goals, Murphy was poised to have a successful 2017 until she suffered an injury just four games into the season. Murphy hasn't missed a beat, and after a season away from the game she leads Stony Brook in goals (77). This season the redshirt senior has been one of the most impressive players in the country, highlighted by her 5 goal performance against Cornell that officially made her the NCAA's all-time leading goal scorer (323). A proven scorer who isn't afraid to thrown in a behind the back shot, Murphy is the perfect player to build your offense around, and would perform well in the WPLL.
2) Megan Whittle, A, Maryland, Team England 2017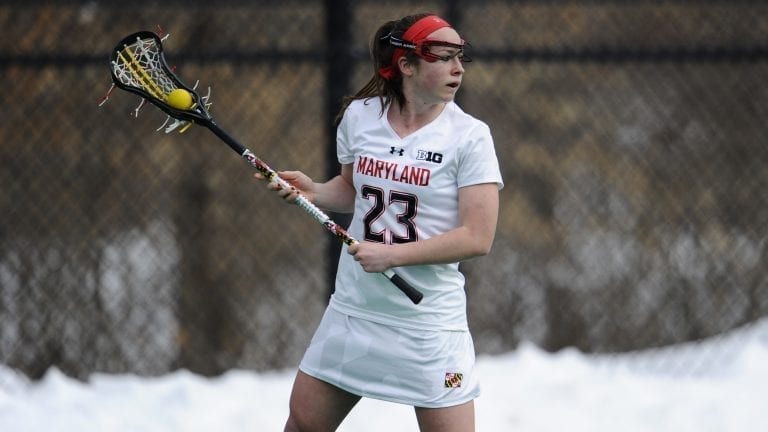 It's no secret that Maryland has a history of successful lacrosse teams. And lots of the team's recent successes can be traced back to senior Megan Whittle. Whittle has started all but one game in her Maryland career, a testament to her talents in itself. The Glenwood, MD native has made an impact since day one, leading the Terps in goals scored during each of her four seasons. She has also led the Terps in total points for three seasons (2018, 2017, 2016). Outside of her time with Maryland, Whittle also has international experience under her belt, as she was a key member of the English national team that brought home a bronze medal at the 2017 FIL Rathbones World Cup. Whittle, who this season became Maryland's all-time leading goal scorer, has been playing with and against some of the best competitors in the game, and would be a welcome addition to the WPLL. A proven winner with a history of excellence (and two NCAA championships!) Whittle would be a key contributor on any WPLL team.
1) Kylie Ohlmiller, A, Stony Brook
What can we say about our #1 player in the class of 2018? Known for her creativity and flare, Islip, NY native Kylie Ohlmiller has been by far the most exciting player to watch this season. Ohlmiller, with teammates Courtney Murphy and Taryn Ohlmiller by her side, has been the key to #1 ranked Stony Brook's success.
Whether she is scoring goals or dishing out assists, Ohlmiller's vision for the game is complete. Even with most of her opponent's defensive pressure geared towards her, she can read and work through a defense with ease. But what's more impressive is her ability to find an open teammate, wherever they may be. A 2017 Tewaaraton finalist, Ohlmiller has re-written the lacrosse history books, and is the NCAA's leader in single season assists (86), single season points (164), career assists (235), and career points (469). Ohlmiller's true edge is her comfort on the lacrosse field. She feels free to experiment with passes and shots that push the limits of the game, and that's what it takes to bring us all to the next level.
The 2018 WPLL Collegiate Draft will take place on Monday, May 7th, at 8:00pm ET. Fans can watch along on the WPLL's social media channels. Twenty-five 2018 grads will be added to the WPLL, and the New York Fight has the first pick.
To see the game's top women's lacrosse players in person, get your WPLL tickets today!