Welcome to an English Stringing Explosion for your Traditional Thursday! I met a Welsh player in Denver this summer, and he had a perfectly strung Rock-It Pocket in his neon green STX head… except it wasn't strung by Rock-It Pocket… it was strung by Chris Wilson, an English traditional stringing expert from Manchester.
No, we are not related, at least I don't think we are… but we both love traditional!
Needless to say, but I'll say it any way, I was stunned. VERY few people out there who don't work at Rock-It Pocket can string an amazing pocket in that style, but Chris is clearly one of them. I got in touch with Chris thanks to another Welsh player, and Chris sent over some photos and accompanying descriptions of some his leather and lace work.
It's impressive to say the least! Make sure you follow Chris on Instagram – @lacrosseman and check out his facebook page – www.facebook.com/lacrossecustoms
Chris Wilson's English Stringing
The fist head is my RPV Space Crusader  – it's strung in an STX Eclipse.  This was by far the most difficult head I have ever strung.  The hardest part of stringing a head like this is being able to control the whip.  It formed a lovely channel and the rebound was reasonably low too.  If I had the chance to string one again, there are a few things I would do differently (like string around a "soccer" ball), but overall I was very pleased with it as my first attempt.
The second heads are my game twins, Warrior Evo 4Xs strung in Epoch Otter Mesh with three straight shooters.  I baked the heads to give them a slightly better face shape and pinch, this also helps with the pocket formation too.  They both have re-enforced double interlock top strings with added triangles too. I love the weight and feel of these heads which I have combined with Gait Ice shafts.
The third head is a Brine RP3X which I have strung with Beaver Leathers from Stringers Shack.  I have also used a prototype crosslace from Meshwizard in Poland which has been made here in Europe! It's excellent quality and I'm looking forward to seeing more string made locally too.  I was inspired to string this pocket by a picture of a poorly strung Evo 2, which had a crossed weave down the centre.  I took the concept, vastly improved it and produced this pocket!
The fourth pocket is my take on a Hawk Pocket which I strung in an STX Super Power to help raise funds for the England national team and their trip to the World Chamiponships in Denver this year.  It has a smooth fast release whilst still retaining its hold on the ball.  It looks great too!
Finally, this is a Warrior Burn X. I have taken some of the characteristics of the Heat Pocket and combined it with a six string trad. The hold is super and a six string suits itself well to an X spec head. I've used LAS sidewall and also red and blue shooters so it's subtle but not too flashy! I haven't seen anything like this around yet, so thought it would be cool to use here!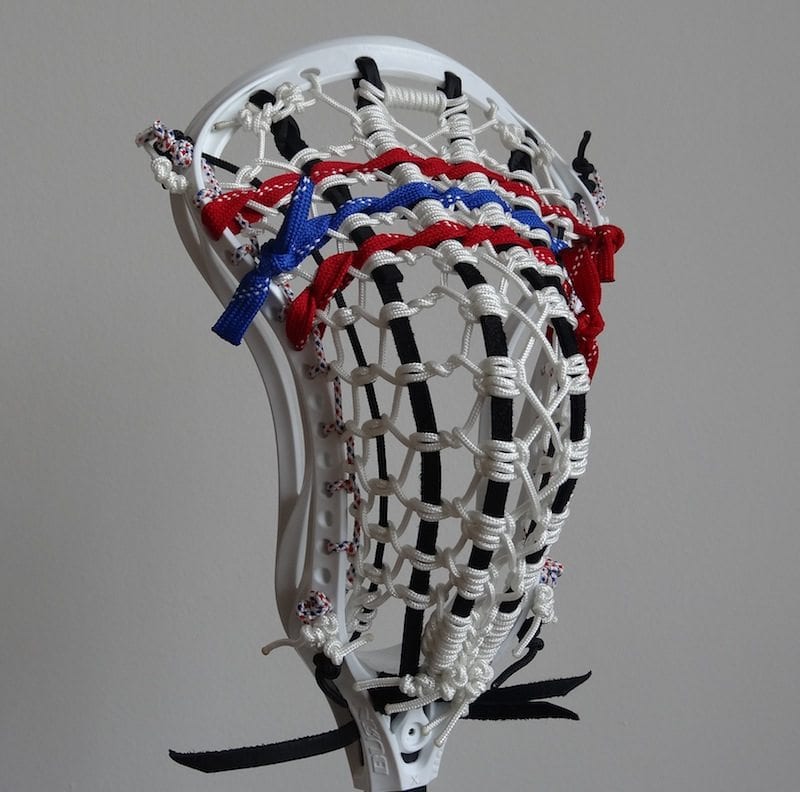 I have been stringing sticks for other people for over 10 years now and have been playing lacrosse for 18 years.  I started out playing with traditional sticks and this is where my passion began. My first stick was a Brine Edge and my second was an STX Proton, both were strung with 6 diamond traditionals.  I learnt to look after them and maintain the pockets from an early age, which gave me a great understanding of how they are constructed and strung.
I have recently taken on some woodie restoration projects, which have been super, some for practical use and to play with and others as show sticks for the wall.  This is something I am hoping to be able to do more of in the future.
Stringing is a passion for me and something I really enjoy. As the European market is much smaller than the US market, stringing isn't something that could be turned into a commercial enterprise, but I see it as my way of helping to grow the game!
I'm regularly restringing mesh pockets and with the recent resurgence of interest in traditionals, more and more players are trying them out and having them strung. It's great to see this, even on a small scale here in the UK and Europe.
HUGE thanks to Chris for sending over these killer photos and descriptions! Awesome stuff coming out of England thanks to Chris!